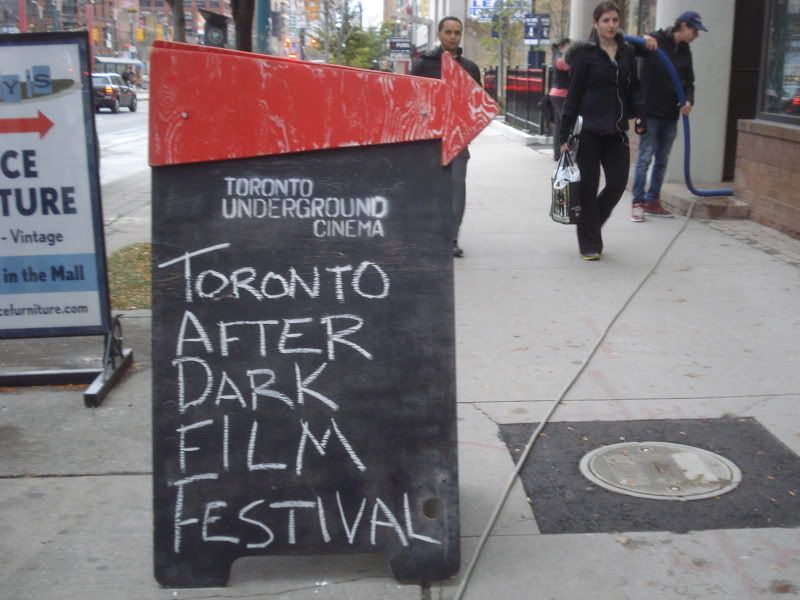 Tonight was the opening night of the 6th Annual
Toronto After Dark Film Festival
which brings up "8 Nights of Horror, Sci-Fi, Action and Cult Movies" and makes one of my favourite times of the film festival calender here in Toronto as it brings us zombies, vampires, horror and action galore and has the most awesome crowds. This year the festival moved back from its foray in the summer back to the spooky month of October and moved a little further south to the
Toronto Underground Cinema
. Tonight was my first night at the Underground and it's going to be a welcome treat to wait *inside* between screenings, even though it did get pretty packed in there tonight before they let us in for Monster Brawl. Opening Nights are always a lot of fun getting to catch up with all the local and visiting film folk and there was an impressive number of guests of the cast & crew of
Monster Brawl
including director Jesse T Cook, cast members Robert Maillet, Rj Skinner, Holly Letkeman and Jimmy (The Mouth From The South!) Hart. They were one entertaining group at the Q&A and had a special pre-show treat as well. A great way to start the festival.
Rather watch than read? Check out my
Day 1 Vlog
!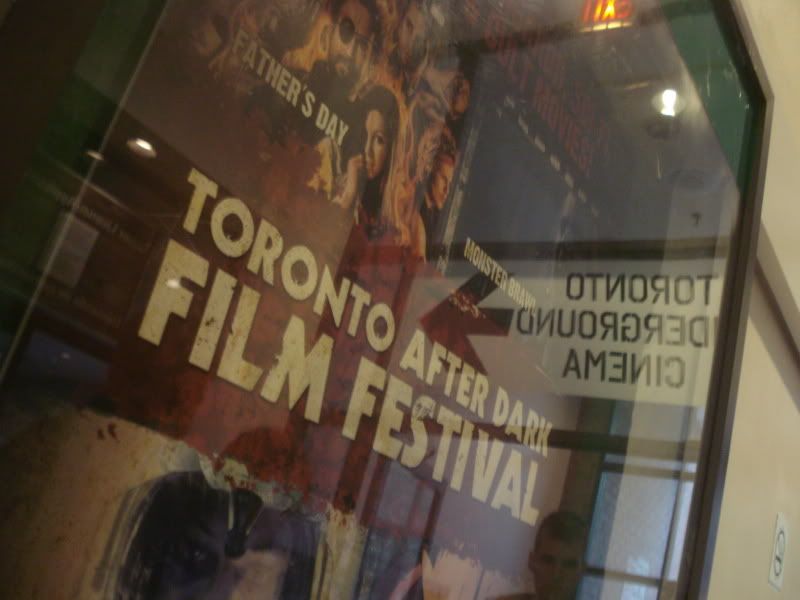 The night of film started out with the hilarious and bloody short
The Legend of Beaver Dam
, which the crowd totally ate up. See my review of it
here
from when I saw it at the
Worldwide Short Film Festival 2011
. After that, it was on to... Monster Brawl!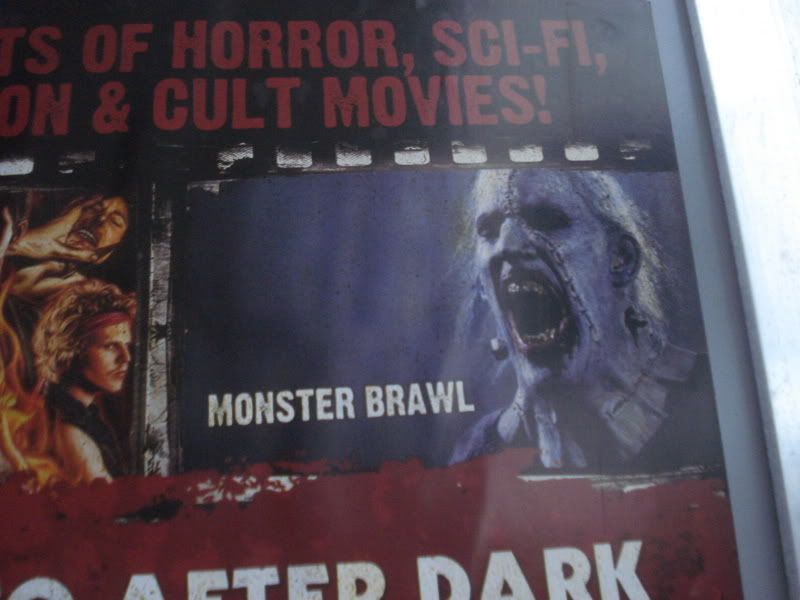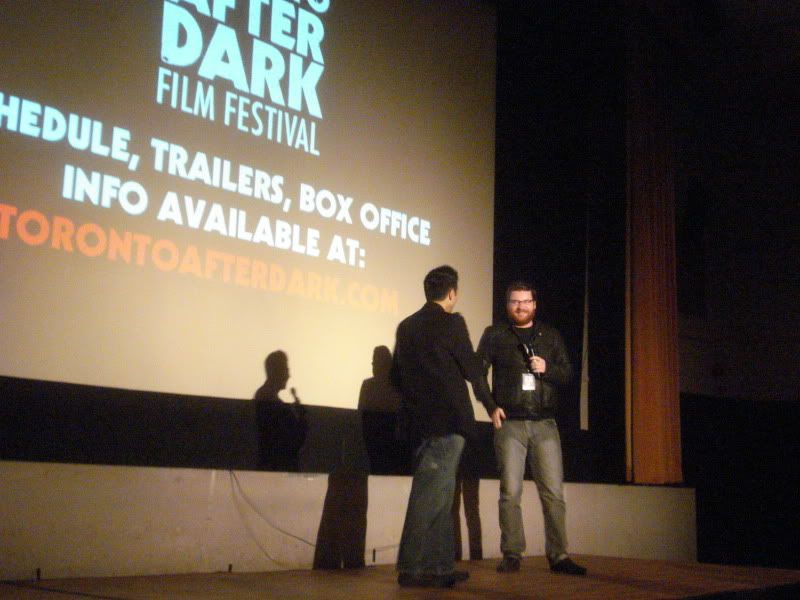 Toronto After Dark Film Festival Director & Founder Adam Lopez introduces Monster Brawl director Jesse T Cook
Monster Brawl
Writer/Dir: Jesse T. Cook
Cast: Dave Foley, Art Hindle, Robert Maillet, Rj Skinner, Holly Letkeman, Kevin Nash, Lance Henriksen (voice)
Canada
Monster Brawl
brings us an ultimate monster showdown, giving us a Pay-Per-View-style monster fighting championship full on with sports commentators (Davey Foley and Art Hindle who were often hilarious), event personality played by Jimmy The Mouth of the South Hart himself, as himself with pretty ladies at his side and monsters galore from classic fan favourites of Werewolf and Frankenstein to the new permutations of Swamp Gut and Witch Bitch. I adored that each character got their own introduction, and those in it of themselves felt like short films provide some awesome character origin stories and hilarious monster action (Frankenstein & Swamp Gut were my faves) with great pre-show ramblings that really parallel the wrestling model well with over the top bravado, mouthy managers and setting up the character story line to pitch the fight. I truly loved the character intros, they were so much fun and some I would be happy to watch over and over. I loved the enthusiasm of the film and how it really went for and used the model of the ultimate showdown, but the structure of it did feel familiar after a couple of fights which which actually make it read very well on TV because you can feel where the breaks would be. It's hard to give it a hard time on feeling like you know where it's going, because using the model of wrestling has that element to it - there could be an upset here and there but really you know where that is going to so you have to just give in and let it take you away and pretend you don't see that foreign object/foul play/manager interference happening... even if you might know it. There were lots of gem moments, often with the commentators played by Davey Foley and Art Hindle or event "voice" Lance Henriksen that could really have me laughing. It was cool to see the audience cheer along for their favourite monsters (and some suprizes there too... am I the only Werewolf fan?) which made seeing it with the crowd all the more fun.
Many guests were at the
Monster Brawl
screening including director Jesse T Cook, cast members Robert Maillet (Frankenstein), Jimmy Hart (The Mouth From The South!) Rj Skinner (Werewolf), Holly Letkeman (Witch Bitch) for a post show Q&A and also some pre-show shenanigans (
see clip here
) which was a lively way to start off the evening, and the festival! I can't wait for Day 2! Although, I'll be bringing another layer as the theatre was a bit chilly...not Isabel Bader chilly or sparsely-filled Ryerson chilly, but definitely another-layer chilly.
See also:

Monster Brawl
DVD Review
See you at Toronto After Dark!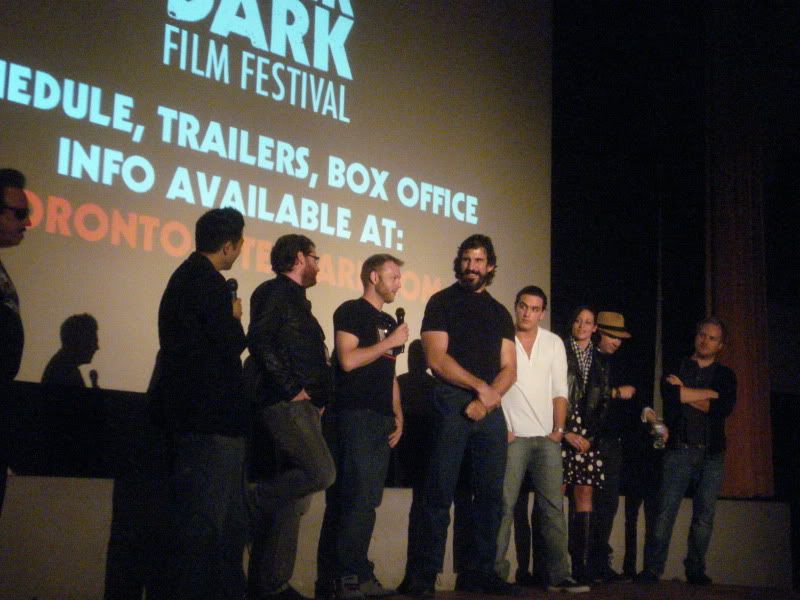 Cast & Crew of Monster Brawl during the Q&A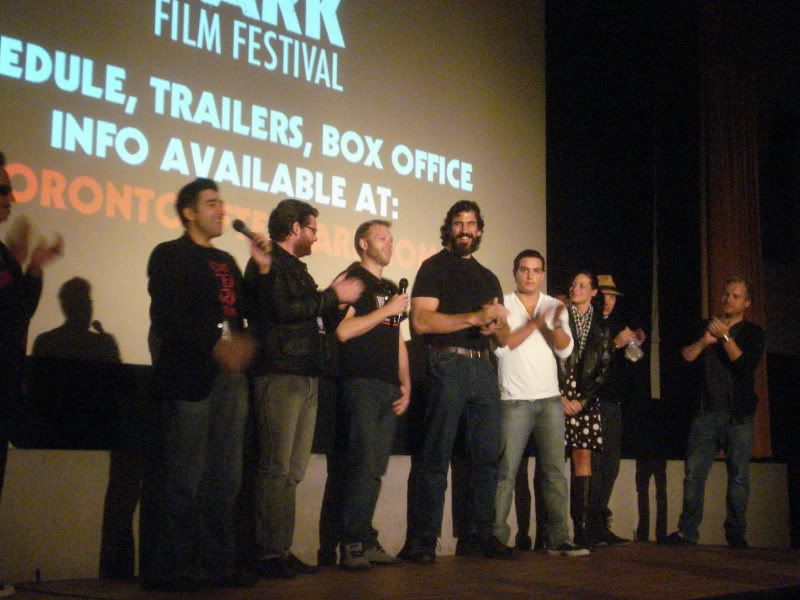 Cast & Crew of Monster Brawl during the Q&A
The 6th Annual
Toronto After Dark Film Festival
runs for 8 Nights of Horror, Sci-Fi, Action and Cult Movies at the
Toronto Underground Cinema
in Toronto, Ontario, Canada from October 20-27, 2011.