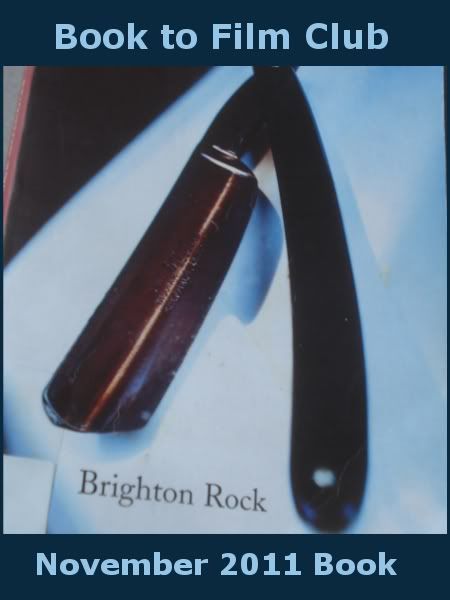 November 2011 Book to Film Club Book Selection: Brighton Rock - by Graham Greene
The book is a crime thriller set in the 1930's, and the film adaptation shifts the setting to the 60's. Film stars Sam Riley (Control,
Franklyn
), Andrea Riseborough, Andy Serkis, John Hurt and Helen Mirren and is directed by Rowan Joffe. I think this one is the book I've looked the least in to, and I am just about to dive into it. I've rarely read crime thrillers so will be curious to see my own & others reactions to this one.
Film Release Date:
This is a bit of an odd ball select for the club as it's already been released in the UK (Feb 4, 2011) and opened in New York & LA (August 26, 2011). I'm still hoping for confirmation on wider North American release date, but I do wonder if we'll only see in on DVD. Fingers crossed for theatrical!
If you haven't yet joined the
Book to Film Club
, you can join us now for our last 2011 selection and read Brighton Rock with us. We will be taking December off for reading for the club as I know the holidays can be a little squirrly, but I will share recommendations for rabid fans looking for reading options over one of the chiller months.
Sign up for updates here
for the club to keep on the up and up of Book to Film Club News.