DVD Review of the Canadian voyeur drama/comedy Peepers starring Joe Cobden & Janine Theriault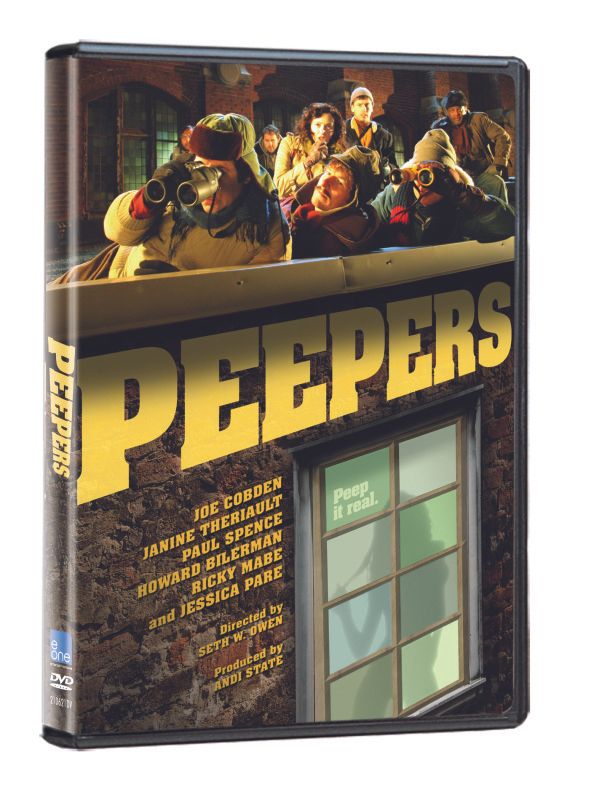 Image Courtesy eOne Films
Dir: Seth W. Owen (The Recommendations)
Cast: Joe Cobden, Janine Theriault, Paul Spence, Howard Bilerman, Ricky Mabe, Jessica Pare
Canada
,
2011
(DVD Release)
Reason to see:
Curiosity & it's Canadian!
Peepers
follows a rag tag group of old school rooftop peeping tom, full on with a code of honour that rejects new wave things like recording and keeps things simple and live like hand writing out visual acquisitions, categorizing peeps as well as the monotony of dry nights.
While watching
Peepers
, I had to examine my own drawn to the film. Did I really want to see a film about Peeping Toms? Really? What's the draw here? There is a quirk factor that rides high for sure and I also loved the whole short-hand the peeps had but the fact that it was Canadian was the real pull for me and I always have my eye out for up and comers and this is somewhere you can often find them and
Peepers
is no exception there, we have Ricky Mabe (
The Wild Hunt
, Zack and Miri Make a Porno) and Joe Cobden whom I just saw in a fantastic short at the
Toronto After Dark Film Festival
with the ridiculously long title of
How to Rid Your Lover of a Negative Emotion Caused By You
, and wow - he's great. I really enjoyed his performance in
Peepers
as the die-hard old-skool peeper that keeps to the code, so much so that he's not willing to shift when the tide turns and a voyeurism teacher starts hanging out with our group of peeping misfits. It's this character combination that makes the film really work and can apply in so many scenarios when it's not so much as the old vs. the new, as the complexity with the inability to handle change. Some change is good, and all change is inevitable so it's worth it to be a bit flexible.
The added bonus of the film is the absolutely hilarious audio commentary from the trio of co-writers that had me in stitches. They talk about anything and everything you'd want to know about the film, the subject, and beyond. A true treat.
DVD Extras:
Feature Commentary with director/co-writer Seth W. Owen, co-writer/co-producer Mark Slutsky and co-writer Daniel Perlmutter

lively commentary by the team behind the film and it's a little odd as only 2 of the 3 are watching but that adds for some pretty natural comedy between them. They discuss about importance of having nudity in the film, they were surprized at the willingness of friends to offer to be peeped at, the challenges with the nudity, the casting process, this history and peeping, the genesis of the idea of the film, their opinions on the subject and the debate and moral question, the complexity of rooting for the characters peeping, possible sequel idea, the music in the film, inspiration and other films on the same topic. The guys have a great rapport and it's really fun to listen to the chat about the film.

More extras include:

Peep Art - Magazines & Posters Created for the Film, Peep Music - Title Song: Tables Have Turned by Eric Digras, Peep Pictures Behind-the-Scenes at Annette's and on the Roofs and Trailer
Peepers
is available on DVD as of November 1, 2011. Check it out over at
Amazon.ca
Shannon's Overall View:
I enjoyed it much more than I expected
I'd watch it again
I'd recommend it to fans of comedies & Canadian film - especially folks who want and expect to see nudity
Return to Film Reviews
or see more
DVD Reviews
© Shannon Ridler, 2011