Review of the adventure film The Three Musketeers starring Logan Lerman, Milla Jovovich, Matthew Macfadyen, Ray Stevenson and Luke Evans adapted from the book by Alexandre Dumas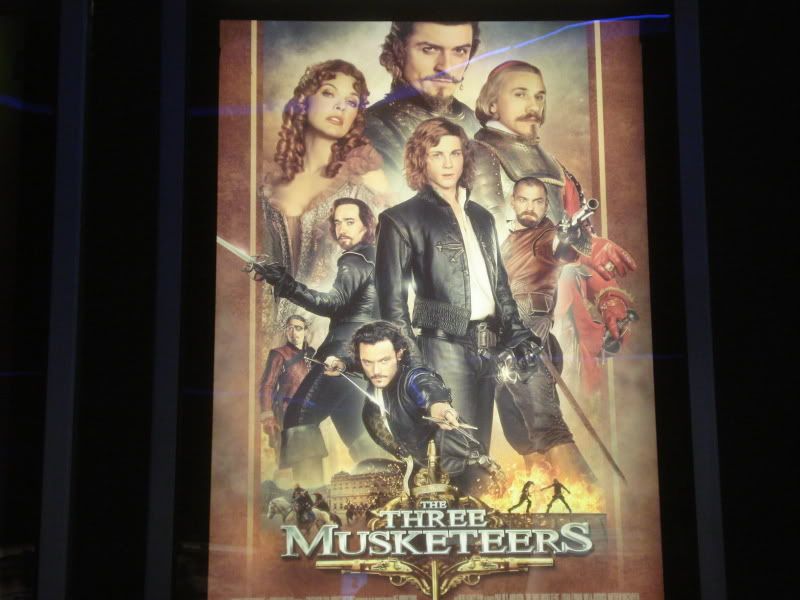 Dir: Paul W.S. Anderson (Resident Evil, Resident Evil: Afterlife, Death Race (2008), AVP: Alien vs Predator)
Cast: Logan Lerman, Milla Jovovich, Matthew Macfadyen, Mads Mikkelsen, Ray Stevenson, Luke Evans, Christoph Watlz, Orlando Bloom, Freddie Fox, Juno Temple
USA
/
UK
/
France
/
Germany
,
2011
Seen:
November 17, 2011 at Scotiabank in 3D
Reason to see:
It's on my list of
Most Anticipated Films of 2011 (#21)
I wasn't quite sure what to make of
The Three Musketeers (2011)
before heading in, as it's a highly noted classic adventure story that has been adapted in to so many films over the years and then to have the man who brought us the Resident Evil films, Paul W.S. Anderson directing, I was even more dumbfounded. But the trailers looked fun and I adored the cast (Mads! Milla! Ray! Oh my...), so I picked it for the
Book to Film Club
and said I was going to give it a chance.
Now, I do have to admit that getting through the book
The Three Musketeers
was a HUGE challenge. It was the hardest read (but I didn't dislike it) and the biggest challenge of the
2011 Book to Film Club
because it was so long and so dense. Thankfully, the film is a lovely adaptation trimming away oodles and oodles of things I didn't miss and keeping all the adventure, including main story and the spirit of all of the characters. Before reading the book I was mostly excited because of the casting. I'll see anything that Mads Mikkelsen (
After the Wedding / Efter brylluppet
,
Valhalla Rising
) & Ray Stevenson (King Arthur,
Kill the Irishman
) are in, especially together, and I continue to love Logan Lerman (
Percy Jackson & The Olympians: The Lightning Thief
) , Milla Jovovich (Resident Evil Series) & Luke Evans (Tamara Drewe, Immortals). Plus, now I have to know where the heck Matthew Macfadyen has been hiding (period films?) because he in instantly going on my to-watch list as he is an excellent actor.
I know that is a lot of names, but that is because the film has so many delicious characters from our young protagonist D'Artagnan (Logan Lerman) who is off to prove himself and quickly becomes entangled with the Three Musketeers of Athos (Matthew Macfadyen), Porthos (Ray Stevenson) and Aramis (Lucas Evans) who although highly skilled are not really needed anymore and come to odds with the Cardinal's (Christoph Watlz) guards lead by Rochefort (Mads Mikkelsen) and pretty much rule the place even though it's in the hands of a very king Louis (Freddie Fox). And then of course we have Milla Jovovich as the cunning Milady, whom is highly skilled in many ways.
How they flushed out all of the characters so well is a huge feat in it of itself, I'm a big fan of ensemble casts in action/adventure films and they are able to create and hone the characters including their own unique set of skills, they interpersonal relationships, histories and motivations all without feel like it's being telecasted to you. And I didn't go in super knowledgeable reading the book - I could barely tell the Musketeers apart! But here, it was easy and delightful to know who was who; and what trouble they are getting into. And there is a lot of trouble to get into, the film is full of plots and trickery and the mystery of solving your counterparts motivations and the meticulous planning to work on and through the deception. Honestly, the planning won me over more than I anticipated. But the art direction and styling was also gorgeous, although they certainly took some liberties with devices which gave it a fun vibe and you really just have to go with it.
I loved watching
The Three Musketeers
, it is literally one of the most fun out of all of the movies I have seen all year. It's outrageous, outlandish and over the top but it's backed by a solid plot, a fantastic set of characters and a brilliant cast. I really enjoyed the performances of each and every person in the film who breathed in the joy, romance, adventure and life into the film. Absolutely wonderful!

See also:

The Three Musketeers (2011)

DVD Review
Shannon's Overall View:
I loved it - I was grinning from ear to ear the entire time
I'll own it
I highly recommend it to fans of adventurous and fun-spirited films
Also see:
Most Anticipated Films of 2011
,
2011 Book to Film Club
and
All Film Reviews
© Shannon Ridler, 2011