Reel Asian 2011 Day 6 including reviews of Eternity, Surrogate Valentine & Pearls of the Far East (World Premiere)
Day 6 was the final day of Reel Asian and I did another triple bill of afternoon & early evening screenings all of which had a theme of life and love. I started out with the Thai film Eternity which centred not only on life and love and love that persists through our corporeal life into the spiritual realm. Then it was time to hit the road in the American West Coast music & road movie of meta-licious proportions that travelled through from San Francisco to Seattle to LA and had lots talk of and missed encounters along the way and then ended off with the sold-out World Premiere of Pearls of the Far East which was a lovely romance anthology film gorgeously shot & set in Vietnam.
That was the final film I saw for this year but Day 6 closed out with a screening of Buddha Mountain and their awards ceremony and will continue next weekend with screenings up in Richmond Hill on November 18 & 19, 2011.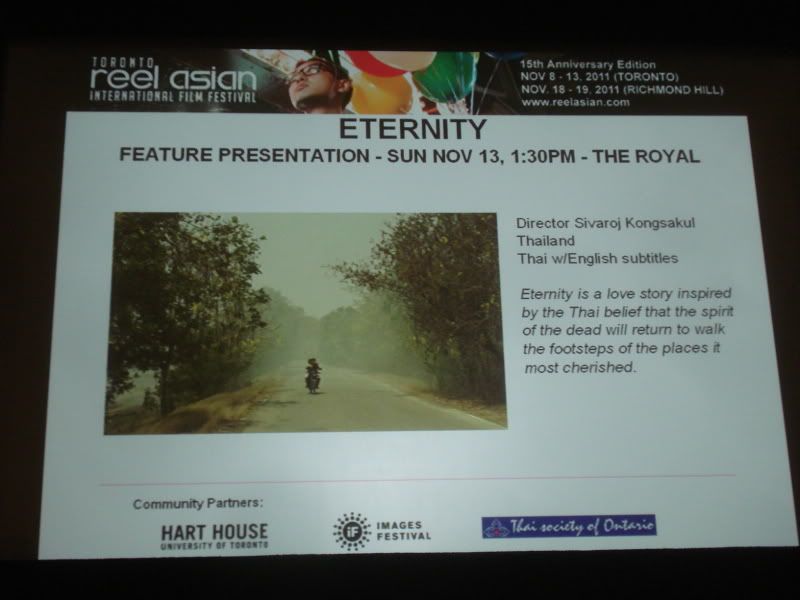 Eternity
Dir: Sivoroj Kongsakul
Cast: Wanlop Rungkamjad, Namfon Udomletlak, Prapas Amnuay, Pattraporn Jaturanrasmee
Thailand
Eternity is one of the films that I'm really glad I read the programming not, because knowing it was about spiritual beliefs and the connection of love beyond our corporeal life really made a difference going in. The pacing is very gentle, which created an atmosphere that shifted my perception of time as although we spent what felt like a long time with the characters that felt like no where near the actual amount of time that they spend with each other in the same moments, or through their lives and beyond. I thought it was a very sophisticated demonstration of pairing time with emotion and in particular though the shaping of a relationship though a courting phase and how it grows and becomes more strong and substantial the more two people get to know each other. I know that the pace won't suit everyone's fancy, but if you enjoy getting absorbed in real-time moments of life and relationships, Eternity is one for you. I really enjoyed it.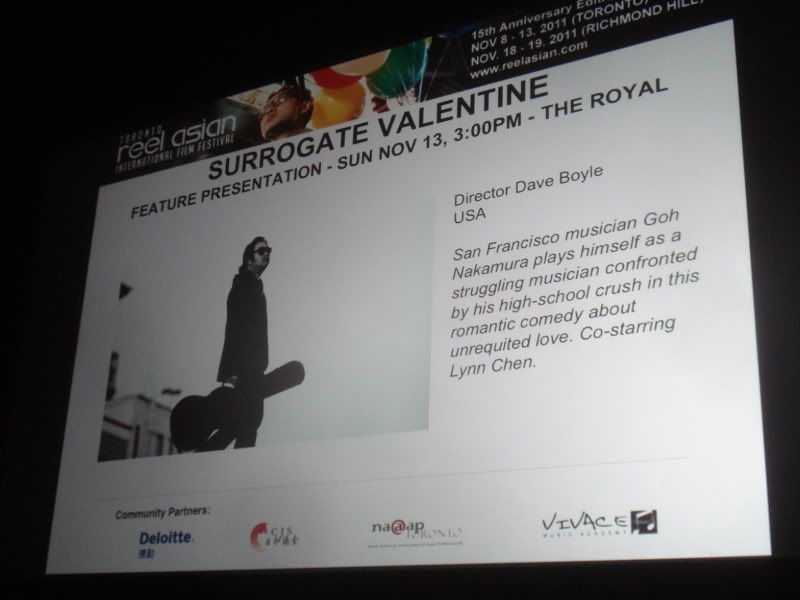 Surrogate Valentine
Dir: Dave Boyle (White on Rice)
Cast: Goh Nakamura, Lynn Chen, Chadd Stoops
USA
Surrogate Valentine is a road trip/music/romance film that give the feeling that it blurs the line between reality and fiction as it features Goh Nakamura, the musician playing Goh Nakamura, a musician. Going into the film I wasn't sure how that was going to work and I'm not always a fan of meta films when they feature someone playing themselves, but I was completely won over by Surrogate Valentine. It has a charming way of giving you all the little moments that you think couldn't work in this format, shows them not working and then somehow it sneaks up on you and makes them all work. I have no idea how they did it, especially because it has even more meta layers that felt like they could be confusing, but weren't and rather just make me laugh or smile or cheer for the characters and hope that they make it through their troubles along the way. It has some brutal truth as well as beautiful honesty and a fantastic soundtrack to boot. I adored it.
Reel Asian Artistic Director Heather Keung with Surrogate Valentine director Dave Boyle and star Goh Nakamura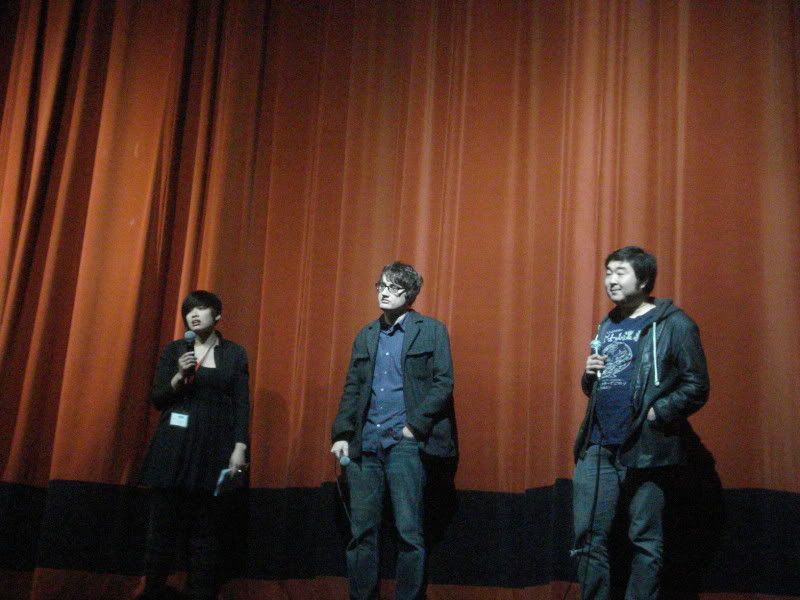 Reel Asian Artistic Director Heather Keung with Surrogate Valentine director Dave Boyle and star Goh Nakamura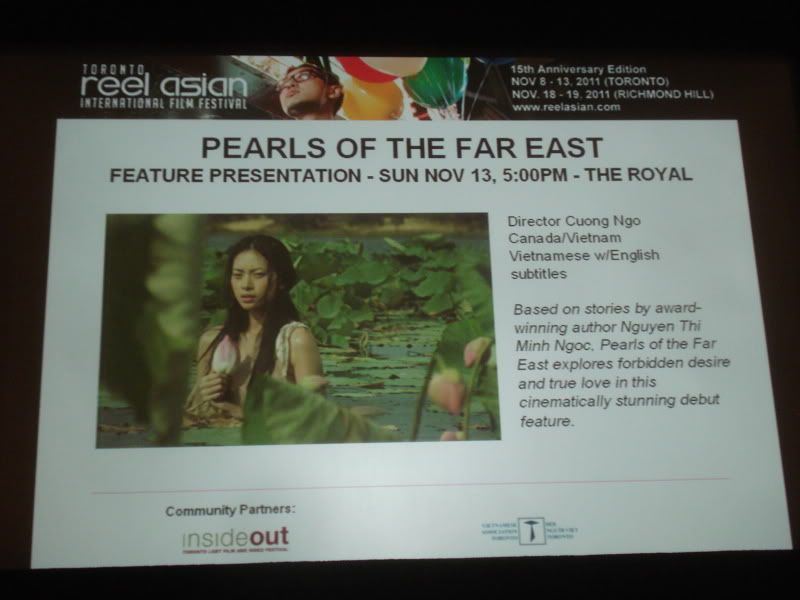 Pearls of the Far East
Dir: Cuong Ngo
Cast: Ngo Thanh Van, Truong Ngoc Anh, Nhu Quynh, Hong Anh, Kieu Chinh
Canada
/
Vietnam
It was really exciting to be at the World Premiere of Pearls of the Far East on the closing day of Reel Asian this year, there literally was not an empty seat in the house and the energy was electric. From the moment the film started it had me almost in tears at its beauty, with its lush landscapes and vibrant colours that popped off the screen. And that is just the setting! Add to that the heartfelt stories and gorgeous cast and we are in for a wonderful journey through a beautiful anthology of love stories. Pearls of the Far East showcases stories of love from childhood up to and through adulthood and of many different types of love. It was interesting that most, but not all, were from the perspective of women and I loved how all of the stories dealt with but in so many different ways from childhood love to love found, from forbidden love and lost love. I loved the diversity of stories, the amazing portrayals of a range of emotions and the truly electric chemistry generated by the talented cast. Pearls of the Far East was a true treasure of this year's festival and will stay fondly in my memory for a long time to come.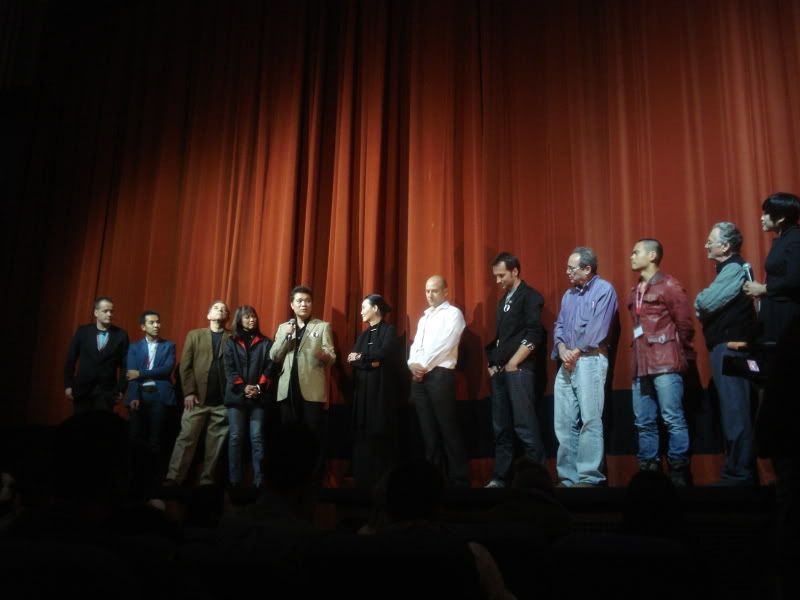 Cast & Crew of Pearls of the Far East at World Premiere screening, director Cuong Ngo (centre)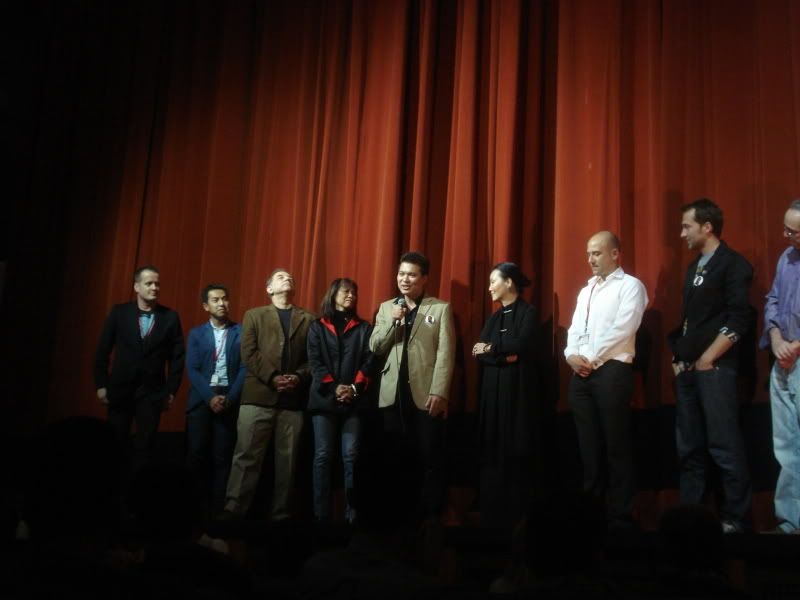 Cast & Crew of Pearls of the Far East at World Premiere screening, director Cuong Ngo (centre)
The
Toronto Reel Asian International Film Festival
2011 ran from November 5 - 13, 2011 in Toronto and also November 18-19, 2011 in Richmond Hill in Ontario, Canada.