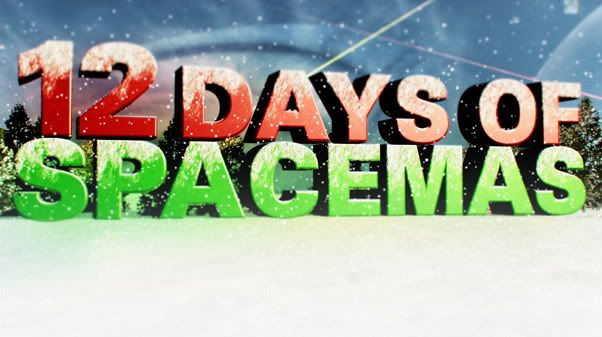 We are heading into the holiday stretch and for a lot of TV watchers that can often mean absolutely nothing to watch, but for fans of monsters, magic & heroes have no fear as
The 12 Days of SpaceMAS
is
almost here
. From Thursday December 22, 2011 to Monday January 2, 2012
Space Channel
will be jam packing our days with marathons of monster movies to entire seasons of TV and possible the most exciting for Whovians, the Doctor Who Christmas Special being played on Christmas Day.
Myself, I'm gearing up more for the movie marathons, especially Beast Feast Marathon over 2 Days which has a mega-load of monster movies including
Mega Piranha, Mega Shark vs Giant Octopus, Mega Shark vs Crocosaurus
and of course
Mega Python vs Gatoroid
(
starring Tiffany & Debbie Gibson!). Also included in Beast Feast is shark classic
Jaws
and two of my faves:
Deep Blue Sea
and
Rogue
(killer crocodile!) starring Radha Mitchell & Sam Worthington and I might finally get to see the infamous
Black Sheep
!
There are also lots of films for dinosaurs fans (Jurrasic Park trilogy +
Triassic Attack
&
Aztec Rex
), Comic Book Hero fans with several Batman films and 2 Thor Films:
The Almighty Thor
and
Thor: Hammer of the Gods
and then the Man vs. Machine marathon with
I, Robot

,

Demolition Man, Stealth, Transformers
1 & 2
and
Starship Troopers
1 &
2. Although I think
Starship Troopers
is a bit of a cheat....weren't the monsters just.. bugs? Meh! No matter, it's all in good fun and it's got cool tech - perhaps they mutate to machines in the sequel.
For the TV fans there are lots of shows to catch up with including Season 1 & 2 of
Merlin
(great lead up to
Season 4 premiere on January 7, 2012
),
Sanctuary Season 4
marathon,
Christmas with the Doctor
and
Torchwood Marathon
.
With so many awesome options, the true question is, what *won't* you watch?
Here's a listing of the full
12 Days of SpaceMAS
:
Day 1 - Thurs Dec 22, 2011: Comic Book Hero Marathon
Day 2 - Fri Dec 23, 2011: Dino-Might Marathon
Day 3 - Sat Dec 24, 2011: Family Fantasy Marathon
Day 4 - Sun Dec 25, 2011: Christmas with the Doctor
Day 5 - Mon Dec 26, 2011: Beast Feast Marathon Day 1
Day 6 - Tues Dec 27, 2011: Beast Feast Marathon Day 2
Day 7 - Weds Dec 28, 2011: Magical Merlin Marathon Day 1
Day 8 - Thurs Dec 29, 2011: Magical Merlin Marathon Day 2
Day 9 - Fri Dec 30, 2011: Sanctuary Season 4 Marathon
Day 10 - Sat Dec 31, 2011: Man vs. Machine Marathon Day 1
Day 11 - Sun Jan 1, 2012: Man vs. Machine Marathon Day 2
Day 12 - Mon Jan 2, 2012: Torchwood Marathon
Thurs Dec 22, 2011: Comic Book Hero Marathon
7 p.m. ET – THOR: HAMMER OF THE GODS
8:55 p.m. ET – THE ALMIGHTY THOR (Encore at 9 a.m. ET on Dec. 23)
10:50 p.m. ET – BATMAN
1:25 a.m. ET – BATMAN RETURNS
4 a.m. ET – BATMAN FOREVER
6:30 a.m. ET – BATMAN AND ROBIN
Fri Dec 23, 2011: Dino-Might Marathon
11 a.m. ET – AZTEC REX (Encores at 9:50 p.m. ET and on Dec. 24 at 6:50 a.m. ET)
12:55 p.m. ET – TRIASSIC ATTACK
2:45 p.m. ET – JURASSIC PARK (Encore at 11:45 p.m. ET)
5:20 p.m. ET – THE LOST WORLD: JURASSIC PARK 2 (Encore at 2:20 a.m. ET on Dec. 24)
7:55 p.m. ET – JURASSIC PARK 3 (Encore at 4:55 a.m. ET on Dec. 24)
Sat Dec 24, 2011: Family Fantasy Marathon
8:45 a.m. ET – BEETLEJUICE (Encores at 1:40 a.m. ET on Dec. 25)
10:40 a.m. ET – NEVERLAND (NIGHT ONE) (Encores at 7:05 p.m. ET and on Dec. 25 at 3:40 a.m. ET)
12:35 p.m. ET – NEVERLAND (NIGHT TWO) (Encores at 9:05 p.m. ET and on Dec. 25 at 5:35 a.m. ET)
2:30 p.m. ET – E.T. (Encore at 11:05 p.m. ET)
5 p.m. ET – STAR WARS: THE CLONE WARS
Sun Dec 25, 2011: Christmas With The Doctor
7:30 a.m. – 8 p.m. ET – Back-to-back episodes of DOCTOR WHO (Season 6)
8 p.m. – 6:30 a.m. ET – Back-to-back DOCTOR WHO specials including:
THE DOCTOR, THE WIDOW AND THE WARDROBE Premieres Sunday Dec 25 at 9 pm ET on SPACE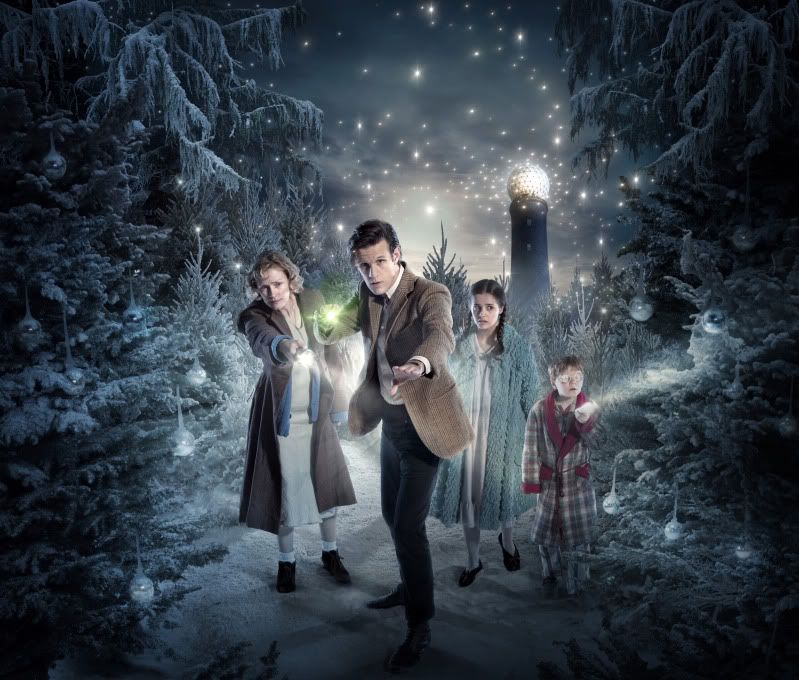 THE DOCTOR, THE WIDOW AND THE WARDROBE Premieres Sunday Dec 25 at 9 pm ET on SPACE
Mon Dec 26, 2011 - Beast Feast Day 2:
9 a.m. ET – DEEP BLUE SEA
11:10 a.m. ET – MEGA PIRANHA (Encore at 4:40 p.m. ET)
1 p.m. ET – COPPERHEAD
2:50 p.m. ET – MEGA PYTHON VS. GATOROID
6:30 p.m. ET – MEGA SHARK VS. GIANT OCTOPUS
8:25 p.m. ET – MEGA SHARK VS. CROCOSAURUS
10:15 p.m. ET – JAWS (Encore at 4:30 a.m. ET)
12:45 a.m. ET – MALIBU SHARK ATTACK
2:35 a.m. ET – RAZORBACK
Tues Dec 27, 2011 - Beast Feast Day 2:
7 a.m. ET – COPPERHEAD
8:50 a.m. ET – MEGA PIRANHA
10:40 a.m. ET – MEGA SHARK VS. GIANT OCTOPUS
12:30 p.m. ET – MEGA SHARK VS. CROCOSAURUS
2:20 p.m. ET – MEGA SHARK VS. GATOROID
4:10 p.m. ET – ANACONDA (Encore at 12:20 a.m. ET)
6 p.m. ET – MALIBU SHARK ATTACK
7:50 p.m. ET – JAWS
10:20 p.m. ET – ROGUE (Encore at 4 a.m. ET)
2:10 a.m. ET – BLACK SHEEP
Wed Dec 28, 2011 - Magical Merlin Day 1:
6 a.m. – 6 p.m. ET – Back-to-back episodes of MERLIN (Season 1) (Episodes repeat from 6 p.m. – 6 a.m. ET)
Thurs Dec 29, 2011 - Magical Merlin Day 2:
6 a.m. – 6 p.m. ET – Back-to-back episodes of MERLIN (Season 2) (Episodes repeat from 6 p.m. – 6 a.m. ET)
Fri Dec 30, 2011: Sanctuary Season 4 Marathon
11 a.m. – 11:22 p.m. ET – Back-to-back episodes of SANCTUARY (Season 4)
Final three episodes of the season start at 8:30 p.m. ET
Encore broadcasts from 11:22 – 11:30 a.m. ET
Sat Dec 31, 2011 - Man vs Machine Day 1:
11:30 a.m. ET – DEMOLITION MAN (Encore at 12:30 a.m. ET)
1:50 p.m. ET – STEALTH (Encore at 2:50 a.m. ET)
4:20 p.m. ET – I, ROBOT
6:40 p.m. ET – TRANSFORMERS (Encore at 5:20 a.m. ET)
9:35 p.m. ET – TRANSFORMERS: REVENGE OF THE FALLEN
Sun Jan 1, 2012 - Man vs Machine Day 2
8:15 a.m. ET – TRANSFORMERS: REVENGE OF THE FALLEN (Encore at 6:55 p.m. ET)
11:10 a.m. ET – STEALTH
1:40 p.m. ET – I, ROBOT
4 p.m. ET – TRANSFORMERS
9:50 p.m. ET – STARSHIP TROOPERS
12:30 a.m. ET – STARSHIP TROOPERS 2: HERO OF THE FEDERATION
2:20 a.m. ET – ALIEN VS. PREDATOR
4:30 a.m. ET – STARGATE
TORCHWOOD Marathon
Monday, Jan. 2, 2012
7 a.m. – 1 p.m. ET – Back-to-back episodes of TORCHWOOD: CHILDREN OF THE EARH
1 p.m. – 12:10 a.m. ET – Back-to-back episodes of TORCHWOOD: MIRACLE DAY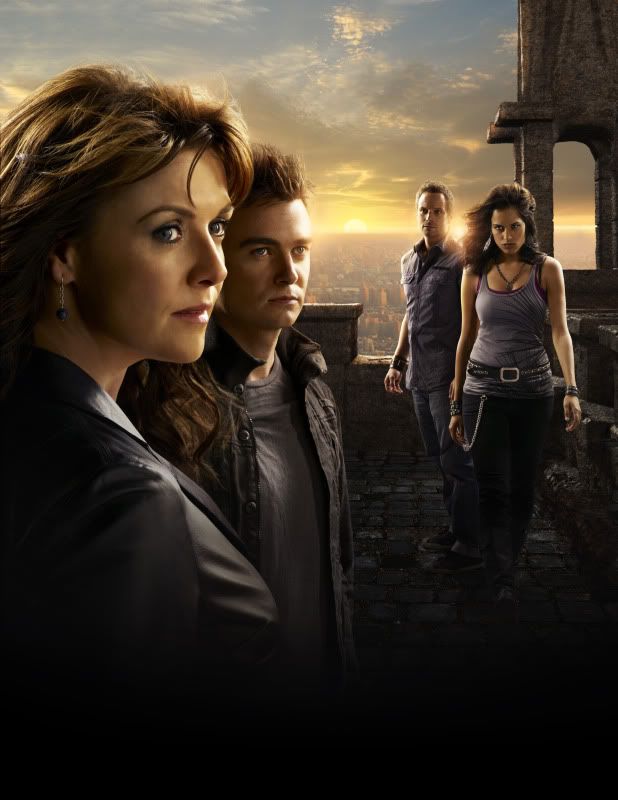 Sanctuary Cast Photo Credit Sanctuary Productions

Cross posted at Hexed: Sisterhood of the Supernatural