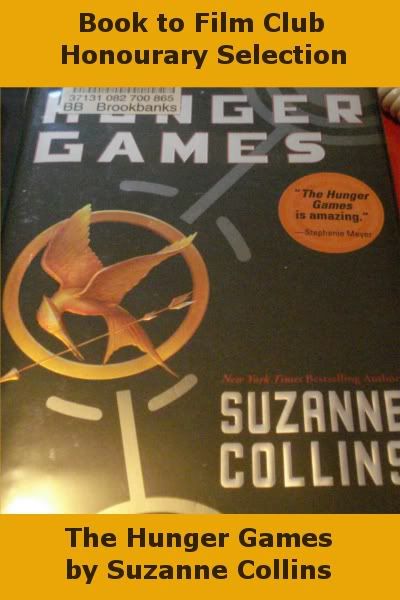 Honourary December 2011 Book Selection: The Hunger Games by Suzanne Collins
When I put together the
2011 Movie Moxie Book to Film Club
I always envisioned it being 11 books adapted to 11 films from January - November with December off. Because, we are all busy in December with the holiday season being upon us and shopping and cooking and cleaning and preparing for fun times ahead. But last week I found myself in a bit of a predicament. I didn't have anything to read! I was so confused, and surprized. Realizing this may have happened to fellow book to film clubbers I decided to select an honourary book for the last month of the year in case you need some reading too. So, here it is:
The Hunger Games by Suzanne Collins
The book follows young and resourceful Katniss, a hunter who provides for her family during trying times in the post-apocalyptic world of Panem, where areas are sectioned off into districts and Tributes are chosen from each area for a yearly fight to the death. It's a total page turner and really exciting to see a unique, strong, young female character in the lead.
Why isn't it included in the actual book club?
Two main reasons: It's part of a trilogy and I'm trying not to include series in the book club as much as possible. I also loved both the first and second books, but absolutely hated the third so much that it makes me resist recommending the series. But, there is no denying that the film is going to be HUGE next year, and I would hate for any book to film clubbers to miss out of reading it first. Plus, they've already announced the second book in the trilogy (Catching Fire) release date of November 22, 2013. So looks like we are in for the long haul. And the second is, ...I've already read it :)
The Hunger Games will be released on March 16, 2012
The film starts Jennifer Lawrence, Liam Hemsworth, Josh Hutcherson, Lenny Kravitz, Woody Harrelson, Elizabeth Banks, Stanley Tucci and is directed by Gary Ross (Pleasantville, Seabiscuit).
You can buy
Hunger Games at Amazon.ca
or
the Trilogy at Amazon.ca
and
Hunger Games at Amazon.com
or the
Trilogy Box Set here
.