I always find it fun to check in on the films I was most looking forward to during the year (
from the very beginning of the year
as well as the
mid year additions
) to see how they faired. Often the results end up being very different than expected, although now that I've had that happened several times I wonder if I will expect it next time round! But, I hope I don't let that effect my future casting of my 2012 Most Anticipated Films List which is already in the works. But, before we get there lets take 1 more look back at the year that's passed.

Below Expectations
First up, the sad news. The films that disappointed, were miss marketed, didn't meet their potential or expectations. This isn't always about the quality of the film, but more often matching of expectation to result.
X-Men: First Class
(placement on original list: #23)
Seeing as this was only #23 I guess I wasn't all that excited about it but even if it wasn't on my most anticipated list it would have still ended up being the biggest disappointment of the year. How they turned a world of misfit mutants that I've loved for years into a historical set origin story (which is fine) that is filled with gender crap (i.e. intentional imbalance) I'll never understand, and worse I'll never forgive. I mean seriously, in a world of MUTANTS all the women end up being disempowered but their 'powers' and all have moments of full or partial nudity is something that does not represent the world they've build and completely shuts me as a viewer and fan out.
Immortals
(placement on original list: #14)
Oh, man I'm almost embarrassed this one was on the list but bear in mind it was before the trailer came out. I loved Tarsem's films to date but this sword & sandals epic was seeped too much in brutality for my tastes and worse yet lacked a very important element: a hero.
Red Riding Hood
(placement on original list: #10)
I had high hopes for this Catherine Hardwicke directed retelling of the classic tale and as beautiful as it was the story was very clunky and the acting only okay. I still love many of the actors in it and it had some moments, but overall very disappointing.
The Muppets
(placement on original list: #9)
I'm really sad that The Muppets ends up in this spot of the list, I had really high hopes for it and it easily had the best marketing of any film this year. One caveat of that marketing though was that the story of the film itself wasn't very clear outside actually going to it, and I found that it really focused on nostalgia and had a sadder tone than I was expecting. I went to see The Muppets, not to spend more time thinking about wanting to see them. I already had that journey all year waiting for the film.
The Help
(mid-year addition)
And this is where I get to say that just because a film was below expectations it doesn't mean it was a bad film. The Help is a very good film, but the book is excellent and although I found watching the adaptation very emotional and was thrilled to see a female dominate cast, I didn't love how often they chose to go with comedy. I also was disappointed in some of the changes, including how clear cut they make situation and people's experiences, when often it's a more complex, grey beast.

Not Quite Met Expectations
Water for Elephants
(placement on original list: #7)
This is a bit of a weird one as I didn't love the film, but I didn't love the book either. However, the film make me appreciate the book more than I had going in and for that it means it gave me something of value so I had to rank it higher than first place. that being said I did still think I would enjoy it more especially considering he period and the circus setting. The changed some of the character complexities too, which I wasn't all that thrilled about.
Warrior
(placement on original list: #8)
Now Warrior is a bit of a touchy because it's one where the film just turned out to have a very different focus that I expected as I went in thinking action/fight as it's around a MMA fight where two brothers are in the running, but it's very much a family drama as well as a pulse on trying times and what people are willing to do to work through it. I wouldn't say it isn't a good film, it's just not the film I thought it would b. I continue to be impressed with both Joel Edgerton and Tom Hardy who play the estranged brothers here, and I really enjoyed seeing the fighting. The
DVD extras are extensive on this
, and I highly recommend checking them out. I was particularly impressed with Philosophy in Combat: Mixed Martial Arts Strategy extra with MMA trainer Greg Jackson & actor Frank Grillo talking about the connection between art and sport which has been a subject on my mind for quite some time.
Met Expectations
This is one of the oddest categories because whether the films were okay or amazing, they could end up side-by-side in these results.
The Eagle
(placement on original list: #19)
I quite enjoyed The Eagle, and I think it's important to watch it from the perspective of an adventure story based on a young adult novel that follows young guys who have lived already beyond their years. It's not a story we often see, I enjoyed seeing the relationship develop and the art direction is great.
Rise of the Planet of the Apes
(mid-year addition)
Wow, this was one of the most fun films of the year and was my yearly reminder that the box office loves family friendly films. It's PG across the board but takes on social commentary like any good Ape movie. The only reason I didn't rank it higher was the lack of any strong female characters in the mix
Source Code
(placement on original list: #17)
It feels odd to put Source Code just at met expectations, but that is likely because after Moon my expectations for Duncan Jones are very high and he delivered yet again in this mind-bending current day science fiction thriller starring Jake Gyllenhaal.
Tinker Tailor Soldier Spy
(mid-year addition)
Another odd placement for met expectations, but yet again it is because I had high expectations and Tinker Tailor Soldier Spy was very good. Drives me a little bananas that I've not reviewed it but it came during the end of year windfall of films. Highly recommend checking it out for all espionage film fans and beyond. Fabulous cast who do a great job and it's always nice to see Gary Oldman take centre stage.

Exceeded Expectations
This is by far the biggest return category and it has a very high number of
Book to Film Club
choices, more book adaptations and a prequel. I guess I don't hold high expectations for those films but we lucked out this year with many great results
The Thing (2011)
(placement on original list: #3)
I did two things that I think helped make me really enjoy this film. I steered way the hell away from the trailers and I didn't re-watch the 82 Carpenter version until after seeing this prequel. That made it so I was still aware of the original enough to get the nods and shout outs, but not so much that I was looking for them. I enjoyed it a lot and look forward to seeing it again.
One Day
(mid-year addition)
This one exceeded my expectations because although I loved the book, I just didn't think it was possible to adapt it in terms of the volume of content and also getting the uniqueness of the relationship but they really nailed it. I think it's great that the screenplay was written by novelist David Nichols, which I'm sure had a lot to do with making it work overall. And I loved the casting - Anne Hathaway & Jim Sturgess were perfect as Emma & Dexter. Loved it.
Hugo
(placement on original list: #24)
Another
Book to Film Club
selection where I only just enjoyed the book, I think the fact that it feels so directly playing to film fans kind oddly pushed me a little away from it. But, the film itself really captures a wonderful sense of wonder in trying times but without removing the element of emotional hardship or pain, and actually dealt with it instead of dismissing or ignoring it.. I also loved the focus and discussion around legacy of work, which really isn't something I got from the book.
I Am Number Four
(placement on original list: #12)
This was the first film from the
Book to Film Club
and for that it will always hold a special place in my heart and I had no idea I would love it so much. I loved the combination of science fiction with a young adult protagonist and the great moments around family in the film which totally aren't the focus but really warmed my heart. Plus, shout out to a blogger character in the film! WOOT!
The Twilight Saga: Breaking Dawn: Part 1
(placement on original list: #26)
I think enjoying Breaking Dawn Part 1 might very well be the biggest surprize of the year for me. It reminded me that regardless of the expectation going into a film, you can still end up with something different that you think you will get – even from a series that you may know extremely well. It's a great coming of age film and romance and most importantly a woman's story.

The Three Musketeers
(placement on original list: #21)
I think this is the final
Book to Film Club
film in the list and I had no idea how they could condense such a huge novel into a film, especially one that obviously was going for a fun action/adventure feel but they pulled it off. I understood the book so much more after seeing the film and I had so much fun watching it.
Fast Five
(placement on original list: #25)
I've enjoyed the previous Fast and Furious films I've seen for the ridiculous fun that they are, but when I went to see Fast Five I realized that the franchise much have a fan base because there were all these nods to the other films, strong depth of character moments, awesome character introductions and the like. I felt like I was seeing a fan film from a non-fan perspective, and it actually made me want to go back and see all the films again (or for the first time....damn that Tokyo Drift! How did I miss that one?). But in all honestly I had so much fun watching this film and was grinning like an idiot the entire time.
Harry Potter and the Deathly Hallows: Part 2
(placement on original list: #1)
What can I say about Harry Potter that hasn't already been said? It truly treaded new ground being a epically long film series based one a fantastic set of books and I am so glad they parsed out the last book into two films, because I loved 7.1 so much, I loved how they took their time with it instead of jumping to the climax of 7.2. It was also wild to realize that for people who hadn't read the books they didn't actually know what would happen in this film! I guess that's why it felt slightly anticlimactic, but it was still amazing and I will look forward to revisiting it time and time again.

Far Exceeded Expectations
I find it interesting that this category had films that already were placed very high on my list and that I was expecting a lot from, and even then they delivered more than I could have ever imagined. Amazing. A good reminder that you can keep the expectation bar high and still get wondrous results.
The Adjustment Bureau
(placement on original list: #2)
I think this was the first film I really fell in love with of the year, even though it's not perfect it made me realize I don't care about perfect as much as I though. Which, coming from a perfectionist (on many things, not all things...but many things), is quite a feat. Beautiful, brilliant and a unique blend of science fiction and romance wit a dash of dance. Lovely.
Battle: Los Angeles
(placement on original list: #16)
I know this is a divisive film for many and I stand firmly on the side of the pro's. I love the heroism and bravery it showcased and I also loved the sound design. Yep. Those are 2 ways to Shannon's heart. Bravery & great sound.
Thor
(placement on original list: #5)
I loved Thor on so many levels, from the ability to have high fantasy and current day in the same film, to have a very different but believeable character journey, right down to the markeitng and the trailers which actualy didn't show to much. And yes, for Chris Hemsworth and his amazing arms and amazing acting. It's just goodness all around.
The Tree of Life
(placement on original list: #15)
I love when a film can be both ambiguous and clear at the same time; this is one that does it. Somehow allowing the viewer to bring just as much to the film and the film itself brings makes its a truly experiential viewing experience. I loved everything about it.
Drive
(placement on original list: #13)
I honestly didn't think I could love a film like I love Drive. I literally felt like it was being spoken in a language in which I needed no translation, I just understood it on a base level. Every moment, every turn, every gaze had a meaning, a purpose and a point. I loved every minute of it and ache to see it again.

And the last little odds & sods...
Not all of the films I had my eye on made it to the screen quite just yet, and there are even a few that did but I didn't get out to see. Here are those last few films.
Still to Come
The Woman in Black

#18 - is just around the corner with a February 3, 2012 release date

The Apparition #22

- bumped to 2012 although date not specified.

Still to See
Drive Angry 3D

#20 - own on DVD and how to see soon

Sherlock Holmes: A Game of Shadows

#11 - I just saw it and really enjoyed it

Curling

#6 - hope to catch on DVD and am sad I missed it in the theatre

Anonymous

mid-year addition - I missed this in the fall releases! I so should have see in over Trespass as my Hollywood film at TIFF this year

Sur le rythme

#4 - This Québécois dance film starring So You Think You Can Dance Canada Season 1 winner Nico Archambault never came out theatrically in Toronto, but I will catch it on DVD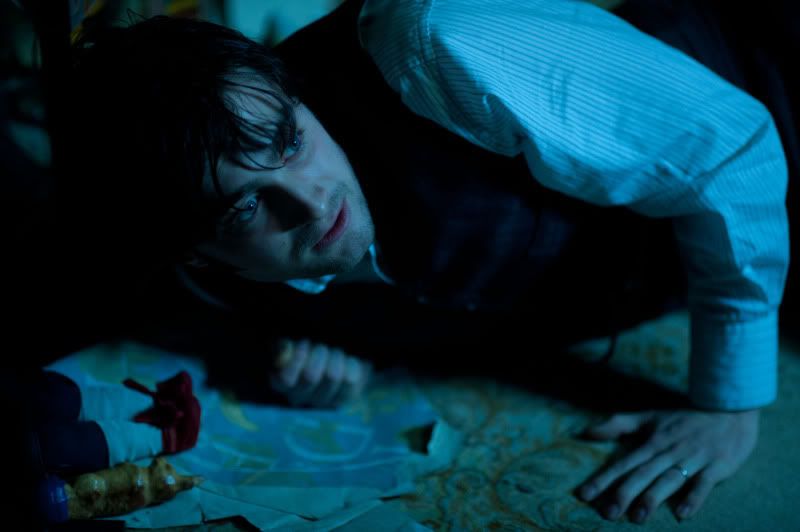 And that is *really* if for 2011! I hope it was a good year for you :)