Image Courtesy of Alliance Films
Want to attend an Advance screening of upcoming action film Haywire? Here are the details for giveaway for double passes to Haywire:
Where: AMC Yonge & Dundas 24, 10 Dundas Street East in Toronto, ON M5B 2G9
On: Thursday, January 19, 2012 at 7:00 PM
For Haywire Movie Passes Giveaway -
Click HERE
PIN for entry: MOVIEHAYWIREMOXIE
It's recommended to arrive EARLY to ensure admittance.
Tickets begin to be handed out one hour before the screening.
Haywire
has been on my radar for a while
as I'm always up for an action film with a female lead, and this one is none other than MMA
superstar Gina Carano
. Oh, yeah! Can't wait. Haywire looks like a hell of a lot of fun.
It was easily be on my Most Anticipated Films of 2012 list which I'm looking forward to sharing later this week.
From the Synopsis:
"This dynamic action-thriller directed by Oscar® winner Steven Soderbergh (Contagion) boasts a talented cast that includes Channing Tatum (GI Joe: Rise of the Cobra), Ewan McGregor (The Ghost Writer), Michael Fassbender (X-Men: First Class), Antonio Banderas (The Legend of Zorro), Bill Paxton ("Big Love"), Michael Douglas (Wall Street: Money Never Sleeps), Michael Angarano (Almost Famous); and introduces mixed martial arts (MMA) superstar Gina Carano as Mallory Kane, in a demanding lead role that has her performing her own high-adrenaline stunts. Mallory Kane is a highly trained operative who works for a government security contractor in the dirtiest, most dangerous corners of the world. After successfully freeing a Chinese journalist held hostage, she is double crossed and left for dead by someone close to her in her own agency. Suddenly the target of skilled assassins who know her every move, Mallory must find the truth in order to stay alive."
See more at the
Official Film Site
,
IMDb Page
,
Trailer
Haywire
opens in wide release January 20, 2012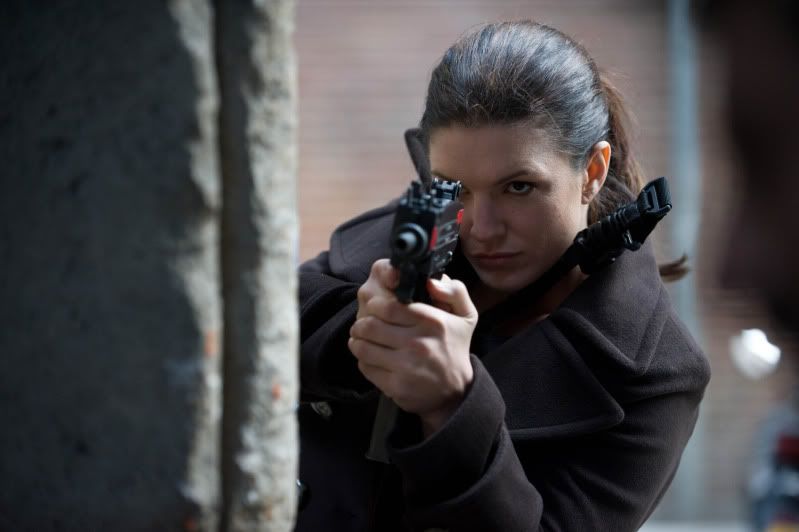 Gina Carano stars in HAYWIRE, and Alliance Films release. Photo Credit: Claudette Barius
Gina Carano (left) and Channing Tatum (right) star in HAYWIRE, an Alliance Films release. Photo Credit: Claudette Barius