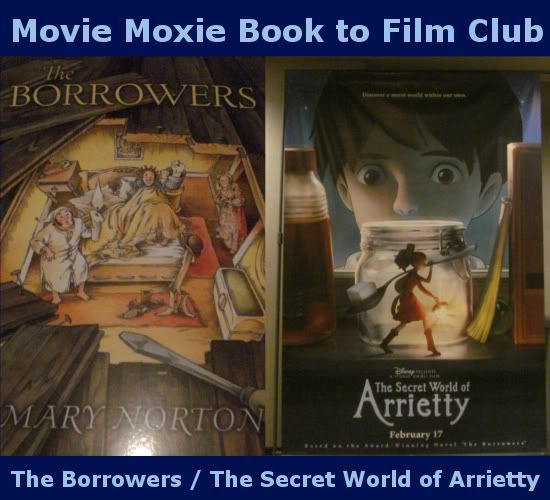 It's so exciting to start the year off with a new book to enjoy. Although I've already
announced 8 of the 11 titles for the 2012 edition of the Movie Moxie Book to Film Club
including our
Winter Reading Selections
, I still though January reading should have it's own page. The book section is The Borrowers by Mary Norton and the film is The Secret World of Arrietty, out on February 17, 2012.
January 2012 Reading: The Borrowers by Mary Norton
Starting the year off nice & light we begin with a children's fantasy novel about tiny people that live in the floorboards of the houses of humans and borrow little things like sugar and such but need to remain unseen by human eyes. I can't tell you how excited I was to see that this was coming out in February, which is perfect timing for us to read right now. Thank goodness I went to see The Muppets which is where I saw the trailer!
This one actually is the first in the series but the film is an adaptation of the first novel so we just have to read the one. The film adaptation is already completed and has been released in Japan and has won the Japan Academy Prize for Animation of the Year for 2010 given out by the Nippon Academy-sho association.
The title of the film adaptation is The Secret World of Arrietty, an animated film from Japan from Studio Ghibli, directed by Hiromasa Yonebayashi & Gary Rydstrom which will be released on February 17, 2012.
The film has been known by other names including Kari-gurashi no Arietti in Japan, Arriety the Borrower in the UK and Arriety in Australia, and has had different voice casts in different areas. The voice cast for North American version includes Bridgit Mendler, David Henrie, Will Arnett, Amy Poehler and Carol Burnett.
See the
Disney film site for the trailer and more info on the film
and the
IMDb Page
.
Join the Movie Moxie Book to Film Club
at any time. For title announcements, Book to Film Club news and monthly selections you can
sign up for email updates here
.