Hi Everyone!
I am so glad that you've stopped by to see all about the 2012 Movie Moxie Book to Film Club. I had so much fun reading, watching and sharing in the experience with everyone last year that I've decided to go it all again. We are in for another year of 11 books to read (Jan-Nov) and for as many of the films that are released.
I'm going to make just a few changes for 2012 to have the best alignment in terms to matching up the books to the film, and allow for some ease in case there are shifts in release dates and hopefully not bombard us with a month that has tons of films (although that might be in vain as December is very film heavy!). I hope to have a selection of well written books from variety of genres and include both new books and well loved classics. Like last year I'm also going to do my best to avoid series because they can be quite a big commitment, and I want people to be able to join (or take a break!) at any time.
Now, lets take a look at the titles for the 2012 Movie Moxie Book to Film Club!
Abraham Lincoln, Vampire Hunter by Seth Grahame-Smith (March 2012 Reading)
Anna Karenina by Leo Tolstoy (August 2012 Reading)
The Bell Jar by Sylvia Plath (April 2012 Reading)

The Borrowers by Mary Norton (January 2012 Reading)
Cosmopolis by Don DeLillo (May 2012 Reading)
The Great Gatsby by F. Scott Fitzgerald (September 2012 Reading)
The Hobbit by J.R.R. Tolkien (February 2012 Reading)
Safe Haven by Nicolas Sparks (November 2012 Reading)
That's 8 of our 11 titles that have confirmed or very likely film release dates for 2012. If you have any suggestions for the remaining 3, please let me know!
**UPDATE: The Final
3 Choices Have Been Revealed
:
Midnight's Children by Salman Rushdie (July 2012 Reading)
The Perks of Being A Wallflower by Stephen Chbosky (June 2012 Reading)
The Sisters Brothers by Patrick deWitt (October 2012 Reading)
I'll be releasing the reading schedule as the year going on. Right now lets have a look at the first three titles.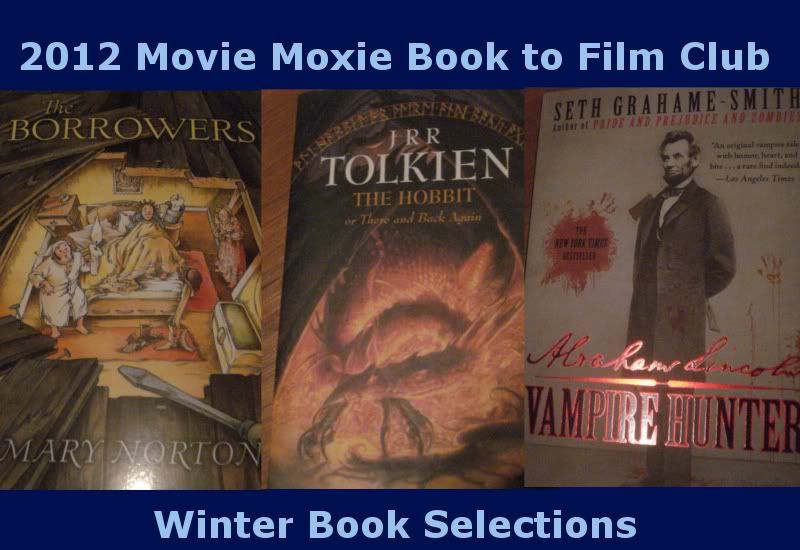 January 2012 Reading: The Borrowers by Mary Norton
Starting the year off nice & light we begin with a children's fantasy novel about tiny people that live in the floorboards of the houses of humans and borrow little things like sugar and such but need to remain unseen by human eyes. I can't tell you how excited I was to see that this was coming out in February, which is perfect timing for us to read right now. Thank goodness I went to see The Muppets which is where I saw the trailer!
This one actually is the first in the series but the film is an adaptation of the first novel so we just have to read the one. The film adaptation is already completed and has been released in Japan and has won the Japan Academy Prize for Animation of the Year for 2010 given out by the Nippon Academy-sho association.
The title of the film adaptation is The Secret World of Arrietty, an animated film from Japan from Studio Ghibli, directed by Hiromasa Yonebayashi & Gary Rydstrom which will be released on February 17, 2012.
The film has been known by other names including Kari-gurashi no Arietti in Japan, Arriety the Borrower in the UK and Arriety in Australia, and has had different voice casts in different areas. The voice cast for North American version includes Bridgit Mendler, David Henrie, Will Arnett, Amy Poehler and Carol Burnett.
See the
Disney film site for the film
and the
IMDb Page
.
February 2012 Reading: The Hobbit by J.R.R. Tolkien
I don't think there was any chance I wouldn't include this well loved fantasy novel from J.R.R. Tolkien set in the world of The Lord of the Rings. I actually know very little about it as I haven't read it before, but the casting looks fantastic and there was quite a wave of enthusiasm when the trailer debuted in late 2011. I'm very much looking forward to travelling to Middle Earth and follow the adventures of Bilbo Baggins.
The book is being adapted in to 2 films: Part 1 is The Hobbit: An Unexpected Journey and will be released December 14, 2012 and Part 2 is The Hobbit: There And Back Again and will be released next year December 14, 2013
March 2012 Reading: Abraham Lincoln, Vampire Hunter by Seth Grahame-Smith
This is the book I know the least about, but we've had several genre mash ups recently so why not try one out? It's written in epistolary-style (collection of documents which can include diaries entries, clippings, letters, etc; I had to
look that word up
!) including the perspective of Abraham Lincoln (yes, the 16th US president), as a vampire hunter.
The film is set to release June 22, 2012 and is directed by Timur Bekmambetov (Night Watch, Day Watch, Wanted).