This is a very special episode of the Movie Moxie Podcast as with the release of
The Divide
I am also sharing my interviews with actors Michael Biehn and Michael Eklund, whom I spoke with back in October during the Toronto After Dark Film Festival. Also check out transcripts of both interviews (
Michael Biehn here
and
Michael Eklund here
) as there was background noise when I speak with them. You can also check out my original vlog interview of The Divide as well as videos from the Introduction Videos from Toronto After Dark Film Festival 2011 with director Xavier Gens and actors Michael Biehn, Jennifer Blanc-Biehn, Milo Ventimiglia and Michael Eklund. Also on this episode I review currently theatrical release of
Contraband
, check out DVD releases for January 17, 2012 and review
Abduction
on DVD.
There are lots of different audio pieces this week so and I did my best to make them as close to each other in audio goodness so I hope you can hear everything clearly. As currently customary there added background rumbling is my cat purring. I think he likes the whole podcasting thing :)
Time Coding
0:00 - 1:45 Intro
1:45 - 5:45 Awards Talk: Golden Globes Awards & Genie Noms
5:45 - 12:30 Contraband Review
12:30 - 18:00 The Divide Review from TADFF Vlog
18:00 - 21:15 Michael Eklund Interview
21:15 - 28:00 Michael Biehn Interview
28:00 - 32:15 The Divide Introduction from the Toronto After Dark Film Festival 2011
32:15 - 53:35 The Divide Q&A from Toronto After Dark Film Festival 2011 with director Xavier Gens and actors Michael Biehn, Jennifer Blanc-Biehn, Milo Ventimiglia and Michael Eklund
53:35 - 59:40 DVD Releases & DVD Reviews of Abduction
59:40 - 1:01:30 Upcoming Films
1:01:30 - 1:02:30 Outro
Show Notes
Movie Moxie Podcast - A 100% spoiler-free film review podcast
You can also subscribe to the Movie Moxie Podcast here:
Subscribe through
iTunes here
.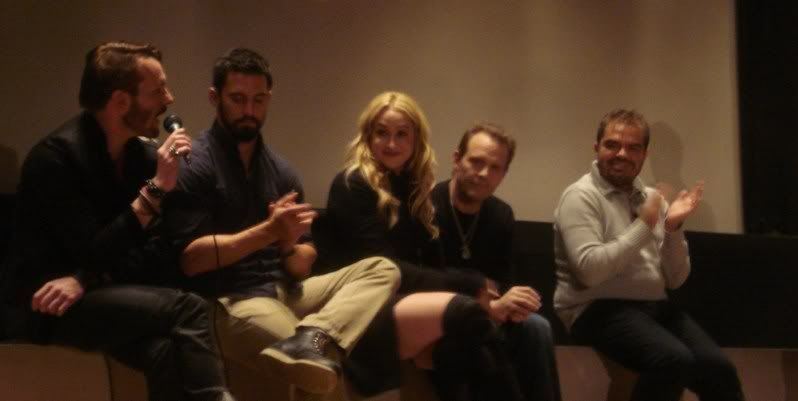 (Left) From the The Divide Q&A at the Toronto After Dark Film Festival with actors Michael Eklund, Milo Ventimiglia, Jennifer Blanc-Biehn, Michael Biehn and director Xavier Gens
Micheal Biehn posing for a photo at the Toronto After Dark Film Festival 2011 (actually during the interview you hear on the podcast - I have recorder in hand on the left!) Photo Credit & Thanks to: Scott Chalmers.