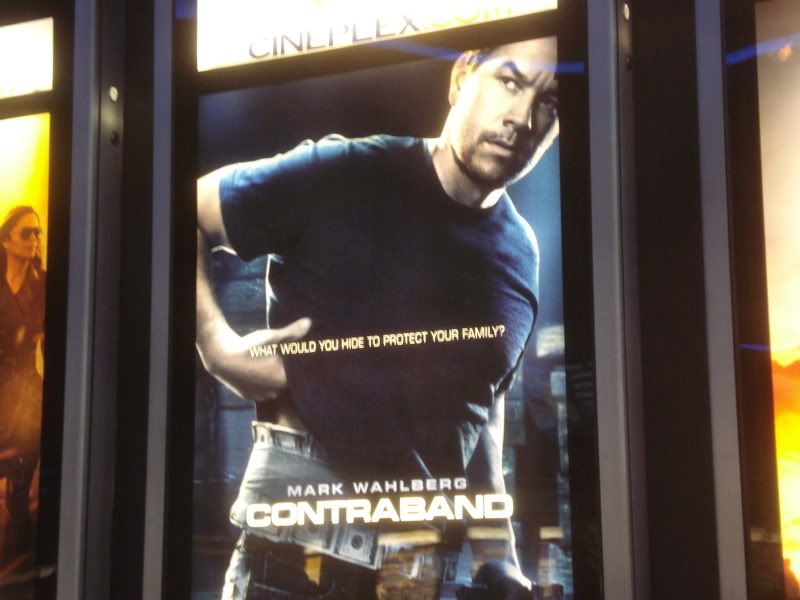 Dir: Baltasar Kormákur (
White Night Wedding / Brúðguminn
)
Cast: Mark Wahlberg, Kate Beckinsale, Ben Foster, Giovanni Ribisi, Caleb Landry Jones, Lukas Haas, Diego Luna, J.K. Simmons
USA
/
UK
/
France
,
2012
Seen:
January 18, 2012 at Scotiabank
Reason to see:
The cast plus I loved Baltasar Kormákur's
White Night Wedding / Brúðguminn
I wonder how many people , like me, were drawn to Contraband because it's from Icelandic director Baltasar Kormákur of
White Night Wedding / Brúðguminn
? Could it just be me? Perhaps, perhaps not. But that was just one of the many draws to the heist drama with the 'one last job' vibe, along with an interesting premise and a fabulous cast. Every time Iooked at the credits list it was just name after name of actors I love to see. From That was one draw to it but the fact that it's an action film following a guy gone straight but looks like he'll do one more run was a definite draw for me as well as the fabulous cast including Mark Wahlberg (
The Fighter
), Kate Beckinsale (Underworld), Callum Landry Jones (
The Last Exorcism
,
X-Men First Class
), Ben Foster (
3:10 to Yuma
), Giovanni Ribisi (The Mod Squad) and JK Simmons (Spider-Man). Honestly, with this set of actors, you couldn't keep me away from the film; even just the combination of Ben Foster & Giovanna Ribisi is enough for me to be over the moon happy to see a film.
In Contraband, we follow the couple Chris Farraday (Mark Wahlberg), whom used to be involved in the smuggling business but has gone straight and now along with wife Kate Farraday (Kate Beckinsale) live a pretty normal life, until they are drawn back into the underground world and needed to come up with a ton on money very quickly. I have to say that
Contraband
was a bit smarter than I was expecting, I thought it would be a throw-down action film but in all honestly it is more the style of 70's action films but not in a brutal sense. It reminded me of The Conversation, in the fact that it had subtle details and a slower pace but
Contraband
isn't just about the details although they do play an important part.
Contraband
does have a lot of action in it, but the focus of it really is the story, the characters & their journey as well as the details of the heist. In terms of a heist film, it doesn't actually squish itself into the heist formula and that was certainly unexpected as that's become such a trend; but I appreciated that the heist details are put together in a more subtle, dramatic wa.
I really enjoyed the film and was quite taken with the characters. Mark Wahlberg was good in the lead as family man and smuggler, and Kate Beckinsale was fantastic in her portrayal of a woman who has lived the hard life but now is on the straight and narrow; you can really feel that roughness of knowing the life of a smuggler, but there wasn't a meanness there. I was also really excited to see Callum Landry Jones here with a solid performance that adds on to impressive list of performances over the past few in
The Last Exorcism
and
X-Men First Class
; he's done a great job in a variety of different roles which is always a good sign from a young actor.
I enjoyed
Contraband
from many perspectives, and although I don't like using the primer of 'of a January release it was good', but in all honestly for a January release it was good. Overall, it's a solid choice for film entertainment with a good story and good acting, it does have some brutality and some good action although not bombarded with action it's more about the characters/story which I found to be a welcome surprized. However, if you are familiar with Baltasar Kormákur work that shouldn't come as a surprize as story and character are great joys of his films.
Contraband
came out in wide release on
Friday January 13, 2012 in Toronto, Ontario, Canada
.
Shannon's Overall View:
I enjoyed it
I'd watch it again
I'd recommend it to heist, crime drama & drama fans
Also check out my review of Contraband on
Episode 58 of the Movie Moxie Podcast
:

© Shannon Ridler, 2012