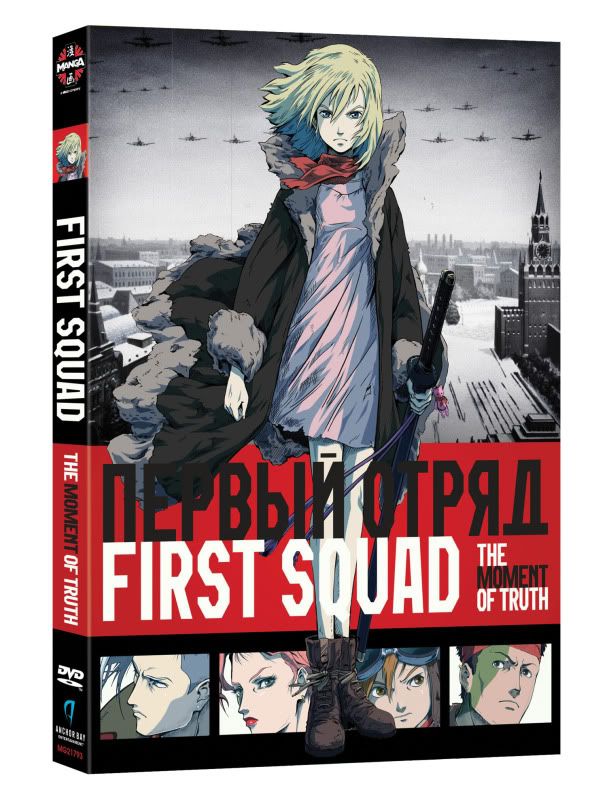 Image Courtesy of Anchor Bay Entertainment
Dir: Yoshiharu Ashino - film directorial debut
Voices: Various as there are 3 audio versions available
Russia
/
Japan
/
Canada
,
2009
Reason to see:
It has me at 'supernatural warriors'
Wow,
First Squad: The Moment of Truth
was very different than I expected starting from before I even got to watch it! There are not one, not two, but three different language options from English Audio, Japanese audio with English subtitles or Russian Audio with English subtitles. What a plethora of choices! I pondered which to pick for quite a while but ending going with Russian with English subtitles as it is following the Russian Army.
Normally I stay far, far away from war films because I find them too upsetting. That being said, I thought I could stretch my comfort zone with
First Squad: The Moment of Truth
as it goes a very different route for a war film being Manga style animated and follows a 14 year old psychic girl to take on the German occult forces. Yep, supernatural battle of Germans vs Russians travelling though different realms/consciousnesses to duke it out through the power of supernatural spirited and gifted people was definitely up my alley. Not only is the film a total awesome genre-twister, it's completely gorgeous visually which is a great combination because it engages you on multiple levels. I actually love that combination, the pure enjoyment of the visual spectacle as well as engaging with the brilliant ideas and the beautiful place where the two meet. I also found it quite amazing how they worked in a subtle, sweet romantic thread of the story amisdt the war torn setting, battles and bizarre between time and space and consiousness. But maybe that's exactly the kind of time where you need to have some romance to get you through!
I loved the concept, I loved the characters and I adored the visuals; the only thing I if left out was ... more. It was very short and did have an introductory to the idea & world feel to it. But if that was the hook, it totally hooked me. And I hope
First Squad: The Moment of Truth
was only the first hook as I would love to see more.
DVD Extras:
No Extras
First Squad: The Moment of Truth
is available on DVD as of
January 17, 2012
. Check it out over at
Amazon.ca
&
Amazon.com
Shannon's Overall View:
I enjoyed it, but I wanted more First Squad!
I'll watch it again
I'd recommend it animated film fans, supernatural film fans & fantasy film fans
Return to Film Reviews
or see more
DVD Reviews
© Shannon Ridler, 2012