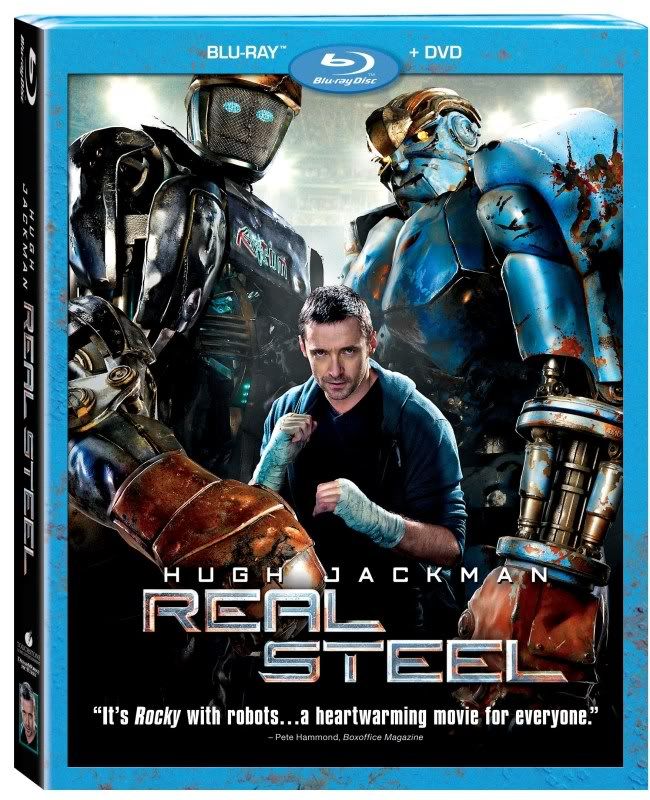 Image © 2011 DreamWorks II Distribution Co., LLC. All Rights Reserved.
Dir: Shawn Levy (Date Night, Night at the Museum)
Cast: Hugh Jackman, Dakota Goyo, Evangeline Lilly, Kevin Durand, Anthony Mackie, Hope Davis, James Rebhorn
USA
/
India
,
2011
Reason to see:
I love sport films and am big fans of many of the cast members including Hugh Jackman, Evangeline Lilly & Kevin Durand.
I was really excited to see
Real Steel
on DVD as I missed it in the theatre, it has Hugh Jackman (whom I love) and also qualifies as one step closer to being Oscar-ready with my film viewing as it's nominated in the Visual Effects category.
Real Steel
is a robot boxing film set in the near future from Disney film that came out in 2011, and right off the bat I really enjoyed it. There is a really strong, emotional story in the film that truly brings it to life. The storytelling and character development is very creative, and I loved how they show what the characters go through with such a creative, layered way in terms of showing process and development through robot boxing; it was an absolutely brilliant decision that really connects with the viewer. I was exciting going into the film just for the fact that Hugh Jackman was in it, but the transition to see him here almost felt like a challenge because his character of Charlie is not a super nice guy, which is very against type for him, but because he's such a great actor he can totally pull that off. Charlie has flawed quality to him, but you still can't help but love and root for him, even though you don't feel like you should as his track record of being always down on his luck seems to stem from his own choices. But you still hope he'll turn the corner and come out with better choices. We do see his life change a bit and shift to allow for more change, which is always and interesting tale to tell.
The human story of the film gives us an easy way to connect to it, but the robot boxing story reads just as strongly and is quite exciting. A lot of the choreography for the robot boxing was actually done by people, and it's a combination of actual tangible robots and a CGI but many of the sets and fighting were actually real. It's an interesting change over time to see, because the expectation now can be that it's just awesome effects as oppose to an actual crowd and it's hard to tell whether or not what we are seeing is real or not. I try not to let that tailor my opinion too much, but I was surprized to hear from the commentary how much was real, when my visual interpretation as a viewer, was that I was seeing computer generated effects. Bizarre, I guess it's good learning and a testament that we don't always know what we are seeing. That being said it was gorgeous to look at and I was impressed with not only the actual boxing and fighting in the film, but also the real human story in it that was easy to access and emotionally real. I didn't expect to be caught by the tenderness of the story, but I truly was.
I also found the subtle near future seeing quite interesting, especially as it connects to a very timely theme of people being down on their luck and many one or two steps removed from the shiniest and newest technology, the theme of doing the best with what you have and also the value in something other than what's the newest. That was very compelling. I would definitely recommend
Real Steal
.
DVD Extras:
Feature Commentary with with director Shawn Levy

on the film as a humanist sports drama, the balance of accessible yet near-future setting, serendipitous moments during the filming and creating of the film, of the tone and style of the film being different from his other work, the ongoing motif and theme of reflection & shadows, the amount of people that went into the design, creation and execution of the robots; and a lot about how how much we see is real in terms of the settings and the robots - they actually did build robots and use them in the film in combination with digital robots, he does talk about the robots but notes that that will be discussed more in other features, working with actors including what an amazing actor Hugh Jackman is, how likable Dakota Goyo is and when the dialogue was improved, on Danny Elfman composing the score. He also chats about the expected structure of sport films and the underdog story, what people want to and expect to see. I loved hearing about his directorial style and habits, and the importance of going with the plan (I love plans...), but also noticing and working with the beauty around you, as well as the concept of the best idea wins. I loved that. Plus, discussion the fights were choreographyed and fought by Garrett Warren and Sugar Ray Lenoard

Making of Metal Valley (14 minutes)

design drawing and specs, behind the scenes, shooting, film clips & interviews with director Shawn Levy, executive producer Mary McLaglen, production designer Tom Meyer, special effects supervisor Joe Digaetano, stunt coordinator Garrett Warren, stunt double Kelli Barksdale, 1st AD/executive producer Josh McLaglen, co-producer Eric Hedayat, visual effects supervisor Erik Nash, editor Dean Zimmerman on the creation of the Metal Valley setting in the film from using found elements and location, filling it in the set with props, robots, and rain; the set up and actual stunts (and test footage of the stunts), the choice to shoot outside, the practical effects and the safety consideration for the most complicated sequence of the film over it's 4 day shoot. A lot of focus on the stunts here, including rehearsals, testing, actual filming of actor/stunt doubles, the digital effects added and the final product.

Building the Bots (5 minutes)

film clips, robot design & creation, behind the scenes and including interviews with robotics supervisor John Rosengrant, director Shawn Levy, actors Hugh Jackman, Evangeline Lilly & Dakota Goyo ,production designer Tom Meyer, on the choice and affect of using real robots in combination with visual effects, seeing the robot creation including concept sketches & designs, the personalities behind the robots including choices on how they encapsulated personalities into the robots, the realism of using real robots controlled by puppeteers, plus being on site at Legacy Effects which carrys on the tradition on Sam Winston (Terminator 2: Judgment Day, Aliens, Predator),

Bloopers (2 minutes)

line flubbs, ad libs, physical goofs, these are hilarious. A a great set of bloopers, you can really feel the earnestness and love of the cast, I loved them all but especially seeing Hugh Jackman actually not being able to do something (is that possible?) and Kevin Durand's announcer ad libs were great.
BluRay Extras
All DVD Extras (see above) Plus:

deleted & extended scenes with introduction by director Shawn Levy, Countdown to the Fight: The Charlie Kent Story, Reel Steel Second Screen: Ringside with director Shawn Levy - simultaneously explore exclusive interactive content with your iPad or computer as you watch the movie and Sugar Ray Leonard: Cornerman's Champ

Real Steel
is available on DVD+BluRay Combo Pack as of
January 24, 2012
. Check it out over at
Amazon.ca
&
Amazon.com
Shannon's Overall View:
I loved it
I'll watch it again & again
I widely recommend it
Return to Film Reviews
or see more
DVD Reviews
Also check out my review of
Real Steel
on
Episode 60 of the Movie Moxie Podcast
.

© Shannon Ridler, 2012