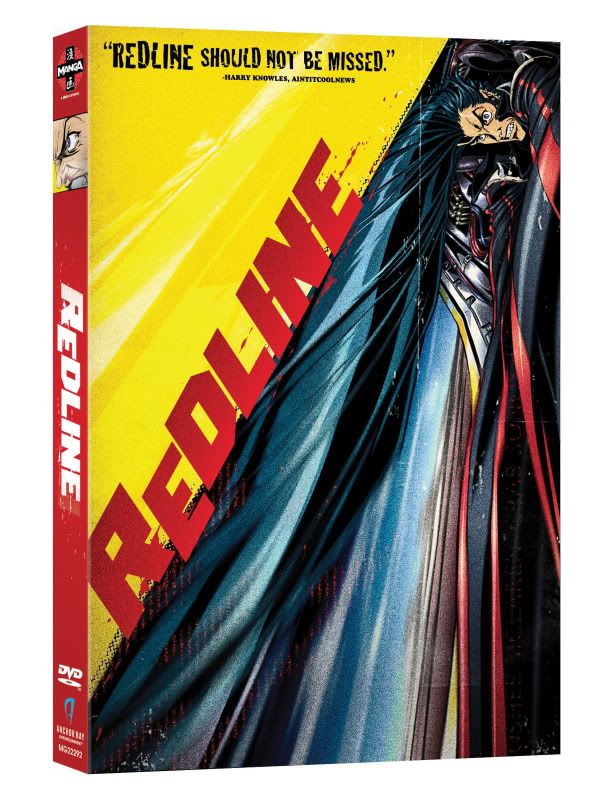 Image Courtesy of Anchor Bay Entertainment
Dir: Takeshi Koike
Voices: Takuya Kimura, Yû Aoi, Tadanobu Asano, Yoshiyuki Morishita
Japan
,
2010
I've been aching to see Redline ever since the credits rolled after seeing it on the big screen at the
Toronto After Dark Film Festival 2011
last October. With it's power pulsing music, crazy locations and science fiction vibe plus the wild and crazy adventures of racers JP (Takuya Kimura) and Sonoshee (Yû Aoi).
Redline
is a Japanese animated film centred on car races in the future which gives it an oddly nostalgic for current-ness vibe to it, as although they've progressed beyond there is still joy for the oldskool ride and racing of race cars. I think one of the strongest things I took from the film was realizing how rarely I watch anything animated, which made it suprizingly refreshing and engaging as I was less familiar with the patterns of the genre and/or style and could only just keep the characters straight but had no idea where the story would go. Given that it's a far-future set film it felt like it could, and did, go anywhere and everywhere across the galaxy and beyond so much so I most of the time had no clue where it was or if the characters where human (dogs? robots? aliens? all of the above?) or not, or if that even mattered.
The awesome thing is, it was completely fun to watch even with only being able to barely cobble together what was going on, but the good news is I found that became clearer over multiple viewings which is something I was completely happy to do & highly recommend. Personally, I could have done without the cartoon nudity (although I'm likely in the minority with this crowd!) but I adored the sheer audacity of the racing sequences that were completely intensive & immersive. Even after repeat viewing, I keep looking forward to seeing it again & again.
Redline
was a fantastic spectacle that has to be seen and experienced. I highly recommend it.

DVD Extras:
Quick Guide to Redline (24 minutes)

trailer/promo describing not only the film itself as an anime film that defines all logic by hand-dawn and taking 7 years to produce, but also puts together clips of the film describing the race, character profiles (which are awesome) with back stories & motivations; plus profiles on Redline staff including interviews with Katsuhito Ishii and director Takeshi Koike on on the inspiration of the film, working together, the theme of Redline, the music & sound choices and their incorporation into the film, and lots of love for the voice cast, the affect they wanted the audience to have; plus behind the scenes in the studio seeing hand-drawn animations and going against the conventions of the times, as well as interviews with some of the animators and showing the amplification of the images through special effects and taking on new visual challenges . This is a really cool extra, I love that it explains the characters and goes behind the scenes and all the time has a extremely enthusiastic announcer taking us through all these exciting aspects of the film; absolutely fantastic - just like the film itself.

Redline 2006 Trailer



Redline
is available on
DVD & BluRay as of January 17, 2012
. Check it out over at Amazon.ca (
DVD
,
BluRay
) & Amazon.com (
DVD
,
BluRay
)
Shannon's Overall View:
I loved it
I'll watch it again, repeatedly
I highly & widely recommend it to all film fans
Return to Film Reviews
or see more
DVD Reviews
© Shannon Ridler, 2012
See also: Original review from Toronto After Dark Film Festival 2011