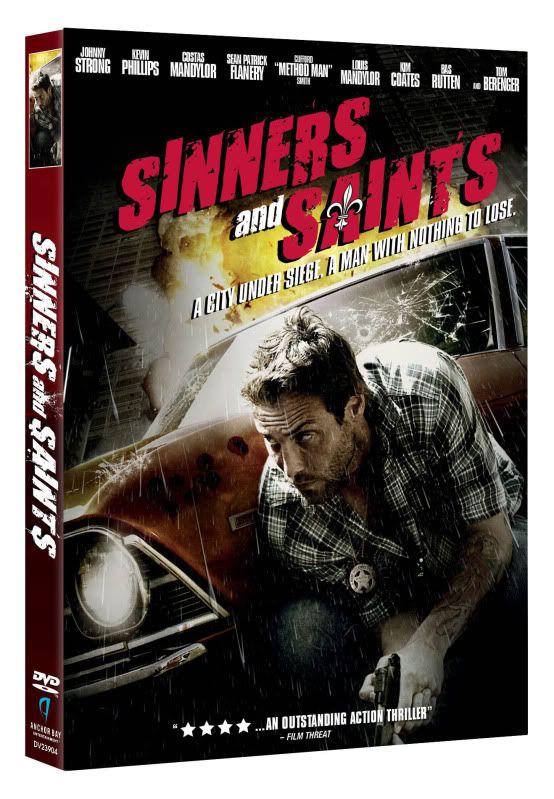 Image Courtesy of Anchor Bay Entertainment
Dir: William Kaufman (The Prodigy, The Hit List)
Cast: Johnny Strong, Kevin Phillips, Costas Mandylor, Louis Mandylor, Sean Patrick Flanery, Clifford "Method Man" Smith, Kit Coates, Bas Rutten, Tom Berenger, Jürgen Prochnow, Bas Rutten, Jolene Blalock
USA
,
2012
(DVD Release)
Reason to see:
Heard great things about it & I'm always up for a good action film.
Sinners and Saints
takes on the tried and true action themes of cops, criminals the mystery of what keeps them apart and brings them together, along with challenge of or camaraderie between partners as well as drive, vengeance and a dash of sorrow. Although those are all things that are fun to watch, what really reeled me in what where it choose to stand apart and in that sense I thought it was a really gutsy action films on several levels.
Sinners and Saints
pushed the boundaries of intensity and ideas when it came to the brutality, which may not be my favourite thing personally, but it was a choice that work for the film. I loved how it went with a more realistic with work relationships with the cops, instead of over-the-top antagonism, conflict and shouting matches between character but rather when for respect, active listening and letting people do their work. I didn't realized how often I had come to expect to see disagreements, fighting, handing in the badge, etc. in cop films which made this a refreshing change of pace. There was way more enough conflict to go around to give us a bit of a breather and not have it at the cop shop.
In terms of the action,
Sinners and Saints
is volatile, explosive and doesn't hold back. You could feel the heat and intensity of the New Orleans setting that serves as an urban war zone of destruction. If you are a fan of gun fights heavy action films, this is definitely one for you as there are lots of bullets flying around and is pretty bloody to boot. We also get some nice car action and fighting scenes too, which I quite enjoyed and many involve the extensive supporting cast full of many familiar faces to enjoy. It leans very heavy on the brutal side of things, especially where torture is involved, so keep that in mind if it's not what you normally go for. But, what drew me in and kept me in was the fantastic and understated performance of Johnny Strong as Sean, I seriously want to see more of him. He completely held the film together and provided not only a believable physical performance but also gave us a character with a strong emotional resonance of someone who has gone through a very trying time. I'm mystified that we haven't seen more of him, but I hope we get to see much more of him in the future.
Warning:
Torture
DVD Extras:
Sinners and Saints Behind-the-Scenes (3 minutes)

behind the scenes, prop training, rehearsal of gun work & fight choreography of action sequences and film clips. Heavy focus on the action here with lots of footage of the guns fights, chase sequences and car stunt scenes.

Deleted Scenes (7 scenes, 7 minutes)

scenes establishing Ganz family life and Sean connecting to their family, increasing tension scenes between both the cops and criminals, and a few scenes that are bookends between action-centric scenes.

Sinners and Saints
is available on DVD as of
January 10, 2012
. Check it out over at
Amazon.ca
&
Amazon.com
Shannon's Overall View:
I really enjoyed it
I'll watch it again
I strongly recommend it fans of harsh action films
Return to Film Reviews
or see more
DVD Reviews
© Shannon Ridler, 2012