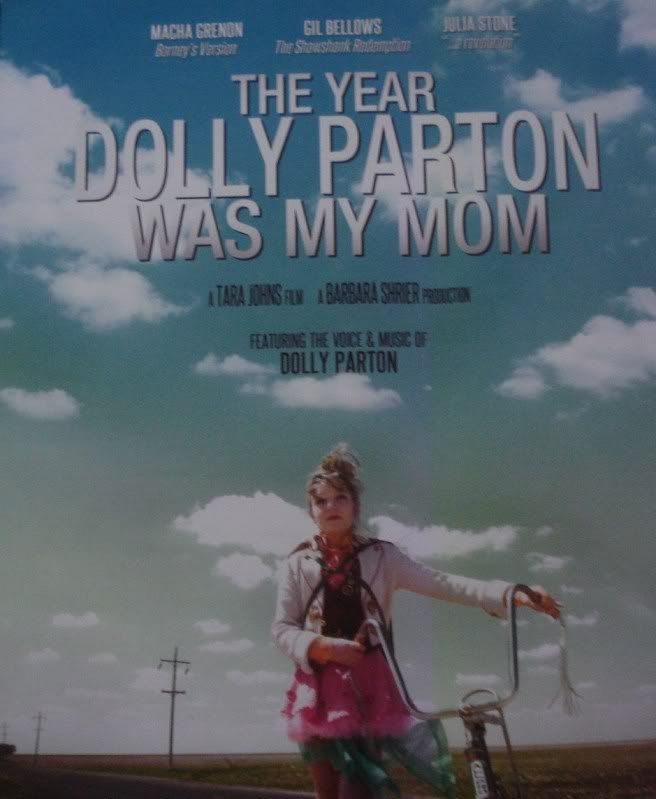 Writer/Dir: Tara Johns - feature film directorial debut
Cast: Macha Grenon, Julia Stone, Gil Bellows, Rebecca Croll, Trevor Hayes and the voice of Dolly Parton
Canada
,
2011
Reason to see:
Canadian & coming of age film is a yes/yes for me!
I've been aching to see
The Year Dolly Parton Was My Mom
ever since it released here
in Toronto almost a year ago
, as I've realized I love the genre and we've had a really great run of young coming of age films recent that truly speak to and of the experience of young girls and women. It's so refreshing to see moments of young girls depicted with an true, emotional resonance. The awkward stages of life, the changing wave of friendships during puberty, the realness of life and how the whole world of emotions that surface with fierce intensity at a time that can often be shown as just fun and games. Those of us that go through it know better, and it's shown bravely in
The Year Dolly Parton Was My Mom
.
I adored this film. It's a Canadian film set in the early 1970's about a girl who thinks Dolly Parton could be her mom. It really has the very young coming of age vibe perfectly, and I love when films get that right (see also
Grown Up Movie Star
). There is always a kitsch appeal for films set in the 60s and 70s and even now in the 80s and it's lovely to see them get the time period so well in an earnest in true sense over flamboyant flavour appeal. The film actually makes interesting commentary on style and changing of the times in a way I've not seen before, which was very impressive.
The emotional journey of young protagonist Elizabeth (Julia Stone) is where the film really hits home, her struggle, her searching and her creating her possible past to make sense of her present self is a beautiful and often heart breaking story to see. She's a great character, both unique and accessible, whom we live with and thrugh during the film. I loved many of the characters in the film, including her Phil (Gil Bellows in another fantastic performance) and Marion (Macha Grenon completely wowed me), and I especially loved the Stella (Rebecca Croll), the free-thinking, feminist hairdresser/friends mom who lives across the street. Who couldn't love Stella? We all need a Stella in our lives, she was fantastic.
The Year Dolly Parton Was My Mom
was a complete treat. I've really come to cherish seeing young female protagonist stories, especially when they are journey film like this with have strong acting and interesting characters. It felt so real. Beautiful & daring, I highly recommend it.
DVD Extras:
Trailer
The Year Dolly Parton Was My Mom
is available on DVD as of
January 24, 2012
. Check it out over at
Amazon.ca
&
Amazon.com
Shannon's Overall View:
I loved it
I'll watch it again
I highly recommend it
Return to Film Reviews
or see more
DVD Reviews
Also see my review of
The Year Dolly Parton Was My Mom
on
Episode 59 of the Movie Moxie Podcast
:

© Shannon Ridler, 2012