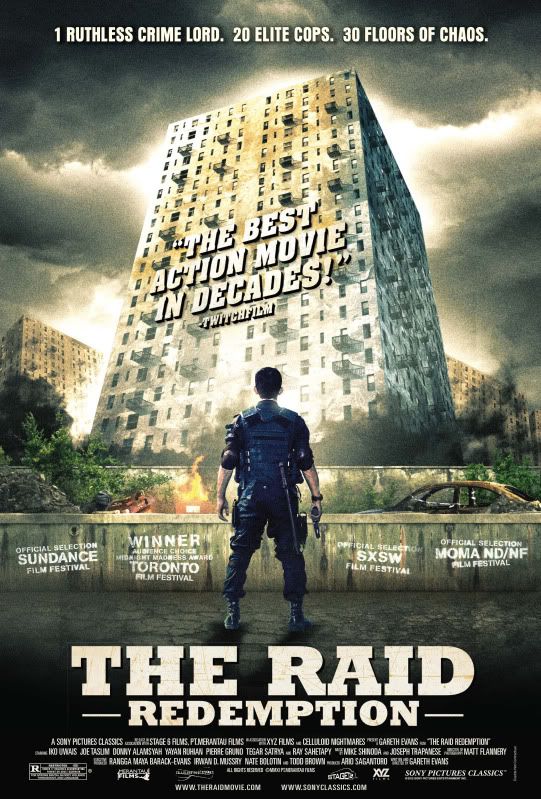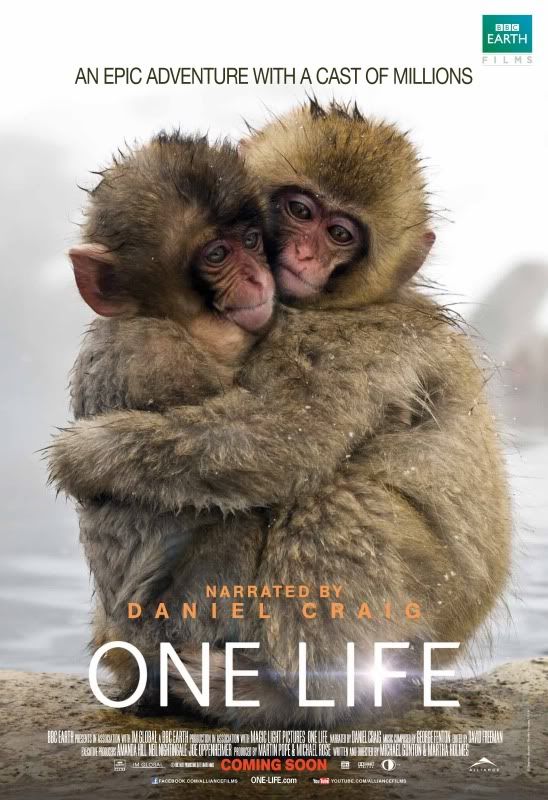 Images Courtesy of Alliance Films
Hello Film Fans and Fanatics!
Welcome to Film Fan Fridays for Friday March 23, 2012! This week is chock-full of awesome, let's get right to it!
In limited release this week we have the awesome Indonesian action film
The Raid: Redemption
with Iko Uwais directed by Gareth Evans; I saw this one back at TIFF 2011 and if you have any love of action in you then you must see this film (hear my review and the Q&A from TIFF on the
most recent Movie Moxie Podcast here
). We also have
Starry, Starry Night / Xing kong
out this week and I really enjoyed director Tom Lin's film
Winds of September / Jiu jiang feng
and am very much looking forward to this release, he has a beautiful and adept style that gently captures emotion which is a joy to watch. Rounding out the limited releases we have the gorgeous looking nature documentary One Life narrated by Daniel Craig, Carl Bessai's latest with Sisters & Brothers and Israeli drama
Footnote / Hearat Shulayim
.
In wide release this week we have a film I'm sure everyone has heard about at this point:
The Hunger Games
. Set in a dystopic world which hosts annual event involving teens setting forth as tributes from respective districts in an extreme fight to the death.
The Hunger Games
is based on the novel by Suzanne Collins which was an
honourary selection for the 2011 Movie Moxie Book to Film Club
, and the film
Jennifer Lawrence, Josh Hutcherson and
Liam Hemsworth. This is certainly one gathering a huge amount of energy and the second book,

Catching Fire

, is already in process to be adapted to a film
as well, and to be released next year on November 22, 2013.
It's one of if not the biggest releases so far this year and it's one of two of our wide releases of the week which also include the international espionage Bollywood film
Agent Vinod
.
Have a great weekend!
Shannon
Festival Watch
Canadian Music Week Film Festival
Continues until March 25, 2012 at
TIFF Lightbox
in Toronto, Ontario, Canada
Cinéfranco
See my
Cinéfranco Preview here
or listen to it on the
Movie Moxie Podcast here
March 23 - April 1, 2012 at
TIFF Lightbox
in Toronto, Ontario, Canada

Friday March 23, 2012 Releases
Agent Vinod
Dir: Sriram Raghavan (Johnny Gaddaar)
Cast: Saif Ali Khan, Kareena Kapoor, Malika Haydon
India
Official Film Site
,
IMDb Page
,
Trailer
Footnote / Hearat Shulayim
Writer/Dir: Joseph Cedar
Cast: Shlomo Bar-Aba, Lior Ashkenazi, Aliza Rosen, Alma Zak, Daniel Markovich, Micah Lewesohn, Yuval Scharf, Nevo Kimchi
Israel
Limited Release
Official Film Site
,
IMDb Page
,
Trailer
The Hunger Games
**
Honourary Movie Moxie Book to Film Club Selection
**
Director: Gary Ross (Pleasantville, Seabiscuit)
Cast: Jennifer Lawrence,
Josh Hutcherson,
Liam Hemsworth, Lenny Kravitz, Woody Harrelson, Elizabeth Banks, Stanley Tucci
USA
Official Film Site
,
IMDb Page
,
Trailer
One Life
Dir: Michael Gunton & Martha Holmes - feature film directorial debuts
Documentary, narrated by Daniel Craig
UK
Limited Release
Official Film Site & Trailer
,
IMDb Page
The Raid: Redemption
Writer/Dir: Gareth Evans (Merantau)
Cast: Iko Uwais, Ananda George, Ray Sahetapy, Joe Taslim, Yayan Ruhian
Indonesia
Limited Release
Official Film Site
,
IMDb Page
,
Trailer
Sisters & Brothers
Dir: Carl Bessai (
Repeaters
,
Normal
,
Unnatural & Accidental
)
Cast: Cory Monteith, Dustin Milligan, Amanda Crew, Gabrielle Rose, Tom Scholte, Ali Liebert, Camille Sullivan
Canada
Limited Release
Official Film Site
,
IMDb Page
,
Trailer
Starry, Starry Night / Xing kong
Writer/Dir: Tom Lin (
Winds of September / Jiu jiang feng
)
Cast: Rene Liu, Harlem Yu, Kenneth Tsang, Hui Ming Lin
Taiwan/Hong Kong/China
Limited Release
Official Facebook Page
,
IMDb Page
,
Trailer
**please note this list of releases reflects first run film released in Toronto, Ontario, Canada as of March 23, 2012**