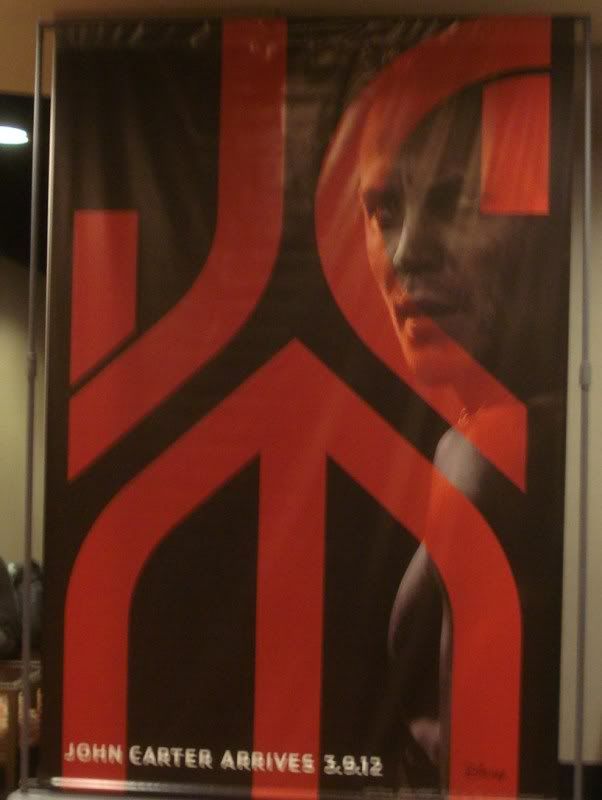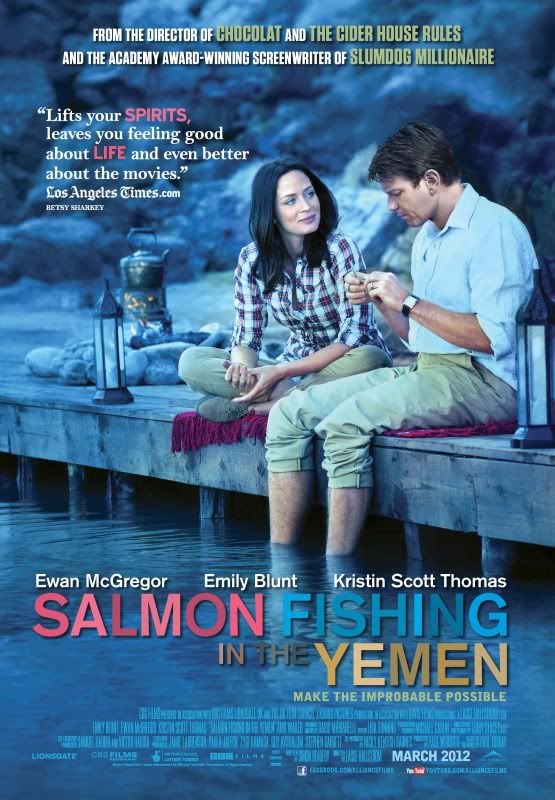 Images: John Carter Poster (Early Version) / Salmon Fishing in the Yemen (Courtesy of Alliance Films
Hello Film Fans and Fanatics!
Welcome to Film Fan Fridays for Friday March 9, 2012! It's a bit of a quieter week of releases this week but there is big news on the Canadian film front with
The Genies Awards
last night where
Monsieur Lazhur
when home with 6 awards including Best Motion Picture, director, adapted screenplay, editing and 2 acting awards.
A Dangerous Method
picked up 5 awards including best supporting actor to Viggo Mortensen (who was in attendance!) and fan & critic favourite
Café de Flore
went home with 3 awards. Now let's a look at what's new in theatres this week.
In limited release this week we have just one release, which is highly unusual here in Toronto! That film is
Salmon Fishing in the Yemen
from
Chocolat
director Lasse Hallström starring Emily Blunt, Ewan McGregor, Kristin Scott Thomas and I have to say it actually looks quite quirky and sweet.
In wide release this week we have several films to choose from including the epic science fiction/adventure/action/sword & sandal-ish film
John Carter
which is just getting thrashed by advance reviews but I'm not going to let that stop me making up my mind for myself and heading out to see it, especially as it's on my
most anticipated films of the year
. Next up we hve 'in the style of a single take' horror film
Silent House
. Now, I'm always up for a good horror film but I have red flags pop up in my brain when the promo says stuff like it's like nothing you've ever experienced before!! And then find out it's a remake of the Spanish film
La casa muda
. I'm not saying that it isn't '88 minutes of terror', only that trying to pull the 'new' card on the horror crowd will be received with raised eyebrows as we've seen a lot. Of course I'll still likely see it. Also out in wide releases is the critically acclaimed comedy
Friends with Kids
, Bollywood film
Kahaani
and Eddie Murphy comedy
A Thousand Words
.
Have a great weekend!
Shannon
Festival Watch
Toronto Human Rights Watch Film Festival
Continues until March 9, 2012 at
TIFF Lightbox
in Toronto, Ontario, Canada
Toronto Irish Film Festival
March 9 - 10, 2012 at
TIFF Lightbox
Toronto, Ontario, Canada
Special Screening

Spirited Away: The Films of Studio Ghibli
March 10 - April 13, 2012 at
TIFF Lightbox
Toronto, Ontario, Canada
Bloor Reopening Free Open House

The Bloor is on the brink of re-opening it's doors as the newly renovated The Bloor Hot Docs Cinema, and in celebration they are having a free open house on Monday March 12 & Tuesday March 13, 2012 with screenings of the documentary Waste Land. Find out the details on the
open house here
. The Bloor will re-open next week Friday March 16, 2012 with tons of interesting documentaries, special events and more -
see schedule here
.
Friday March 9, 2012 Releases
Friends with Kids
Writer/Dir: Jennifer Westfeldt
Cast: Adam Scott, Jennifer Westfeldt, Jon Hamm, Kristen Wiig, Maya Rudolph, Chris O'Dowd, Megan Fox, Edward Burns
USA
Official Film Site
,
IMDb Page
,
Trailer
John Carter
Dir: Andrew Stanton
Cast: Taylor Kitsch, Lynn Collins, Samantha Morton, Mark Strong, Ciaran Hinds, Dominic West, James Purefoy, Daryl Sabara, Polly Walker, Bryan Cranston, Thomas Hayden Church, Willem Dafoe
USA
Official Film Site
,
IMDb Page
,
Trailer
Kahaani
Dir: Sujoy Ghosh,
Cast: Vidya Balan, Parambrata Chatterjee and Nawazuddin Siddiqui
India
Official Film Site & Trailer
,
IMDb Page
Salmon Fishing in the Yemen
Dir: Lasse Hallström (Chocolat)
Cast: Emily Blunt, Ewan McGregor, Kristin Scott Thomas
UK
Limited Release
Official Film Site
,
IMDb Page
,
Trailer
Silent House
Dir: Chris Kentis, Laura Lau
Cast: Elizabeth Olsen
USA/France
Official Film Site,
IMDb Page
,
Trailer
A Thousand Words
Dir: Brian Robbins
Cast: Eddie Murphy, Kerry Washington, Cliff Curtis, Clark Duke, Allison Janney
USA
Official Film Site
,
IMDb Page
,
Trailer
**please note this list of releases reflects first run film released in Toronto, Ontario, Canada as of March 9, 2012**