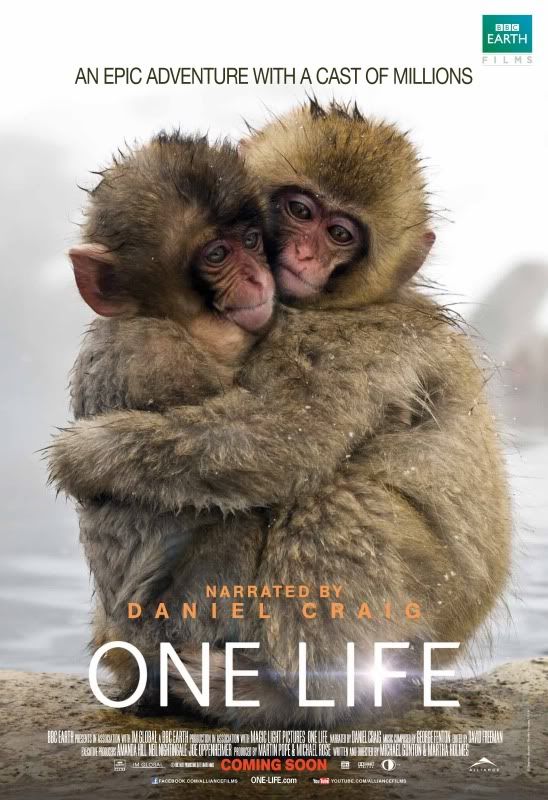 Image Courtesy of Alliance Films
Want to attend an Advance screening of upcoming nature documentary
One Life
? Here are the details for giveaway for double passes to
One Life
:
Where: AMC Yonge & Dundas 24, 10 Dundas Street East in Toronto, ON M5B 2G9
On: Thursday, March 22, 2012 at 7:00 PM
Doors open at 6PM
Click here to enter your PIN Code.
PIN Code: DD2 D39 D0D
Please Note: there are a limited number of passes for the giveaway
Who can resist seeing
One Life
, with cute and crazy creatures great and small, all narrated by Daniel Craig? I say don't resist at all and enjoy the world from a new perspective.
From the Synopsis:
"Over five billion years, life on Earth has evolved into the incredible richness and variety we see today. ONE LIFE is a celebration of the most brilliant and imaginative stories of survival from the natural world. Cutting- edge cinematic techniques capture unprecedented and astonishingly beautiful sequences of animal behaviour and ingenuity.
The story of ONE LIFE takes us from birth through to the creation of the next generation - then takes us one step further – revealing that, whether we have wings or flippers, eight legs or two, the triumphant story of life connects us all."
A big thank you to Alliance Films for the giveaway. Yippee!
One Life
opens in Toronto & Vancouver on March 23, 2012