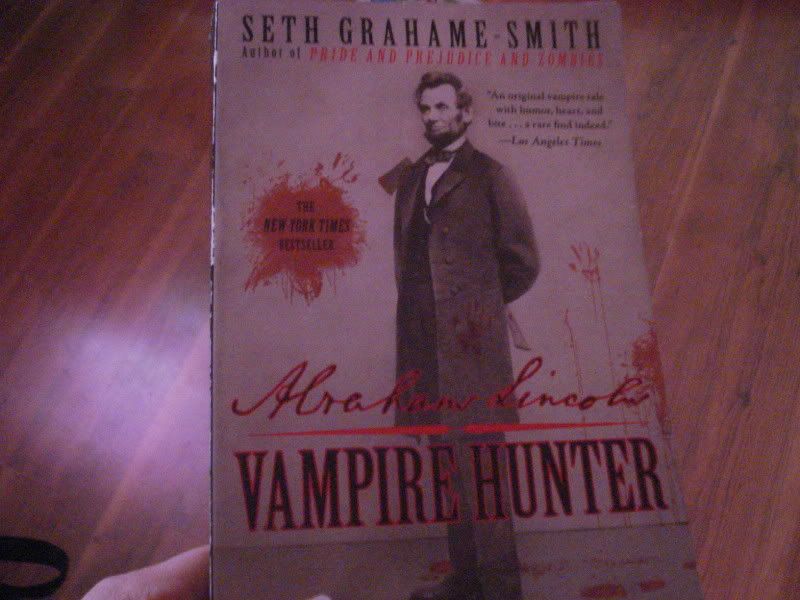 Book: Abraham Lincoln Vampire Hunter by Seth Grahame-Smith
Reason to Read:
March Book Selection
for the
2012 Movie Moxie Book to Film Club
It's funny how out of all of this years selections this is the one that has caused the most excitement and I admit even the title makes me laugh; plus out of all the mash-ups recently from
Pride and Prejudice and Zombies
and
Sense and Sensibility and Sea Monsters
its the first with a film adaptations so I knew I had to include it in the
2012 Movie Moxie Book to Film Club
.
I'm a huge fan of vampire books and films, although I do stray more to the paranormal romance angle over hunters and history but I decided to go in with an open mind. One of the things about the book that intrigued me the most was the fact that it is epistolary-style (defined as collection of documents which can include diaries entries, clippings, letters, etc); but I didn't end up finding that as intriguing as it felt. I loved the idea and the actual diary entries that were included but I found the combination of styles confusing, even though it wasn't often used. I often felt disoriented not knowing whose perspective we were reading from or if it was a memory, story, or current action. I don't think I've ever experienced that before while reading, which made it a challenge to get into the groove of it.
It was also a big reminder for me that I although I love watching horror film, I rarely enjoy reading horror - it feels way more deep seated to read something gross than see it and this book had some extremely visceral descriptions that creeped me out. I was surprized that it had a 'message' feel to it, which shouldn't have been a surprized given that it follow Abraham Lincoln but I'll put that to the fact that very intrigued by history.
That being said, I am really looking forward to the adaptation, a lot due to the fact that I love the director Timur Bekmambetov who brought us the visually stunning films
Night Watch / Nochnoi Dozor
,
Day Watch / Dnevnoy Dozor
and Wanted. I think the highly styled action will be fantastic and I'm very much looking forward to someone else's take on the book, because it didn't do much for me. I'm completely unfamiliar with star Benjamin Walker who plays Abraham Lincoln so that will be interesting to see what he does with the role. I did see the
trailer
on the big screen recently in front of
The Hunger Games
and it looked freaking awesome. It was clear from the crowd though that they were mostly unfamiliar with the film as it got quite a vocal (and somewhat confused) reaction. They should join the
Book to Film Club
, and then they'd all be in the know!
Abraham Lincoln Vampire Hunter
will be released on June 22, 2012.