DVD review of

The Divide

, the brilliant and harrowing post-apocalyptic thriller starring Michael Biehn, Laren German, Michael Eklund and Milo Ventimiglia; directed by Xavier Gens.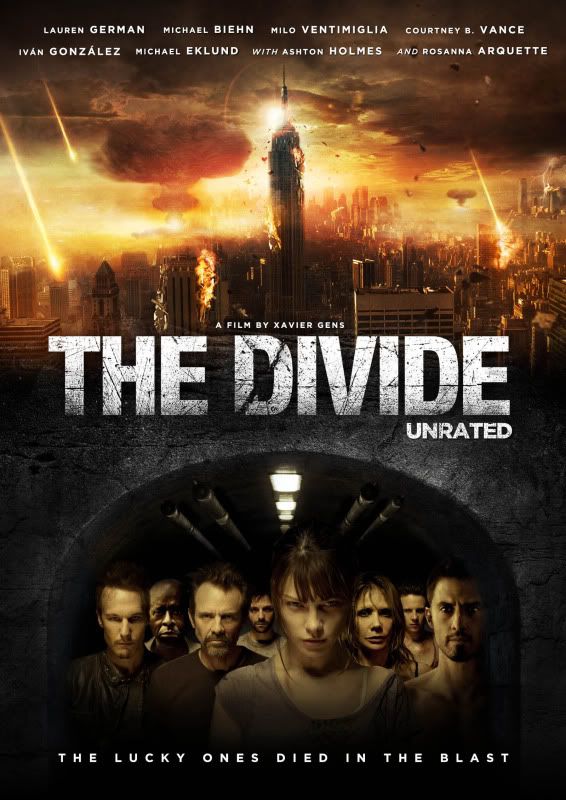 Image Courtesy of Anchor Bay Entertainment
Dir: Xavier Gens (Frontier(s), Hitman)
Cast: Michael Biehn, Milo Ventimiglia, Michael Eklund, Lauren German, Rosanna Arquette, Ashton Holmes, Courtney B. Vance, Iván González
Canada
/
USA
/
Germany
,
2012
Reason to see:
Exceptional cast, plus it's post apocalyptic
The Divide
is a post apocalyptic thriller that delves deeply and darkly in the demise of the human spirit as it follows a group of people thrown together in the bowels of an apartment building sealed in against the unknown catastrophe that looms outside. I often have a hard time with post-apocalyptic films being a sunny side of the street kind of person, and in general can avoid them as they upset me but my first viewing of the film was during the
Toronto After Dark Film Festival 2011
and I couldn't pass up the opportunity to see likely the highest profiled film at this years festival which has many guests in attendance including Michael Biehn (Bereavement, The Terminator,
Aliens
) & Michael Eklund ('Intelligence',
Hunt to Kill
,
Tactical Force
), Milo Ventimiglia, Jennifer Blanc-Biehn and director Xavier Gens (Frontier(s), Hitman). The film mad a huge impact and it played to a completely sold out house. The energy in the room was electric and it's such a unique experience to see a film that is so focused on the power people can have over each other when you are literally surrounded by so many people. Who would step up and take charge? Would anyone challenge them, and if so - how much and how hard? When, or does, the human spirit crumble and is it inevitable that people will succumb to live in and live on the horror of the situation.
I actually found the film quite a challenge to watch but what makes it work so very well are the performances by an astounding group of actors that went pretty method here shooting in chronological order and even going through similar limitations to their characters. I was particularly impressed by the connection and chemistry between the characters played by Michael Eklund & Milo Ventimiglia who had an electric bond on the screen, plus Lauren German who plays a very subtle character who carefully and subtly tries to stay out of the power struggles that are inevitable. I also was very impressed with Michael Biehn who walks a fine, gray line with the power of the inadvertent caretaker to the group. It certainly wasn't an easy watch, but it was a hell of a powerful film and will stay with me for a very long time.
After re-watching
The Divide
on DVD I continued to be impressed with the films power to draw the viewer in, the exceptional performances and the fabulous score. It's a harrowing viewing experience that goes well past any comfort zones, but it does so with brilliance and abandon, and for that I greatly it.
After listening to the commentary really reinforces just how trusting and giving the actors were to each other, it's extraordinary. I feel like it's watching the evolution and result of a masterpiece acting workshop.
DVD Extras:
Feature Commentary with director Xavier Gens and actors Michael Biehn, Michael Eklund and Milo Ventimiglia.

Very entertaining and interesting commentary, they discuss shooting chronologically including how they didn't really know each other starting off and were on diets, notations to what wasn't in the original cut, changes in their characters from the original script put then with improv how the characters and film evolved and the amazing amount of creative freedom there was for the actors, character histories, insights and decisions, which scenes were their audition scenes including if people auditioned as different characters. It's interesting to hear actors ask Xavier Gens about decisions in the film and he also explains several of the effects shots on how, why and when they did them; there are some friendly scene stealing discussions as well as kudos on acting choices and even disagreements on character which was really interesting. Also discussion on what shots get reactions from crowds, themes of the film, involvement and working with writer Eron Sheean. They discuss how beautiful the film is and especially giving the limited locations, the changes between the acts, scenes that were taken out and/or put back into the film and the process that went along with it, film influences, nods & tributes. The audio in the film is pretty low, so it's definitely one you want to listen to after watching, but with 4 voices in the audio commentary there is already a lot of listen to so it's a good call.

Trailer



The Divide
is available on DVD as of April 17, 2012. Check it out over at
Amazon.ca
&
Amazon.com
See also:
Shannon's Overall View:
It's a brilliant film
It's a challenging watch, and hard to 'enjoy', but I do get a lot out of it every time I see it
I'd recommend it post apocalyptic fans and fans of strong acting
Return to Film Reviews
or see more
DVD Reviews
© Shannon Ridler, 2011-12
Originally reviewed during the Toronto After Dark Film Festival Wednesday October 26, 2011