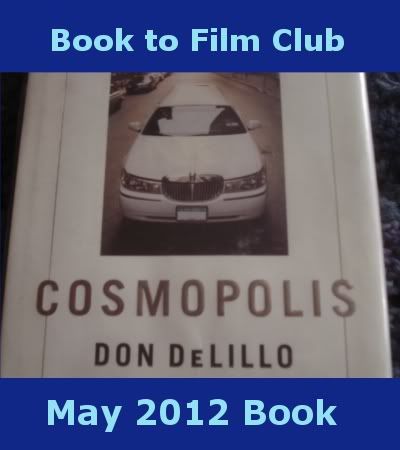 May 2012 Book to Film Club Reading Selection: Cosmopolis by Don DeLillo
This selection is hitting us with some amazing timing as the
trailer
for the film has recently popped up (heads up: it's rather explicit, so be aware of that for if/when/where you watch it). Even more exciting is that
it has been announced that it is part of the line up and for the Cannes Film Festival 2012
. Wow. And here I was freaking out that the trailer said May; I guess that means Cannes-May, not the rest-of-the-world May - which is a-okay as it will give us some time to read it.
I will admit I've become a bit leery of the inclusion of this choice and it feels like it has the old-school David Cronenberg stamp of the bizarre, in addition to the original eccentric vibe of the story of a guy living in/being chauffeured around in his car; but I'm sticking to the guns of the fact that it's one of our picks and that's that. No changes!
But there will be additions - I am hoping to announce the final 3 books for 2012 and the full schedule this month. Keep tuned for more news there!
That's it for now! I'll be checking in this weekend to see how we did with April's selection of
The Bell Jar by Sylvia Plath
.
Happy Reading!
Join the Movie Moxie Book to Film Club
at any time. For title announcements, Book to Film Club news and monthly selections you can
sign up for email updates here
. Our final three books and entire year schedule will be announced very soon.