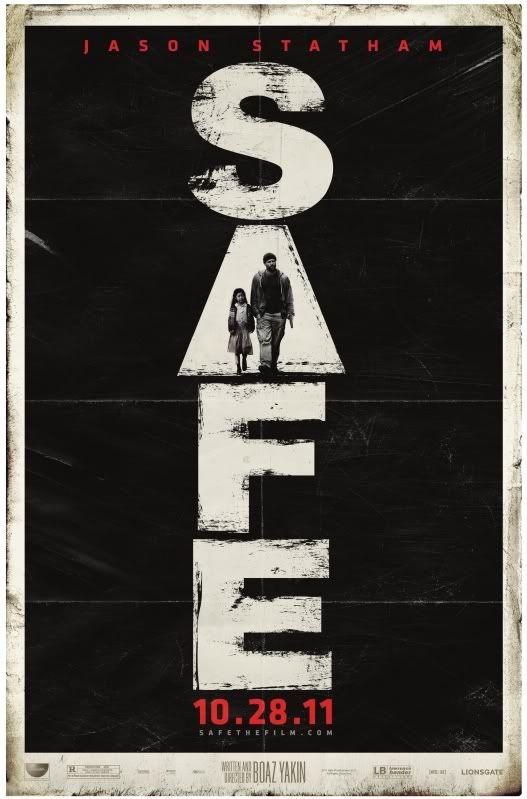 Image courtesy of Alliance Films
Want a chance to win movie passes and see up the upcoming action flick
Safe
starring Jason Statham as a down and out-er who wants to save a smart girl for big bads? How can you not? Statham! Kicking butt! Protecting an awesome smart little girl! Soudns all good to me! If you are in Toronto, Halifax, Ottawa or Winnipeg then you are in luck as I have passes to giveaway for advance screenings.
Safe Synopsis: "A second-rate cage fighter on the mixed martial arts circuit, Luke Wright lives a numbing life of routine beatings and chump change…until the day he blows a rigged fight. Wanting to make an example of him, the Russian Mafia murders his family and banishes him from his life forever, leaving Luke to wander the streets of New York destitute, haunted by guilt, and tormented by the knowledge that he will always be watched, and anyone he develops a relationship with will also be killed.
But when he witnesses a frightened twelve-year-old Chinese girl, Mei, being pursued by the same gangsters who killed his wife, Luke impulsively jumps to action…and straight into the heart of a deadly high-stakes war. Mei, he discovers, is no ordinary girl, but an orphaned math prodigy forced to work for the Triads as a "counter." He discovers she holds in her memory a priceless numerical code that the Triads, the Russian mob and a corrupt faction of the NYPD will kill for.
Realizing he's the only person Mei can trust, Luke tears a swath through the city's brutal underworld to save an innocent girl's life…and perhaps even redeem his own."
Sage stars Jason Statham, Catherine Chan, James Colby, Barry Bradford, Robert John Burke, Matt O'Toole and Jay Giannone; and is directed by Boaz Yakin.
~~~~~~~~~~~~~~~~~~~~~~~~~~~~~~~~~~~~~~~~~~~~~~~~~~~~~~~~~
Toronto Screening Details:
Date: Wednesday, April 25, 2012; Showtime: 7:00 PM
Location: AMC Yonge & Dundas 24, 10 Dundas Street East in Toronto, ON M5B 2G9
Click here for Toronto Screening
& Enter PIN of SAFEWITHMOXIETO
~~~~~~~~~~~~~~~~~~~~~~~~~~~~~~~~~~~~~~~~~~~~~~~~~~~~~~~~~
Halifax Screening Details:
Date: Thursday, April 26, 2012; Show Time: 7:00 PM
Location: Empire 8 Park Lane, 5657 Spring Garden Road in Halifax, NS B3J 3R4
Click here for Halifax Screening
& Enter PIN of SAFEWITHMOXIEHALI
~~~~~~~~~~~~~~~~~~~~~~~~~~~~~~~~~~~~~~~~~~~~~~~~~~~~~~~~~
Ottawa Screening Details:
Date: Thursday, April 26, 2012; Show Time: 7:00 PM
Location: Empire 7, 111 Albert Street in Ottawa, ON K1P 1A5
Click here for Ottawa Screening
& Enter PIN of SAFEWITHMOXIEOTT
~~~~~~~~~~~~~~~~~~~~~~~~~~~~~~~~~~~~~~~~~~~~~~~~~~~~~~~~~
Winnipeg Screening Details:
Date: Thursday, April261, 2012; Show Time: 7:00 PM
Location: Empire Grant Park 8, 1120 Grant Avenue, Unit 127 in Winnipeg, MB R3M 2A6
Click here for Winnipeg Screening
& Enter PIN of SAFEWITHMOXIEWIN
~~~~~~~~~~~~~~~~~~~~~~~~~~~~~~~~~~~~~~~~~~~~~~~~~~~~~~~~~
There are a limited number of passes for the screenings, so act quick!
Missed your chance? See
Safe
in theatres when it opens in wide release on April 27, 2012!
Want to increase your chances for next time? Sign up for any of the
Movie Moxie Newsletters
as subscribers get first chance at any contests or giveaways. You can
sign up here
.
Thank you to Alliance Films for the movie passes giveaway - huzzah!
Safe Trailer:
Mei (Catherine Chan) and Luke Wright (Jason Statham) in SAFE. Photo credit: John Baer
From left to right: Detective Mears (James Colby), Detective Benoit (Barry Bradford), Captain Wolf (Robert John Burke), Luke Wright (Jason Statham), Detective Lasky (Matt O'Toole) and Detective Kolfax (Jay Giannone) in SAFE.