DVD review of stylish action film Haywire starring MMA Superstar Gina Carano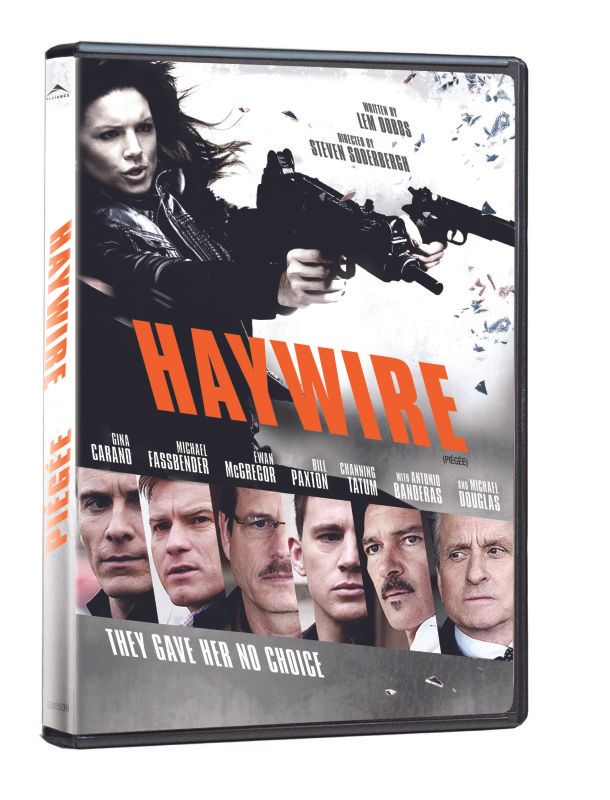 Image Courtesy of Alliance Films
Dir: Steven Soderbergh (Solaris, Oceans 11, The Girlfriend Experience)
Cast: Gina Carano, Michael Douglas, Ewan McGregor, Channing Tatum, Michael Fassbender, Antonio Banderas, Bill Paxton
USA
/
Ireland
,
2012
Reason to see:
Female protagonist action films are always on my to see list
Haywire
stars Mixed Martial Artist Gina Carano, and is directed by Steven Soderbergh which I miraculously kind of forgot about before going in because all I really needed was an MMA star in a film to pull me to see it. But Soderbergh directed Oceans 11, 12, 13, the Solaris remake and
The Girlfriend Experience
, and it's no doubt he is a very stylish director which you could really feel that in the film. The pacing and the storytelling style were very different than I was expecting; a lot of action films go for a very high-paced style but
Haywire
feels much more like a drama, with action. It feels like an American espionage drama with action and a female protagonist as opposed to an action film. Although the action is fantastic and Gina Cararo is amazing and certainly will be a draw to the film, the most important part of the film which is her character journey and the story which has some welcome mystery elements to it.
I do wonder if some people will think the pacing is too slow, and I found myself spending time while watching literally interpreting and experiencing the film from the perspective of the fact that it wasn't what I was expected. But, once I settled into realizing what they were going with and just relaxed into it, I really enjoyed it and I particularly enjoyed that it has a slow burn with a lot of visual storytelling. We get to watch Mallory (Gina Cararo), as she herself is watching, interpreting and reacting to what is going on around her in a very visual manner. I was very impressed by this, the completely visual storytelling that was accompanied by a groovy soundtrack were a huge highlight of the film and something sets it apart from many current-day action films proving that you don't have to shock & scare us with stuff to entertain us, you can also appeal to our logical minds as we try to piece together the puzzles, be they ones of action or espionage. It was very impressive.
It was fantastic to see Gina Cararo was so good in this role as an action star, so much so that it actually pushes buttons and boundaries of things that we don't normally see; for example if she is fighting a guy in the film – they are really going all out at each other. She's not treated differently and she's certainly not treated lightly, she'll get thrown around just as much as anyone else who is in an action film. It's literally a new primer when there dynamics of the fight aren't re-adjusted to balance for any strengths or weaknesses of either fighter; they are treated as equals. Although theoretically I cheered and the balance, it took a while to adjust to seeing that. They did also call out on some action film tropes to be a more clear counter-reaction to what we often see gender wise, that didn't work in the film quite a smoothly as the action balance did, but considering it's such a new shift I think its' entirely fair to expect some growing pains. To be honest, I'm happy to take those growing pains if the counter is seeing an amazing, capable, and believable action star. And that is exactly what we got: Gina Cararo is amazing, capable, believable and very dynamic action star and I look forward to seeing her in more films in the future. The story was good too, and I was impressed I could keep up considering espionage can be a bit of challenge for me but I suspect seeing it in open captioning help (see more on the experience of open captioning here).
Overall, the action, score and tone were all amazing plus I enjoyed the story as well. But Gina really was the pull to the film, and she pulled me right in and kept me for the entire time.
I would definitely recommend it to action, espionage and mystery film fans and especial to fans of female protagonist films.
DVD Extras:
Gina Carano in Training (16 minutes)

Behind the scenes footage, film clips, MMA fighting footage of Gina Carano, pre vis choreography footage, and interviews with Gina Carano, World Extreme Fighter founder/owner Jamie Levine, special ops technical advisor Aaron Cohen, fight choreography J J Perry, actors Michael Fassbender, Channing Tatum and Ewan McGregor on working together, on her physicality and aptitude, fighting, MMA, women fighting in the MMA, training including a section on weapons training, fight choreography and + clips from a film Q&A with Steven Soderbergh on when he first saw Gina Carano and the idea to build a movie around her. I loved how they would show progression of several of the fight scenes from pre vis choreography, to behind the scenes of filming to the finished film; that was pretty freaking awesome.

The Men of Haywire (5 minutes)

behind the scenes, film clips and interviews with Michael Fassbender, Ewan McGregor, Channing Tatum and Antonio Banderas on what drew them to the film, the feel, look and tone of the film; the realism of the characters in the film, training for the film, working together and especially the experience of working with director Steven Soderbergh.

Characters of Haywire (9 minutes)

This includes a set of tailored trailers, but each one shows the character of Mallory (played by Gina Cararo) paired with the other characters in the film including what her relationship is to them; and then one that purely focuses on Mallory; Plus snippets and film footage of the interviews with Gina Carano, Channing Tatum, Ewan McGregor, Michael Fassbender both from the previous extras as well as additional interviews with Gina Carano, Ewan McGregor, Antonio Bandares and Channing Tatum on their characters. I'm a little surrpirzed this doesn't have it's own menu to see the footage character by character, but rather it has 6 trailers in a row, then the 2 sets of interview footage.

Haywire
is available on DVD as of May 1, 2012. Check it out over at
Amazon.ca
&
Amazon.com
Shannon's Overall View:
I enjoyed it
I can't wait to watch it again
I'd highly recommend it to fans of action films & female protagonist films
Return to Film Reviews
or see more
DVD Reviews
© Shannon Ridler, 2012
Originally reviewed for Theatrical Release - February 12, 2012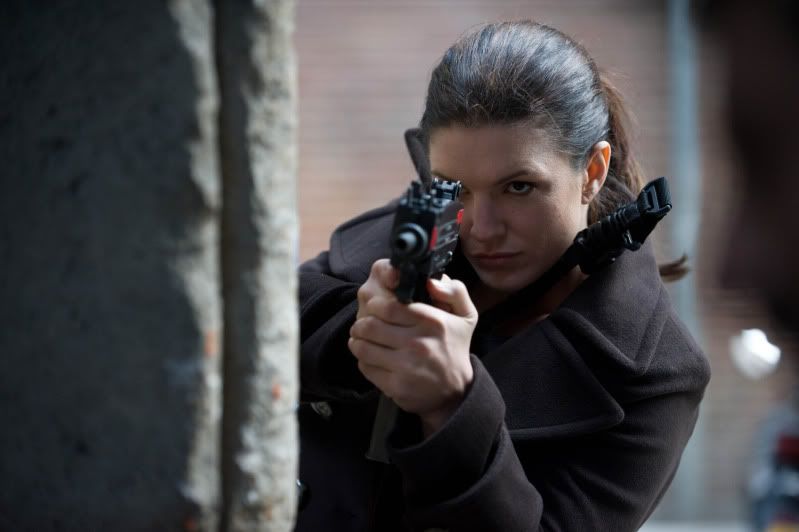 Gina Carano stars in HAYWIRE, and Alliance Films release. Photo Credit: Claudette Barius
Gina Carano (left) and Channing Tatum (right) star in HAYWIRE, an Alliance Films release. Photo Credit: Claudette Barius