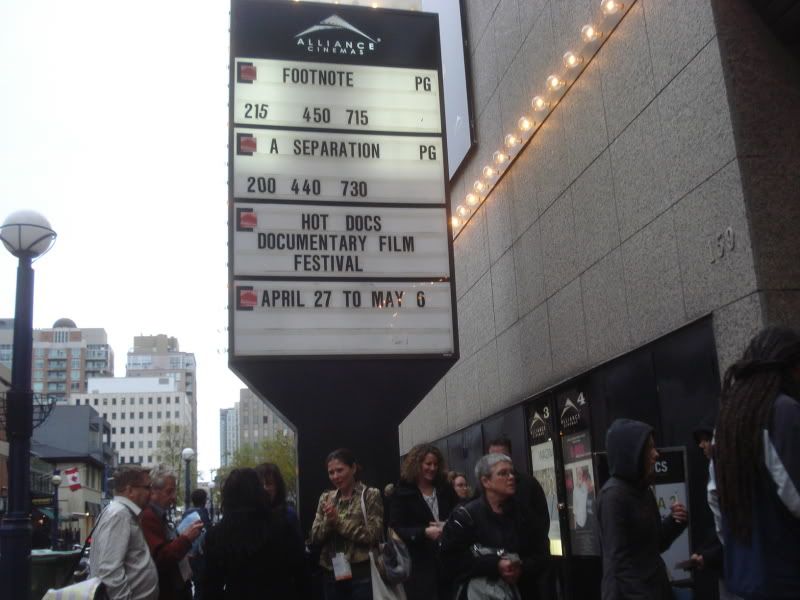 Above Image: The crowd files in to the screening of

G-Dog

at the Cumberland
On Monday night I finally got out to
Hot Docs
to see my very first film at the festival (
see podcast preview here
!), and it was so exciting to be out there hitting the festival theatres, seeing fellow festivallers in and around everywhere in the Bloor/Avenue area as I shuffled back from The Bader to The Cumerland. Other people might have been grumpy that it was grey, cold and rainy (there is always one day that is), but was thrilled. Even with the weather tons of people were out and ready to enjoy great documentary film making, and I did just that when I sat down to see
G-Dog
as well as
Ballroom Dancer
. My only sad moment was knowing I had a slow start this year, usually I power through from the first Friday to the final Sunday, so to start on Day 5 was a bit strange, but the films were inspiring and insightful which cheered me right up.
Above: An image from
G-Dog
(with G-Dog himself in the centre)
G-Dog
Dir: Freida Mock
USA
I wasn't quite sure what to expect walking into
G-Dog
, a film centred on a leading gang interventionist known as G-Dog. Would it be hard to watch? Would there be tales of sorrow, challenges and conflict? Would I be left with a heavy heart? Much to my (joyful) suprize it is heartful, honest and inspiring as it trucks the viewer through the everyday operations and challenges of
Homeboy Industries
, a place where homeboys and homegirls are welcomed in to train, learn and contribute to enrich life lives. I thought it was interesting that the film worked more around where
Homeboy Industries
is now and how they run cafe, bakery and silkscreening alongside classes for previous gang members, as opposed to going totally chronologically from the roots to the current. I was surprized because it made me realize how many documentaries really do start at the very beginning, but jumping in in the row can totally work as well - this doubles in reinforcing the focus of the film and of G-Dog's really strong passion for putting the focus and face on the people who are learning from and given a chance by Homeboy Industries. Very inspiring and thoughtful showcase of the power of change and not only giving, but taking a chance to change.
G-Dog
screens again on
Saturday May 5, 2012 at 4pm at the Isabel Bader Theatre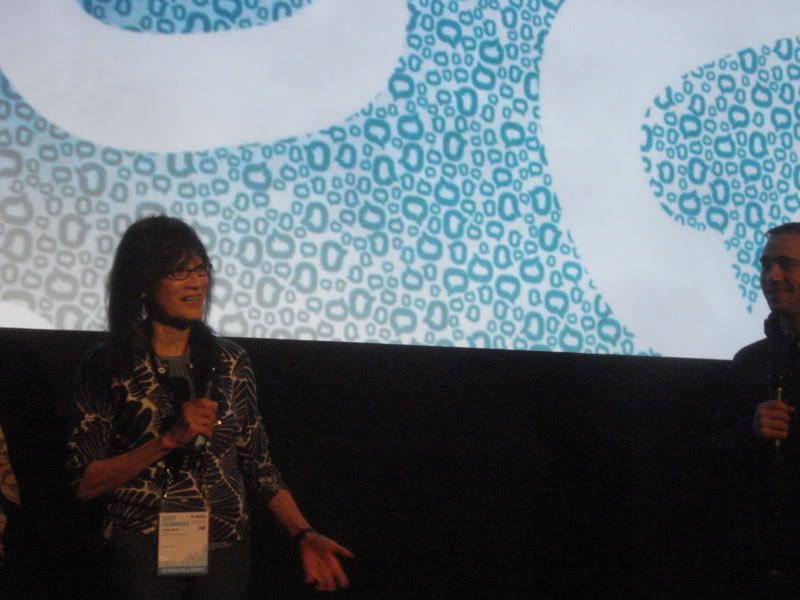 Above:

G-Dog

director Freida Mock (left) and Hot Docs international programmer Eli Horwatt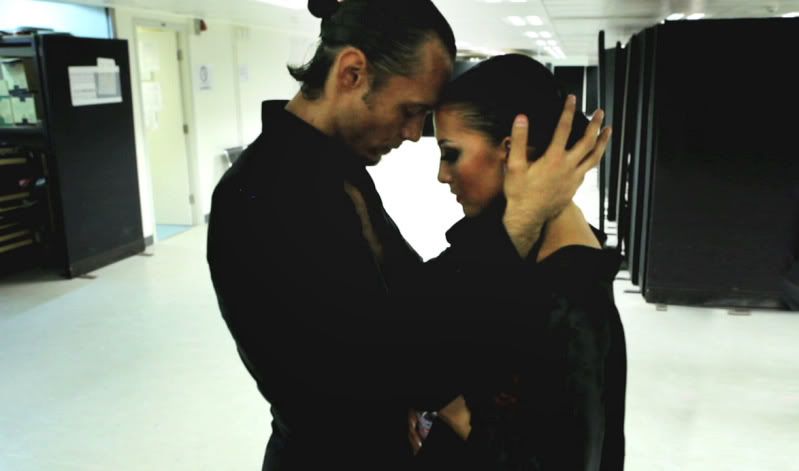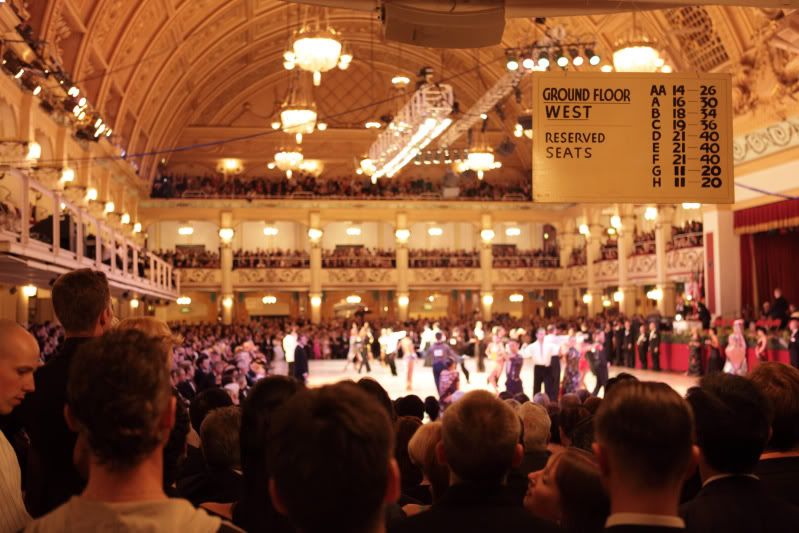 Above Images from Ballroom Dancer: Slavik Kryklyvyy and Anna Melnikova (left) and Competition Performance (right)

Ballroom Dancer
Dir: Christian Bonke & Andreas Koefoed
Denmark
Any time I have the opportunity to see a dance film, I take that opportunity, because I love dance. I love to dance, I love watch dance, I love
dance films
and getting to see a documentary on dance always shoots to the top of any film festival lists so
Ballroom Dancer
was clearly a must-see for me. The film centres on partners (in dance and in life) Slavik Kryklyvyy and Anna Melnikova as they train for competition together. That's how I saw the film from watching, although from the title and from description in the program the energy of the film on paper feels like it's more focused on Slavik, especially in the context of the fact that the present world champion is ex-partner Joanna Leunis, but I really saw it about both Slavik and Anna. Their dance relationship, the life relationship, their challenges, thoughts and feelings that arise and swell through the tension and intensity of training and competition. In that light, it feels deeply personal and intimate portray of their relationship, I was impressed that if felt so respectful but maintained this intimate emotional quality where often the energy and emotion spoke volumes over words. There is a lot of interpretation and things going on beneath the surface, that were quite raw and real. That energy does at times can be more prominent that getting to see the dancing, so if you are heading in wanting to see start to finish competition & behind the scenes, fair warning that this isn't that. There is still is lots of dance, particularly rehearsals and training as well as some competition and performance as well, but it's the human drama that comes to the forefront. I had to at times remind myself it was a documentary, not because it didn't feel real but because it felt so real, the emotions were powerful and genuine and it reads through their dancing each and every time they dance together.
Ballroom Dancer
is an an astonishing film, a beautiful and respectful look into these dancers lives and I am so happy I had an opportunity to see it at this years festival.
Ballroom Dancer
screens again on
Wednesday May 2, 2012 at 11:00AM at the Isabel Bader Theatre
Above: Ballroom Dancer co-director Christian Bonke (left)
The
Hot Docs Canadian International Film Festival 2012
runs from April 26 - May 6, 2012 at various locations in Toronto, Ontario, Canada