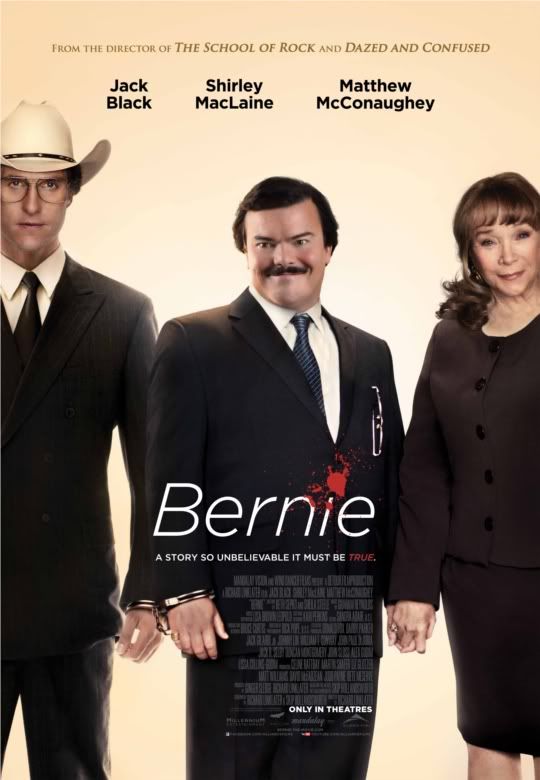 Bernie Poster Courtesy of Alliance Films
Looking for a Jack Black comedy to tickle your funny bone? Than I've got good news for you as I have passes to giveaway for an advance screening of
Bernie
starring Jack Black, Shirley MacLaine, Matthew McConaughey and is directed by Richard Linklater (
Me and Orson Wells
, A Scanner Darkly).
Toronto Screening Details:
Date: Tuesday May 15, 2012; Showtime: 7:00 PM (Doors 6PM)
Location: AMC Yonge & Dundas 24, 10 Dundas Street East in Toronto, ON M5B 2G9
Click here for Toronto Screening
& Enter PIN of BERNIEWITHMOXIE
Synopsis: "In the tiny, rural town of Carthage, TX, assistant funeral director Bernie Tiede was one of the town's most beloved residents. He taught Sunday school, sang in the church choir and was always willing to lend a helping hand. Everyone loved and appreciated Bernie, so it came as no surprise when he befriended Marjorie Nugent, an affluent widow who was as well known for her sour attitude as her fortune. Bernie frequently traveled with Marjorie and even managed her banking affairs. Marjorie quickly became fully dependant on Bernie and his generosity and Bernie struggled to meet her increasing demands. Bernie continued to handle her affairs, and the townspeople went months without seeing Marjorie. The people of Carthage were shocked when it was reported that Marjorie Nugent had been dead for some time, and Bernie Tiede was being charged with the murder."
There are a limited number of passes for the screenings, so act quick!
Missed your chance? See
Bernie
in theatres when it opens in release on May 18, 2012 in Toronto, Ontario, Canada.
Want to increase your chances for next time? Sign up for any of the
Movie Moxie Newsletters
as subscribers get first chance at any contests or giveaways. You can
sign up here
.
Thank you to Alliance Films for the movie passes giveaway!
Bernie Trailer: