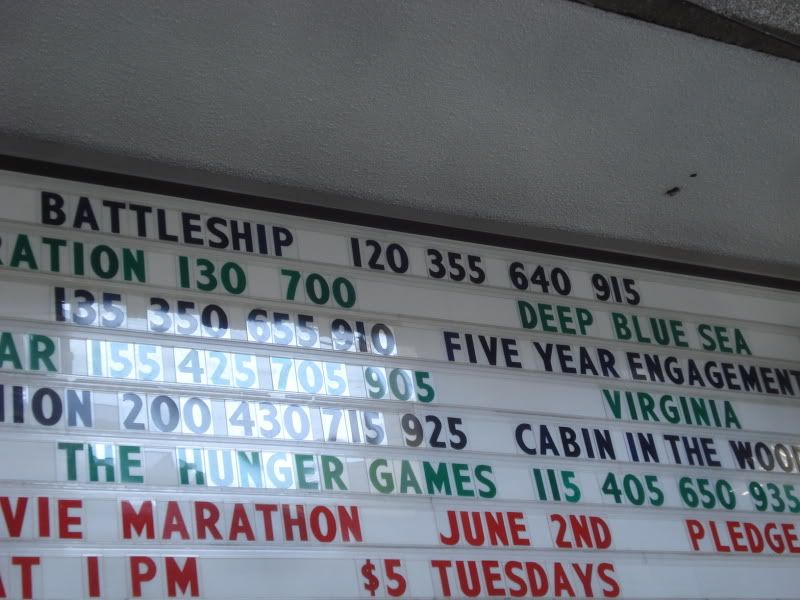 After what feels like a huge amount of time from seeing films at the theatre I finally got back at it and saw 3 theatrical release over the weekend including the bombastic
Battleship
, gothic comedy
Dark Shadows
and box-office smasher
The Avengers
.
First up:
Battleship
. (dir: Peter Berg,
USA
/
2012
) Wow. It's loud. It's long. It's crazy ridiculous and I had a hell of a lot of fun watching it. I had a blast watching it, even the ridiculousness of the clarity of the broad strokes of the film that really hammer home what you should be paying attention to and what the relationship dynamics are. There is no way you are going to miss them! And sure, it kind of feels like
Battle Los Angeles
Navy-Style in an over the top blockbuster tone and all set to highly recognizable songs, but I'm totally okay with that. And even at the over 2 hours running time, I never once looked at the time. Not once.
I do wonder if they took a few liberties with the chain of command type stuff, but other than that it was easy to just kick back and enjoy it. It's quite very far removed from the game but I don't think there was much expectation they would truly centre the film on that but the tie-in's are cool and I really enjoyed the overall sentiment and mentality. This is not a film to go for to see the acting, even though there are good actors like Liam Neeson, Alexander Skarsgård and Tadanobu Asano (with short hair! /cry), but it's really about the action. I do feel for Taylor Kitsch though as his character is very prominent but really mostly reads as 'angry'; which is too bad as he does have good range (I thought he was quite good in John Carter), but mostly we get angry/troubled waster which was just missing something for me, a little more back story or something. But as I said, it's not really a film to see for the acting but the action, explosions, craziness on water and overall spectacle. And on that it delivers. I'd easily watch it again, and I'll be sure to get it on DVD. Or maybe I'll finally have a Blu-Ray player by then! The only thing I was very suprized at about the film was that it's not 3D. It felt like it would be, but I'm fine with keeping my extra $2, $3 or $5 instead!
Dark Shadows and The Avengers
~ Rather watch than read? Check out my
vlog here
!
Dark Shadows 2012
(dir: Tim Burton
USA
/
2012
) was actually the first film I saw in the theatre after the too-long-not-planned break. For me, that's like 3 weeks, which really feels like an eternity and what better way to settle back into think with a Tim Burton/Johnny Depp gothic vampire film based on a soap opera? I thought it was the perfect choice. And I needed to see if for an upcoming episode of
Before the Dawn
so it fit even more perfectly. One good thing to know about
Dark Shadow
s is that it's a gothic comedy. Any time they can go for humour, they do, and it's often done well but out of the different ways to portray gothic, vampire, creatures or the supernatural, comedy is likely my least favourite vehicle so I found that to be a bit of a disappointment although it's very true to the trailer and a lot of it is very funny. The film follows the Johnny Depp as Barnabus Collins, a vampire who returns to his family in the 1970's after years of unrest, but to be honest I felt like his story wasn't the most interesting thread of the film. I was much more interested in the stories of the women characters who were fabulous. I really did love the women in the film, but wish we saw more of them. We have Michelle Pfieffer as the Barnabus family matriarch, Eva Green (
Casino Royale
,
The Golden Compass
,
Franklyn
) as the baddie and Bella Heathcote plays the character that brings the film together, however she's barely in the film and rarely in the spotlight. So sadly we have yet another Tim Burton/Johnny Depp collaborations where just like
Alice in Wonderland (2010
), the story's true protagonist is not Johnny Depp but they put him in the forefront. It creates quite a disconnect in both the predominance of his characters in the films and the marketing of the films. To be honest, that makes me sad as I've loved many of the films I've seen with them as a duo director/actor from
Sleepy Hollow
to
Sweeney Todd: The Demon Barber of Fleet Street
, but even my patience is wearing thin. I hope it's changed up if it continues, or just really had Johnny Depp as the true lead. That would work too!
After seeing
Dark Shadows
I met up with
my sister Jamie
and her honey and we went to see
The Avengers (2012)
in AVX (and 3D - although I don't see the 3D), and this will just be a mini/kinda/not-really review because I was sadly struck by a bad decisions made prior to the film. I've seen the first
Iron Man
and I loved
Thor
, but I hadn't actually seen
Captain America: First Avenger
before heading into
The Avengers
. Not on purpose, it just came out during my move last year and I never ended up seeing it. I asked around a bit to check in if I needed to see it beforehand and got some feedback that I'd be okay. Wow. Not a good choice.
The Avengers
totally spoiled Captain America for me, and in fact I hold that experience and sadness over whatever else the film had. And there was one consistency of story/character thing that's a crossover from
Thor
that I didn't believer. But, if I do my best to distance from that I will give that it has great action, amazing characters who all get a fair share of screen time giving the breadth of the ensemble cast, and in true Joss Whedon fashion it makes me want to go back and watch it again and again to pick up the multiple layers. It's understandable on a first-watch, but you want more. I don't know how Joss Whedon does that, but it's a true stamp of his work. And I quite enjoyed the character interactions, specifically Mark Ruffalo as Hulk & Robert Downey Jr. as Tony Stark - they were golden. But, it still stings me about Captain America. Oh well, good learning to trust the gut and know you ways of things; and my way of things is to be thoroughly prepared. That's the Shannon way! Hopefully with time passing and maybe a mini-marathon later in the year I'll work back up to be able to fall in love with
The Avengers
.
One of the cool things about this week was heading to
The Carlton
, which is a theatre that I go to less frequently, but that means I don't know as much about what's going on there and I was treated to a whole slew of posters for upcoming films I hadn't seen before, and often I hadn't heard of. One I certainly have heard of is our current
Book to Film Reading Selection Cosmopolis
, and what do you know I actually had it on me for an impromptu side-by-side shot!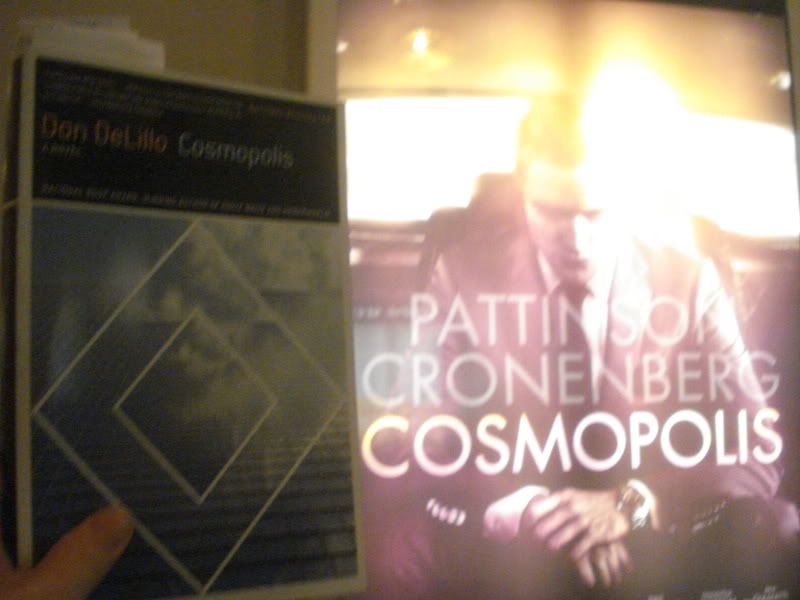 And then I of course became curious about all the new-to-me films they had posters up for including:
In the Family, Foreverland, Jesus Henry Christ, Patang
and
Hope Springs
.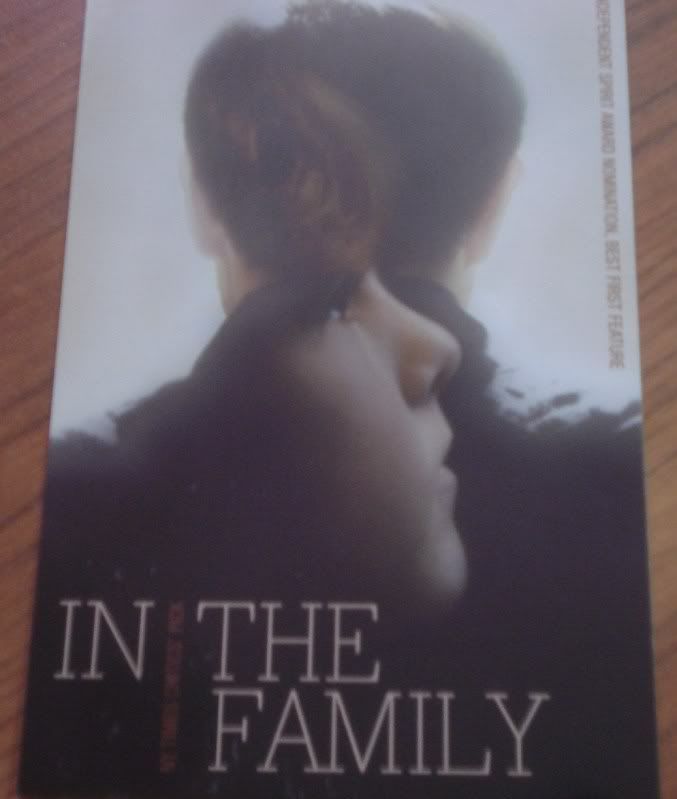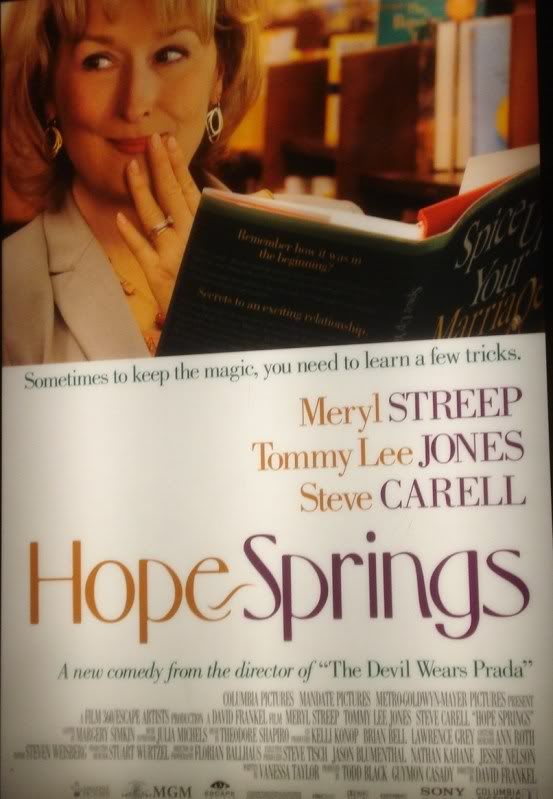 I love discovering new films! It's amazing that you really never know what each week will bring, this one was a lot of fun. And I like fun!
In non-theatrical endeavours I've continued the
Bondathon
with
From Russia with Love
and started a
Prometheus Countdown
with
revisiting the original Alien
. It's been a lot of fun and I'm finding the Prometheus one more fun than Bond! Which kind of freaks me out as there are many more Bond films to go!
I'll be back next week with more films to share and I'm actually not quite sure what I'll pick! A surprize it will be.