Hello Film Fans and Fanatics!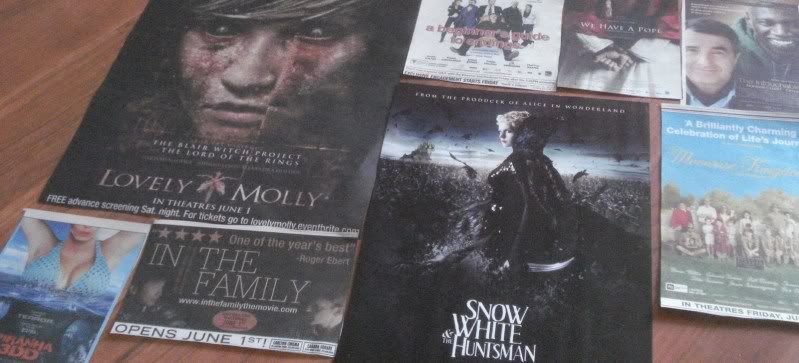 Welcome to Film Fan Fridays for Friday June 1, 2012!
In limited release this week we have tons of films to choose from including quite as selection of dramas that look very touching. Starting off that trends is the Korean film
As One
that is based the true events of the North and South Koreans coming together to play together on a table tennis team in 1991, another based on a true story film is the French film
The Intouchables
about an unlikely duo of a paraplegic and his carer, plus the formidable looking drama
In the Family
that's been getting absolutely astonishing reviews. What a week! And we aren't even a third of the way through the releases yet! We also have a new film from Wes Anderson (The Royal Tenanbaums) with
Moonrise Kingdom
which looks like it continues his quirky tradition,
A Beginner's Guide to Endings
which was at
TIFF in 2010
,
Crooked Arrows
which follows a Native American lacrosse team with a new coach, and comedy
We Have a Pope / Habemus Papam
about a newly appointed but not expected new pope. Last but not least for limited releases is the horror film
Lovely Molly
, which I am definitely hoping to see.
In wide release this week we have three releases to choose from and I know I'm going with
Snow White and the Huntsman
starring Kristen Stewart (
Twilight
) as Snow White, Charlize Theron as the Evil Queen and Chris Hemsworth (
Thor
) as the Hunstman. This film looks so amazing, the art direction, the warrior snow white, the aliveness and imagination made me giddy! On the flip side of the coin we have
Piranha 3DD
(in 3D) and finally the Bollywood action flick
Rowdy Rathore
.
Have a great weekend!
Shannon
Festival Watch
Ryerson University Film Festival
June 2 - 4, 2012 at
TIFF Lightbox
in Toronto, Ontario, Canada
Worldwide Short Film Festival
June 5 - 10, 2012 at various locations in in Toronto, Ontario, Canada
Be sure to check out my coverage of the
Worldwide Short Film Festival
here at
Movie Moxie
next week during the festival.
Friday June 1, 2012 Releases
As One
Dir: Moon Hyun-Sung - feature film directorial debut
Cast: Ha Ji-Won, Bae Doo-Na, Choi Yoon-Young, Han Ye-Ri, Oh Jung-Se, Park Cheol-Min, Lee Jong-Suk, Kim Eung-Soo
South Korea
Limited Release
Official Film Site
,
IMDb Page
,
Trailer
A Beginner's Guide to Endings
Writer/Dir: Jonathan Sobol - feature film directorial debut
Cast: Tricia Helfer, J.K. Simmons, Scott Caan, Paulo Costanzo, Jared Keeso, Harvey Keitel
Canada/USA
Limited Release
Film Site
,
IMDb Page
,
Trailer
Crooked Arrows
Dir: Steve Rash (Can't Buy Me Love, Son in Law)
Cast: Brandon Routh, Gil Birmingham, Michael Hudson, Chelsea Ricketts, Crystal Allen
USA
Limited Release
Official Film Site
,
IMDb Page
,
Trailer
In the Family
Writer/Dir: Patrick Wang - feature film directorial debut
Cast: Sebastian Brodziak, Peter Hermann, Susan Kellermann, Kelly McAndrew, Brian Murray, Park Overall, Trevor St. John, Patrick Wang
USA
Limited Release
Official Film Site
,
IMDb Page
,
Trailer
The Intouchables
Writers/Directors: Eric Toledano and Olivier Nakache (Tellement proches, Je préfère qu'on reste amis)
Cast: Francois Cluzet, Omar Sy, Anne Le Ny, Audrey Fleurot
France
Limited Release
Official Film Site
,
IMDb Page
,
Trailer
Lovely Molly
Dir: Eduardo Sánchez (The Blair Witch Project)
Cast: Gretchen Lodge, Johnny Lewis, Alexandra Holden
USA
Limited Release
Official Film Site
,
IMDb Page
,
Trailer
Moonrise Kingdom
Dir: Wes Anderson (The Royal Tenenbaums, The Darjeeling Limited)
Cast: Bruce Willis, Edward Norton, Bill Murray, Frances McDormand, Tilda Swinton, Jason Schwartzman, Jared Gilman, Kara Hayward
USA
Limited Release
Official Film Site
,
IMDb Page
,
Trailer
Piranha 3DD
Dir: John Gulager (Feast)
Cast: Danielle Panabaker, Matt Bush, David Koechner, Chris Zylka, Katrina Bowden, Gary Busey, Christopher Lloyd, David Hasselhoff
USA
Official Film Site
,
IMDb Page
,
Trailer
Rowdy Rathore
Dir: Prabhu Deva (Vedi, Engeyum Kadhal)
Cast: Akshay Kumar, Sonakshi Sinha, Nasser, Paresh Ganatra, Supreeth Reddy
India
Official Film Site
,
IMDb Page
,
Trailer
Snow White and the Huntsman
Dir: Rupert Sanders - feature film directorial debut
Cast: Kristen Stewart, Charlize Theron, Chris Hemsworth, Sam Claflin
USA
Official Film Site
,
IMDb Page
,
Trailer
We Have a Pope / Habemus Papam
Dir: Nanni Moretti (The Caiman, The Son's Room)
Cast: Michel Piccoli, Nanni Moretti, Jerzy Stuhr
France/Italy
Limited Release
Official Film Site
,
IMDb Page
,
Trailer
**please note this list of releases reflects first run film released in Toronto, Ontario, Canada as of June 1, 2012**