Review of the science fiction/fantasy/adventure film John Carter starring Taylor Kitsch and Lynn Collins based on the book The Princess of Mars by Edgar Rice Burroughs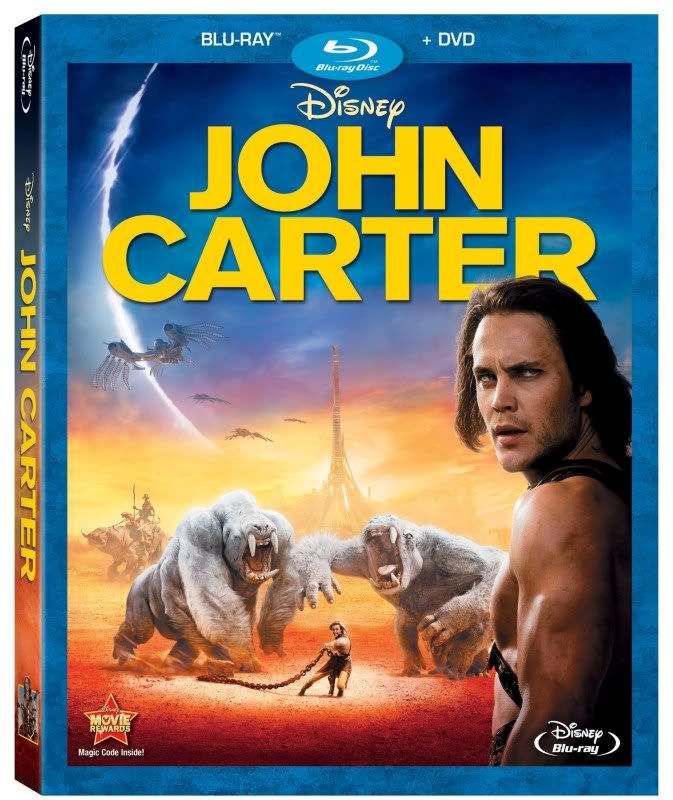 Image © 2012 Disney. All Rights Reserved.
Dir: Andrew Stanton (WALL-E, Finding Nemo)
Cast: Taylor Kitsch, Lynn Collins, Samantha Morton, Mark Strong, Ciaran Hinds, Dominic West, James Purefoy, Daryl Sabara, Polly Walker, Bryan Cranston, Thomas Hayden Church, Willem Dafoe
USA
,
2012
Reason to see:
It is one of my
Most Anticipated Films of 2012
for the blend of science fiction, fantasy and sword and sandals
John Carter is a science fiction/fantasy/adventure film John Carter starring Taylor Kitsch and Lynn Collins based on the book The Princess of Mars by Edgar Rice Burroughs. I had very little knowledge of the books going in to the film but was very excited about the vast world that appears in the film and very curious about who, what and where it was (especially with the change in title of
John Carter on Mars
to simply
John Carter
).
This film really takes on the epic task of not only creating another world to explore, but also centres John Carter here on earth in the US as a disgruntled civil war vet giving the film a sense of history as well as mystery. How is it that this man ends up on a red planet? What will he do there? Will he want to stay? What is that red world all about? Turns out that it's a fascinating place with a rich and beautiful mythology that's facing it's own challenges of 2 groups on the brink of war. But that's just the tip of the iceberg as there is so much more and it's wonderful to see it explore and unfold on screen. In that world we follow the fish out of water of John Carter as he tries to understand where on earth he is and in such we get to see him and have the opportunity ourselves to examine the ideas, concepts and beliefs that we hold as truths that we take for granted yet may seem bizarre or unbelievable to an outsider, or if we are outsiders ourselves.
I really loved
John Carter
. This film has a fabulous adventurous spirit, a strong point of view but also leaves an open to the possibility of change and taking a chance. It beautifully weaves in actual history and mythical history, and is able to showcase both of those histories. We are at a exciting time in film making where high fantasy and science fiction can been seen on screen and feel like a 100% real otherworld that completely absorbs you in to it's beauty. I also loved that the story and world don't feel the need to have to adhere to one genre, but create a truly happy blending of several. I also really enjoyed the spirit of the story and the characters, but above all I was truly taken but the warrior princess character of Dejah Thoris played by Lynn Collins. Smart, skillful, fearless and confident, she could very well be my favourite character of the year.
If you like films with an adventurous spirit and enjoy mythical, epic qualities in fantasy, science fiction and/or sword and sandals films that you definitely need to enjoy the beauty of
John Carter
.
DVD Extras:
Feature Commentary with director Andrew Stanton and producers Jim Morris and Lindsey Collins

on the inspiration and draw to make the film and previous possible incarnations of the film, that it was originally conceived of and could still be part of a trilogy, the challenge and choices of casting, funny stories on set, the locations where they filmed different parts of the movie, the techniques and choices of combining live action and animation in the film, the shooting schedule and complication of working with both live action and animations, the casting including the positive experience of working with Taylor Kirsch and Lynn Collins chameleon capabilities, favourite scenes and scenes used for casting, the language and look of the world and culture of Barsoom. I really enjoyed this commentary, it was interesting and playful and they tell lots of great stories of how the film came to be and it's also really cool to hear the serendipity of all the John Carter fans that ended up finding each other to work together on the film.

100 Years in The Making - Featurette (10 minutes)

archival footage of pulp magazines, Edgar Rice Burroughs, Mars, plus film footage, behind the scenes, visualizations of the world, structures, characters and costumers and interviews with writer/director Andrew Stanton, screenwriter Michael Chabon, John Favreau, "The Barsoom Project" author Steven Barnes, astrophysicist/director The Hayden Planetarium Dr. Neil Degrasse Tyson, professor of philosophy Dr. Robert Zeuschner, production designer William Stout, producer Jim Morris, actors Willem Dafoe and Taylor Kitsch and on Edgar Rice Burroughs as a writer, influences on him as well as how he has influenced others with the world he created in the books, the mythological combination of science fiction and fantasy, the illustration of the books and quoted material of Edgar Rice Burroughs on the series and on being a writer. Plus footage from and challenges with previous incarnations of film adaptations. A great featurette that brings the viewer up to speed on the world as it began from the pulp novels to the epic creation of the stories being portrayed on film.

Blu-Ray Extras:
All DVD Extras (noted above) plus:

Disney Second Screen, 360 Degrees of John Carter, Deleted Scenes with Option Commentary by Director Andrew Stanton and Barsoom Bloopers.
John Carter
is available on DVD, DVD/BluRay Combo and 3D BluRay/BluRay/DVD/Digital Combo as of June 5, 2012. Check it out over at Amazon.ca (
DVD
,
DVD/BluRay Combo
and
3D Blu-ray/2D Blu-ray/DVD/Digital Copy
) & Amazon.com (
DVD
,
DVD/BluRay Combo
and
Blu-ray 3D/Blu-ray/DVD + Digital Copy
)
Shannon's Overall View:
I loved it
I'd watch it again, repeatedly
I'd highly recommend it fans of adventure films, fantasy films and definitely sword & sandals films
Return to Film Reviews
or see more
DVD Reviews
© Shannon Ridler, 2012