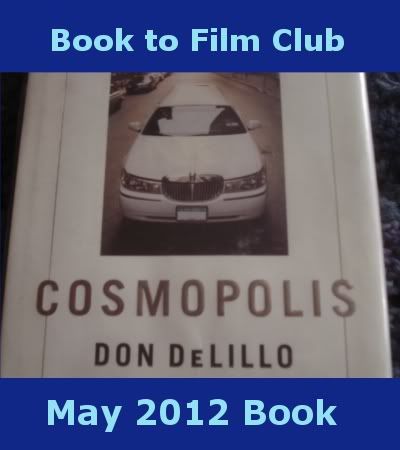 May 2012 Reading: Cosmopolis by Don DeLillo
Time to check in on out May reading selection of Cosmopolis by Don DeLillo. I have to admit it was quite different than I expected, and all the snippets of details and tones that get referred to are not quite what resonated during my reading experience. I was happy with the length of it though, short overall but felt *just* right. I do wish I had not see the
trailer
before reading as it did tailor my experience (when will I ever learn??), but I still am very curious for what overall tone the film will go for.
What did you think of the book? Here are some
t
hings to ponder on the reading experience:
Did you enjoy reading it?
Was it what you were expecting?
What did you know about the book before reading it?
What did you think of the style and tone?
Did you sense the time period?

What did you take away from reading the book?
Is there anything you would change about the book?
Who would you recommend the book to?
Did you feel about the characters & their challenges?
About the upcoming film adaptation:
How do you feel about the casting of the film?
What tone do you think they'll take?

What do you hope to be the focus of the film?
What do you think is essential to keep from the book in the film?
What do you think they can trim away from the book to the film?
What do you think the challenges of the adaptation may be?
Do you have any hesitations on the adaptation?
What are you most looking forward to about the film adaptation?
If this was a re-read:
How did reading it this time compare with your previous time reading it?
Did you notice anything different this time round?
Did your interest and focus stay on the same characters and moments, or shift?
Film Adaptation
The exciting adaptation news is we do not have long to wait to see
Cosmopolis
on the big screen, after it's
foray at Cannes
it's headed to theatres next week Friday June 8, 2012. The film version is adapted and directed by Canadian director David Cronenberg, know for bring both the visceral and bizarre alive on screen with films such as
A History of Violence
to cult classics like
The Fly
and
The Brood
. The film stars Robert Pattinson of Twilight fame, as well as Kevin Durand, Samantha Morton, Juliette Binoche, Sarah Gadon, Paul Giamatti and Jay Baruchel.
See my book review of the Cosmopolis the book at my new You Tube Channel here:
http://youtu.be/K6ZwHeQzD68
Join the Movie Moxie Book to Film Club
at any time. For ook to Film Club news and monthly selections you can
sign up for email updates here
. Our final three books and entire year schedule have been announced:
see the details here
.