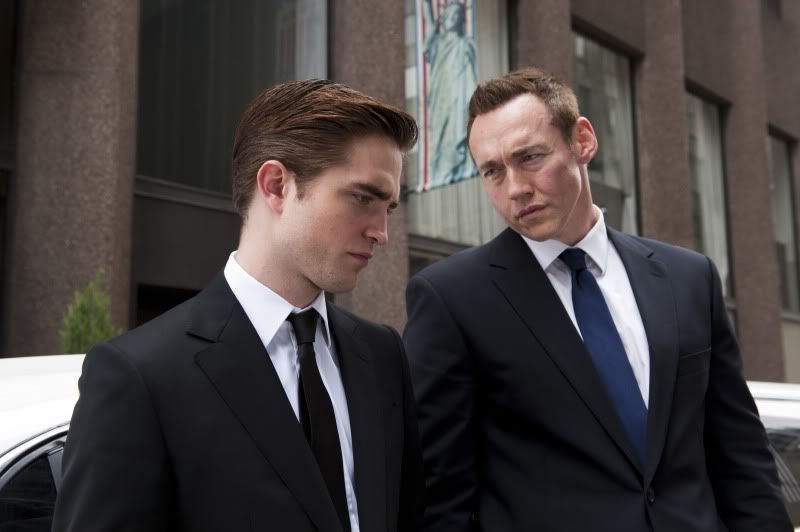 Image: Robert Pattinson and Kevin Durand star in COSMOPOLIS. Courtesy of eOne Films
This week I trekked out to the theatre to see our
Book to Film Club selection of

Cosmopolis
(dir: David Cronenberg,
Canada
/
France
/
Italy
/
Portugal
/
2012
), and I now remember that a strong reason I picked it was to have a Canadian film included in the Book to Film Club and this was our first! Yay for that! Sadly, I didn't overly love
the book by Don DeLillo
as I couldn't connect to or believe in the protagonist Eric, played in the film by Robert Pattinson. He's introduced as rich, smart and with a staff so trained to respond to his every whim. Personally, I don't find that very interesting, and I didn't believe either the richness nor the intelligence of the character. Both the richness and intelligence were displayed, especially in the effects of, but I didn't believe it. I did find that it felt pretentious, which I had to look up to ensure it met the definition and "making claims to excellence or importance" and "doing things for show" both really describe the character, and the themes of the film. So left with not believing in the character, you are pretty much left with enjoying this 'near future' world, which again didn't quite read for me but baring that I was hoping with a cast that includes Juliette Binoche, Kevin Durand, Sarah Gadon, Paul Giamatti, Samantha Morton and Jay Baruchel I would at least be in for some good acting. And there was some, but only some.
For those who may not know, I'm a big fan of
Twilight
and have been impressed with Rob in other films including
Little Ashes
and his supporting role in
Harry Potter and the Goblet of Fire
, I think he's really got potential for acting but worry that due to his stardom the trajectories he can take don't match a normal learning curve, so he can be pretty much thrown to the wolves. In
Cosmopolis
, I felt that he is thrown to the wolves but from the structure of the film that parses out to many different conversations, often only with one other person, it's like many small battles as opposed to one big fight. The fight analogy is only in winning over the audience though, as it's how well the two people on screen work together that is going to win the audience over. I was won over by Samantha Morton the most, and it was strange because in a lot of what her character says is the most 'out there', yet I understood it and more importantly I felt that she understood it. If she wasn't in the film, I think I would have come away feeling very disappointed, but with her there I felt like I did walk away with something. I also enjoyed Kevin Durand as Eric's bodyguard/chief of security, although there wasn't much different in the various conversations in the film. The dialogue often felt like it was suppose to be very meaningful and insightful, yet I almost never felt it and on the flip side the there was so much flinging about in the limited space provided it really gave the impression of trying hard to be really interesting. But without impact on dialogue, this really felt like they were just making up for it.
I can sense the spirit of the book and the film are to engage the mind and tantalize the senses, and if people have that experience I am really happy for them. I know there are other films where I am right there with the character, nodding along in their challenges and cheering for them to take on and go for it, but I didn't feel that way about
Cosmopolis
. I felt pretty quickly that I wasn't the target audience because I didn't care about the characters. And if I don't care, then I'm barely there. It does feel trademark Cronenberg with the intellectual themes and speckled with visceral body craziness, so if that's what you are hoping for then
Cosmopolis
is one for you.
I saw
Cosmopolis
here in Toronto at the Varsity after it's
June 8, 2012 wide release.
For
international release dates check here
, although no US release date is noted I've 'heard' of August 2012 is when to expect if from several sources.
See also my
Cosmopolis

vlog review
&
Cosmopolis

podcast review
.
I'm excited to share that my
vlog review of

Cosmopolis
has quickly become my most viewed video over at the
Movie Moxie YouTube Channel
. I do wish that had happened with a film I enjoyed more, but alas, that too could still happen.
Up next:

Prometheus.
I have actually now seen
Prometheus
but I need more than 24 hours to digest and relay my thoughts on it. I'll be reviewing it in
vlog
and
podcast
format this Friday June 22, 2012 as will write about it with next weeks
My Week In Film
post.
Image: Robert Pattinson and Sarah Gadon in COSMOPOLIS. Photo credit Caitlin Cronenberg Courtesy of eOne Films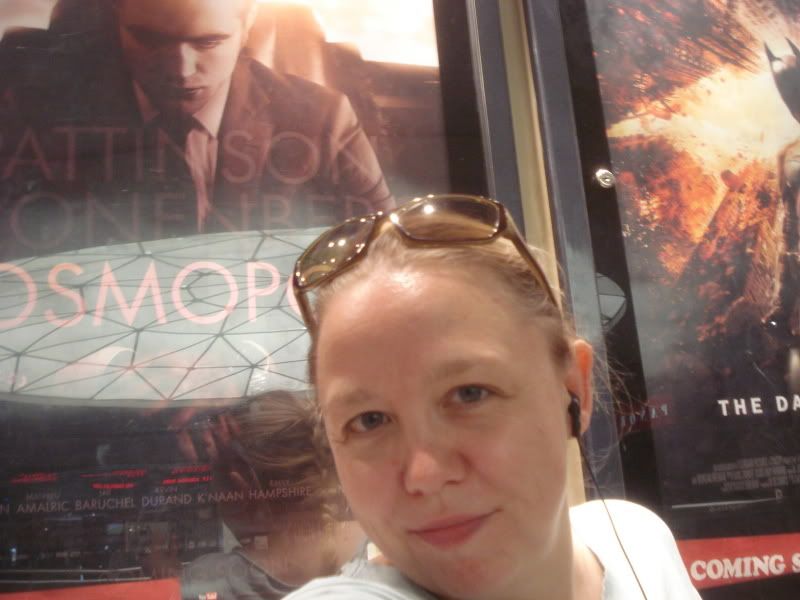 Me seeing
Cosmopolis
!