DVD review of MMA reality series The Ultimate Fighter: Team Bisping vs Team Miller featuring bantamweight and featherweight classes competing for a 6-figure UFC contract.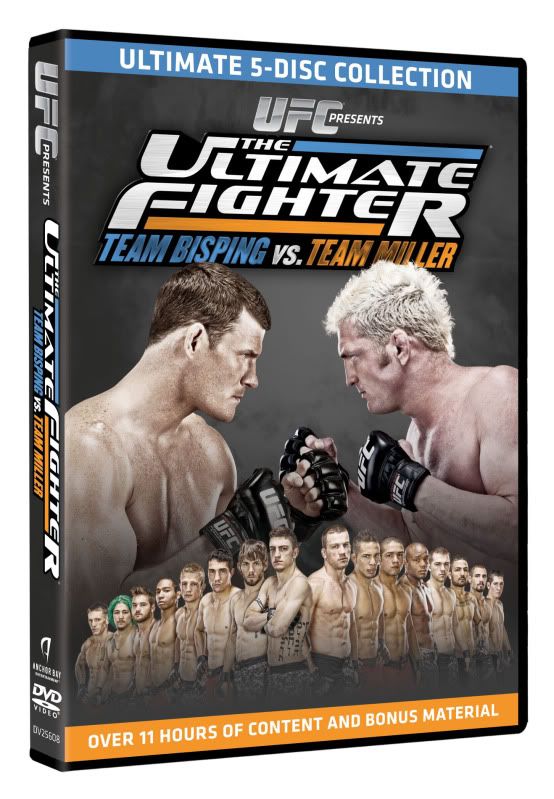 Image Courtesy of Anchor Bay Entertainment
The Ultimate Fighter: Team Bisping vs Team Miller (Season 14)
Reality series featuring Michael Bisping and Jason Miller as coaches to featherweight and bantamweight mixed martial artists
USA
,
2011
(TV)
Reason to see:
Full disclosure that although I'm a fan of MMA through films (SPL,
Flash Point / Dao huo xian
), I'm relatively new to the world of The Ultimate Fighter having jumped aboard during a recent re-airing of the
Georges St. Pierre vs Josh Koscheck
season as well as enjoying the most recent broadcasted season of
Ultimate Fighter: Live Dominick Cruz vs Urijah Faber
, and after enjoying both of those I though it'd be perfect to jump into an entire season that was between them!
The Ultimate Fighter Season 14 Bisping vs Miller
is a whopping 5-Disc set with 671 minutes of content and wow it's a heck of a lot to enjoy, and enjoy it I did! This is the first season that features of bantamweight (135 lbs) and featherweight (145 lbs) mixed martial artist as competitors in the series. The first episode has 16 fights and from the winners each coach picks 4 featherweights and 4 bantamweight fighters to make up the 8 fighters on their team for the season.
It's really inspiring to see the drive and intensity of the fighters, and the amazing skill that they have and showcase throughout the season. There are so many great guys to root for that with every fight you were cheering for the winner but also felt the heartbreak for those who lost and I was shocked as some of the results, just shocked. A lot is one the line as the winners will not only take home the glory, but also land a 6-figure contract with the UFC. I want to say who I rooted for and which fights I loved, but on that but my commitment to spoiler-free reviews is trumping the exclamations I shouted at the screen while watching. It really an intense and exciting season, and really ramps up the intensity when the pranks start to blur the line of personal space.
The season has a fair share of suprizes and I loved that unpredictability, even if you really think you know how a fight will go, once they get in the octagon who knows what's going to happen. The spirit and skill of the fighters is so high that every one of the fights in the quarterfinals, semi finals, and finals were fantastic. Some of the qualifying matches weren't as thrilling, but once you get in to episode 2 and beyond its completely intense. I enjoy the pacing of the season too, that each episode isn't a strict format of lead up to fight at the end, some episodes throughout the regular season have more than 1 fight, they have lots of pranks throughout the season, plus guest coaches that stop in and of course the coaches challenge (which was hilarious on more than one level!).
One of the reasons I really enjoy the series is that we also get to see the different coaches and their coaching style with the players, which is always fascinating right from the get go on who they pick and why and how they train them throughout the season. I love seeing the effects of coaching and mentoring and it's pretty rare to see that so it's a nice bonus here. The two coaches had a pretty different style as well as different reputation, Bisping definitely felt more at a distance but very clear, direct, reasonable and good natured (I was definitely team Bisping!) although he seems to have a bad rep and whatever it's for I never saw anything that would explain it. And Miller seemed to be the reverse with having a 'crazy' rep, yet clearly his team took to him instantly and you can tell he's a guy that people just enjoy being around.
Although the finale is a great sum up to the season, I do find it a bit odd because it's a completely different tone and feel from the rest of the season as it has a live audience and announcers, plus at change that the fighters are coached by their coaches as Bisping and Miller fight each other on this night. But the pay off there is definitely getting to see Bisping and Miller face off after an entire seasons of chatter but then they had to put that talk into action.
After watching
The Ultimate Fighter Season 14 Bisping vs Miller
on DVD, I'm hooked and now I know I'll always watch future season and I even want to go back and watch older ones. I'm totally hooked.
See also my
Vlog review of

The Ultimate Fighter (Bisping vs Miller)

here
.
DVD and DVD Extras Details:
Disc 1
Episode 1

- Qualifying Matches ( 1h 20mim)

Episode 2

- Team picks and first Quarterfinal Fight, (39 minutes)
Disc 2
Episode 3

– 1x Quarterfinal Fight (39 minutes)

Episode 4

– 2 x Quarterfinal Fights (39 minutes)

Episode 5

- 1 x Quarterfinal Fight (39 minutes)

Episode 6

– 2 x Quarterfinal Fights (39 minutes)
Disc 3
Episode 7

- Final Quarterfinal Fight & Semi Final Match Picks (39 minutes)

Episode 8

– 1 x Semi Final Fight (39 minutes)

Episode 9

- 1 x Semi Final Fight & Coaches Challenge (39 minutes)

Episode 10

2 x Semi Final Fights (39 minutes)
Disc 4

Season Finale: Main Card (1h 46 minutes) includes:

Final Featherweight Fight, Final Bantamweight Fight, Bisping vs Miller Fight, Tony Ferguson vs Yves Edwards (Fantastic match!) and 1 additional fight between fighters during this season of the show (see more on disc 5)

Disc 5: Season Finale Preliminary Card & Bonus Material
Finale Fight Card (1 hour 20 minutes)

5 match ups between fighters during the season of the show


Team Bisping Bonus Scenes (14 minutes)

Bisping talking about being on the show a second time and reflecting on the season; plus the challenge of working as a team and keeping the team together even though fighting isn't a team sport and lots of goofing off, and even continuation of some of the threads from the show that showed the personal dynamics and tension between the fighters. Plus more pranks. Always more pranks!

Team Miller Bonus Scenes (15 minutes)

Wow, you can really see how Miller builds morale with the guys and keeps it light, chilling in the house with the guys and sharing story of how he got to where he is, training with Muay Thai coach, and of course pranks including the effect of their pranks on the other team, this actually still shows a lot of Bisping & his team as well.

Additional Bonus Scenes (14 minutes)

more time with the assistant coaches and their philosophies, more training footage and more pranks, some of which were pretty impressive and I'm surprized they didn't include in the show. Really great extra footage.
Shannon's Recommending viewing order:

Episodes 1 -2 Qualifying matches, team picks & first quarterfinal match
Episodes 3 – 5 Quarterfinals (4 matches)
Episodes 6 – 7 Quarterfinals (3 matches) and Semi Final match selection/announcement
Episodes 8 – 10 All the Semi Finals (4 matches) and the Coaches Challenge
Finale: Preliminary Fights (Disc 5), then Featherweight, Bantamweight and Bisping vs Miller Fights (Disc 4)
Bonus Footage

The Ultimate Fighter: Team Bisping vs Team Miller
is available on DVD as of June 5, 2012. Check it out over at
Amazon.ca
&
Amazon.com
Shannon's Overall View:
I loved it
I'll watch it again and go back and watch other seasons as well
I highly recommend it as fans of any kind of fighting, action film fans and documentary fans
Return to Film Reviews
or see more
DVD Reviews
© Shannon Ridler, 2012