DVD/BluRay review of Tarsem's interpretation of the Snow White fable in

Mirror Mirror

starring Julia Roberts and Lily Collins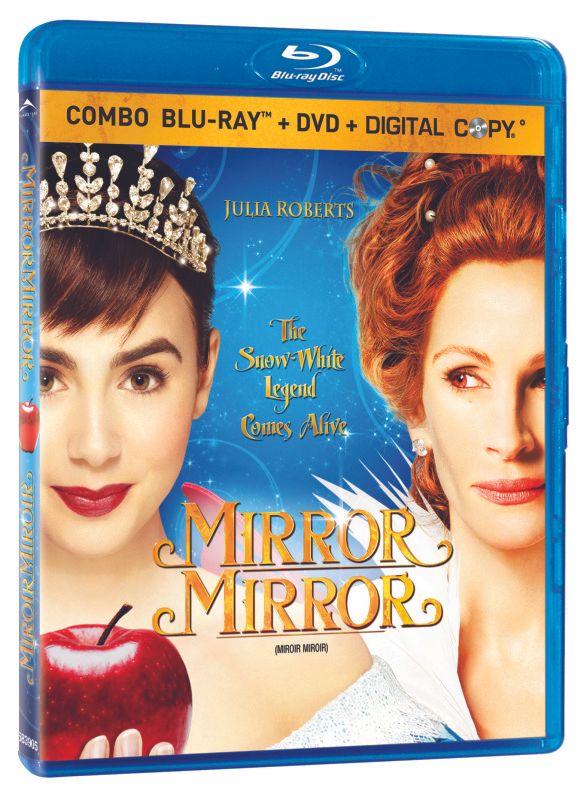 Image Courtesy Alliance Films
Legal Line © 2011 Relativity Media. All Rights Reserved. © 2012 Twentieth Century Fox Home Entertainment, LLC. All Rights Reserved. Distributed exclusively in Canada by Alliance Films. All Rights Reserved. Licensed for private home exhibition only. All other Rights Reserved.
Dir: Tarsem Singh (
Immortals
, The Fall, The Cell)
Cast: Lily Collins, Julia Roberts, Armie Hammer, Nathan Lane, Mark Povinelli, Jordan Prentice, Joe Gnoffo, Danny Woodburn, Sebastian Saraceno, Martin Klebba, Ronald Lee Clark, Sean Bean
USA
,
2012
Reason to see:
I've been a fan of Tarsem Singh since
The Cell
and couldn't resist him diving into the world of fables
I was quite looking forward to
Mirror Mirror
as we don't get that many fables and this one not has women in the forefront with the youthful Snow White (played by Lily Collins) and The Queen (played by Julia Roberts). The film stays pretty close to the story in terms of The Queen being interesting in staying the fairest one of them all, and having Snow White herself be pretty resourceful although in ways that do stretch the branches of to some new places of the forest. With both The Queen and Snow White vying for the same Prince,
Mirror Mirror
leads us somewhere that feels a bit strange. The Queen wants to retain her power and resources, and Snow White seems to be falling for the first time but oddly I found that there wasn't much chemistry going on between the characters. Lively quipping and cute interactions, sure, but chemistry? Not so much. And fair warning for Sean Bean fans, even though he's pretty highly billed on the film he is actually not in it very much.
I did quite enjoy the story and lives of the dwarves played by Mark Povinelli, Jordan Prentice, Joe Gnoffo, Danny Woodburn, Sebastian Saraceno, Martin Klebba and Ronald Lee Clark; who show one of the many after effects of The Queen's reign of the land which leaves them as outlaws. They bring an interesting look at the outsider looking in perspective, of which Snow White is also in a similar boat, making them unconventional friends with a similar yet different goal.
I was captivated by the films lively colours, fabulous art direction and a huge array of costumes. In true Tarsem fashion the world explodes on the screen using the power of extremes in volume and colours bringing everything to life. It feels like a storybook of beautiful imagination and is vivid and alive. I thought it was quite interesting to have The Queen live in a world so bright and full of zest, but that brings into play that a lot of the film is filled with humour. That was one thing I wasn't expecting as much, fable and humour together which give it a more kid-friendly feel on paper, although they still deal with a fair amount of harshness of deceptions, plots against peoples lives as well as the crazy zany adventures in the forest.
Overall I thought it was interesting to mix fable with comedy but I'm wasn't always pleased with the result which often lead to silly fun, but not quite with the punch I felt the story deserved. I did enjoy some of the themes in the film such as injustice with the dwarves, but the primary story of Snow White vs The Queen felt a little soft and surprizing that it was more about getting the guy than living their own lives. Although I did love the art direction and costumes, I was hoping with a little mystery with the whimsy in
Mirror Mirror
; but as a family friendly film I think there is a lot to enjoy.
Extras

DVD Extras include:

Looking Through the Mirror, Prince and Puppies and

Theatrical Trailer

BluRay Extras include:

Deleted Scenes, I Believe I Can Dance & Mirror Mirror Storybook

Plus: the

Mirror Mirror

DVD/BluRay combo also comes with

Digital Copy

and

Limited Edition Colouring Book
Mirror Mirror
is available on DVD as of June 26, 2012. Check it out over at
Amazon.ca
&
Amazon.com
Shannon's Overall View:
I enjoyed it, but I wanted to loved it
I'd watch it again
I'd recommend it as light fantasy or to whimsical fable fans who enjoy a dash of light comedy
Return to Film Reviews
or see more
DVD Reviews
© Shannon Ridler, 2012