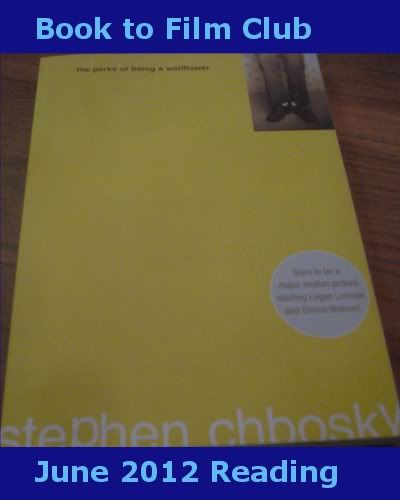 June Reading Wrap Up:
The Perks of Being a Wallflower by Stephen Chbosky
I was really impressed with this book, I loved the stream of consciousness rhythm to the writing and the fact that it's in the format of letters. It's certainly one of the more contemporary choices of the Book to Film Club being set int the 90's and set in high school. I hope everyone enjoyed it as much as I did! What did you think of the book? I would love to hear your take on it.


Here are some
t
hings to ponder on the reading experience:
Did you enjoy reading it?
Was it what you were expecting?
What did you know about the book before reading it?
What did you think of the style and tone?
Did you enjoy the recent time period?

What did you take away from reading the book?
Is there anything you would change about the book?
Who would you recommend the book to?
Did you feel about the characters & their challenges?
About the upcoming film adaptation:
How do you feel about the casting of the film?
What tone do you think they'll take?

What do you hope to be the focus of the film?
What do you think is essential to keep from the book in the film?
What do you think they can trim away from the book to the film?
What do you think the challenges of the adaptation may be?
Do you have any hesitations on the adaptation?
What are you most looking forward to about the film adaptation?
If this was a re-read:
How did reading it this time compare with your previous time reading it?
Did you notice anything different this time round?
Did your interest and focus stay on the same characters and moments, or shift?
Film Adaptation
The film version is scripted and adapted by the author Stephen Chobosky and stars Logan Lerman (
Percy Jackson & The Olympians: The Lightning Thief
), Emma Watson (
Harry Potter series
), Ezra Miller (
City Island
), Nina Dobrev ('The Vampire Diaries') and Paul Rudd (I Love You, Man).
The film
The Perks of Being a Wallflower
is scheduled to be released Sept 21, 2012.
Join the Movie Moxie Book to Film Club
at any time. For ook to Film Club news and monthly selections you can
sign up for email updates here
. Our final three books and entire year schedule have been announced:
see the details here
.
Our July Selection is:
Midnight's Children
by Salman Rushdie
Shannon's Take on The Perks of Being a Wallflower: